I am proud of you for doing your research before just handing over your money to some program that you see online. That's why I wanted to help you find out…is The Midas Legacy a scam? I aim to provide you with the most information about this product I can before you spend your cash.
To be honest:
I'll give it to you upfront.
I don't think The Midas Legacy is legit.
The problem with this one started right at the beginning.
It was the email that I received.
Maybe you got one like this too?
The email suggests that you can "literally" add $800 to your account in minutes.
When you see this, you know you're in trouble.
If you want to make money online, you can. I'm sure of it.
There are plenty of legit ways to do it.
But you can't "literally" add $800 to your bank account in minutes. Anything you do will take some learning and time to implement.
Let's get into it and see if The Midas Legacy is a scam.
Related Articles:
---

---
Here are the areas we'll explore in this The Midas Legacy review.
What is The Midas Legacy?
How Does The Midas Legacy Work?
Is The Midas Legacy a Scam or Legit?
Learn How to Make Money with Affiliate Marketing
Conclusion
---
What is The Midas Legacy?
Product: The Midas Legacy
Cost: $27 + $2.95 for shipping
Owner(s): Jim Samson
Here's the sales page that we're presented with.
This is really strange. What does all of this mean?
Turns out:
Not much as we'll find out later.
The video claims that your days of being busy could end in the next 5 minutes after watching this video.
Here are the most "important" things that the sales video says:
Jim Samson is the publisher of The Midas Legacy, which is a financial research service
We can legally snatch money from the elitists and turn those privileged bullies into your personal ATM
This is highly sensitive information, but 100% legal
This is something that's never been heard of before. (Which is something that's said in every video.)
This is not a pyramid scheme, not network marketing, not a home business, not currency or commodity trading, not gambling, not claiming a mis-sold investment award, not property investing, nothing to do with welfare
Money really can appear out of thin air
The video claims that all we have to do is enter a code like one of these into your computer and you can earn hundreds of dollars.
Jim talks a lot about the elitists and bankers and how they all screw us over.
He says, "The elitists are rich because they know the secrets that make money fly out of a hat like a magician's trick."
What the heck does that even mean?
Jim says that we've already been exposed to get-rich-quick junk that doesn't work. (Yes, there's a lot of get-rich-quick junk out there, that's for sure. I've reviewed a lot of it here.)
He says the "fat-cats" want us to be skeptical so we don't get all up in their business and take their profits from them.
He says people are too skeptical about ways you can break free from the establishment, so they remain ignorant.
In a way, this is true, but I don't think Jim has the answers to break free here.
Jim said he discovered this bank code secret when working at a bank. He saw these transactions going in and out and asked his boss about them. His boss told him to "Mind your own business!"
But he couldn't so he started his own private investigation into this.
Jim dug up the truth about these transfers flying out the door. He discovered a legal loophole! (it's always a friggin' loophole that they rest of us are somehow are too dumb to know about.)
He said we wouldn't believe what goes on in banks. There're hoards of money "they" hope you never get wise to and try to claim
He has literally stumbled across a money machine. ("Literally.")
He kept digging up dirt then was "mysteriously" asked to resign. Don't worry. He copied those codes for us! Because we gotta get those dirty banking bastards back! Payback is sweet! Let's stick it to them!
Need a new TV? All we have to do is type in one of these codes and snatch what you need from those privileged elitists. It's instant cash.
Jim claims he is "guarded" about the details.
But:
he can discuss more later when it's more private. He needs to "screen" people a little more before giving away these secrets. He wants to know if we can be trusted once we get our hands on this info.
If we can't keep a secret, he can't share with us.
(Oops, did I let the secret out?)
He said he's only going to send this invite once because…
If too many people get a hold of this info, "there could be panic on the streets." (Seriously, this "literally" made me lol.)
He also said that usually those limited-time offers are phony claims, but not this time!
The sales video was ridiculous, and it didn't tell us how this actually works. Let's see if we can figure it out.
---
How Does The Midas Legacy Work?
Well, once again we're left up in the air with this. They don't mention anything in the sales video at all about how this works. Because "it's a secret." You just need to buy it first, then the secret will be revealed.
You just have to trust them.
Yet:
I wouldn't trust this.
AT. ALL.
You know that saying?
If it sounds too good to be true?
Yea.
When I was doing my research on this one, I read about someone who did purchase this. They said that it had absolutely nothing to do with bank codes and instead was a product about affiliate marketing.
If that's true, then I wonder what the heck these bank codes are all about?
---
Is The Midas Legacy a Scam or Legit?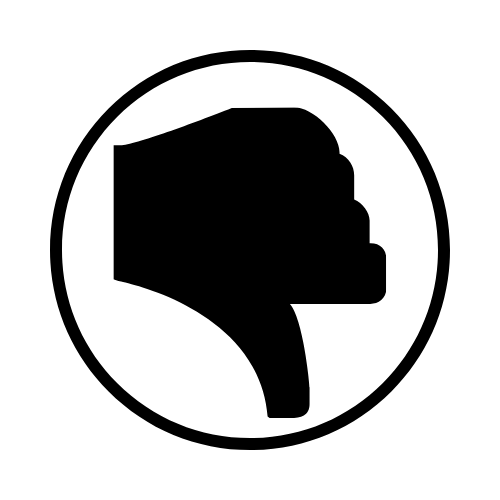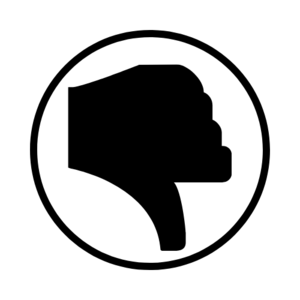 I didn't purchase this product, so without actually testing it myself, I can't 100% say whether The Midas Legacy is a scam.
The sales video sure was scammy though.
We'll talk about all the HUGE red flags in a minute.
I think it's interesting:
It looks like The Midas Legacy is an actual company and they do a bunch of different things and offer many products.
(Here's another The Midas Legacy review I did of one of their other products.)
The BBB gives them a B rating.
They've had 7 complaints in the last three years, which isn't terrible to be honest. Here's the latest one.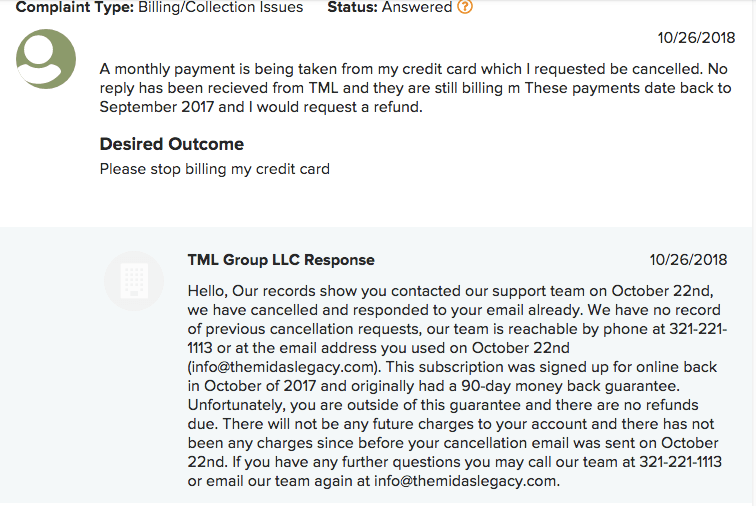 To be fair, they did offer a response back.
With all of that said, I definitely would not recommend this.
The Midas Legacy Review – Pros
I have no idea. I "literally" can't think of any.
The Midas Legacy Review – Cons
High income claims
Little work involved
Claiming to be different from the "other guys"
Claiming to not be a "get-rich-quick" scheme but then saying exactly that
Claiming to be a secret and having only limited spots
Using a fake name
Also, there's this…
While I can't say with certainty whether The Midas Legacy is a real scam or not, there was this report that says police warn of this fake scheme.
I am sure that you will get something in the mail when you order this "secret" product. But why risk spending your money on something that you have no idea about?
There's something else I really, really don't like about this product. This whole idea of sticking it to the man and screwing over the elitists. This is just a bad, bad mindset. (Mindset is everything.)
If you believe that the people who are making more than you are constantly trying to screw you over because they're bad people, then you will never become rich.
You can't become rich if you think rich people are a-holes. Because then you yourself would be an a-hole. It's not the right way to think. There's plenty of money to go around.
There's plenty for you to have if you do things the right way, and if you have the right mindset. Don't stoop down to that lower-level thinking. It'll just make you more frustrated and angry – for absolutely no reason.
Now, let's learn a real way to make money that's not a secret or limited in any way.
---
Learn How to Make Money with Affiliate Marketing
Affiliate marketing is what I do. And I LOVE to do it! I know it's not as sexy to say there's nothing secretive about it, but it's true.
Now, one of the things that's great about affiliate marketing is that anyone can do it.
But:
The Right Training
You have to have the right training.
These products that claim "it's so easy because all you have to do is push a few buttons and in 7 minutes a day you'll be making a full-time income" are crazy. They are not going to teach you anything. You'll be out more money and time if you try to follow these "systems".
Instead, I recommend you take a look at My #1 Recommendation. Not only will you have step-by-step training to teach you how to create a website that makes money (from start to finish), you will also have all the tools and support you need, including a keyword research tool, web hosting, and more.
Investing in yourself and in the right kind of training will make all the difference if you really want to make an income online. Once you have the right training, you are well on your way.
The Right Mindset
But you also need to have the right mindset.
And you need to have the right expectations.
Making money online is no different than making money offline. You still have to put in the time and effort.
Except:
When you trade time for money at a "regular" job, you can only make so money because you only have so much time.
Affiliate marketing is different.
It takes time to build it up to a full-time income, but eventually your work becomes passive income. Which means the things you worked on long ago will make you money well into the future.
And that means you can keep building and growing your income. The income is unlimited if you keep working at growing it.
Anyone can do it. YOU can do it. I'm sure of it.
As long as you follow the training and plan to work hard at it.
Check out these 11 amazing Wealthy Affiliate success stories to see how others have done it.
---
Conclusion
Once again we're left disappointed with a product that claims it can make us loads of money with little effort. I hope The Midas Legacy review helped you make an informed decision about buying into this product.
It's not all bad news.
There are good programs and products out there really trying to help people make money online. My #1 recommendation is the perfect example of this. Plenty of people are succeeding here. And YOU can be next.

---
Do you have any questions, comments or personal experiences with this one? Is The Midas Legacy a scam, in your opinion? I'd love to hear your thoughts. Leave them for me down below.
---