I have been using this neat tool called Tweet Hunter, and now I want to take you through it to show you how you can increase your Twitter followers and make money with Twitter. (I'll show you proof of people crushing it on Twitter below.) Here is my full Tweet Hunter review.
But first…
Why Do We Want a Twitter Account?
First, let me tell you why you want to build an account on Twitter. Twitter is a treasure trove of valuable information and is also a great way to make money.
But you have to go about it the right way.
I had a Twitter account that I used to promote this site, and I did it completely the wrong way! Do you want to take a look?
This is embarrassing, but here you go: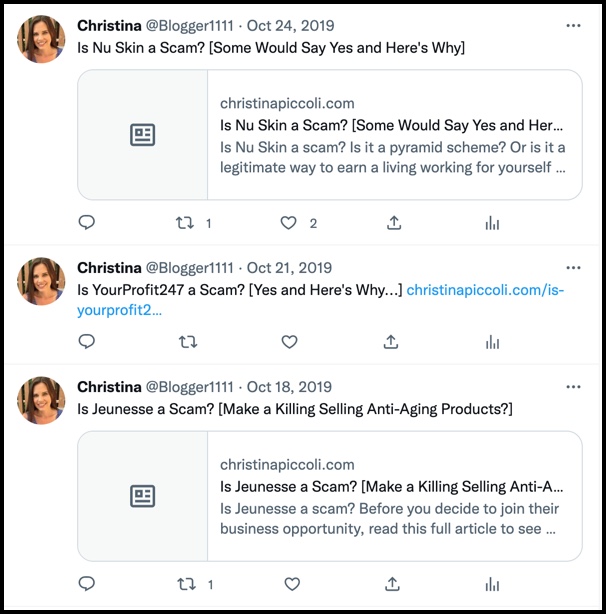 I'm showing you this because I want you to save time by avoiding my mistakes. Here are the issues with this Twitter account:
I didn't build up an audience.
I'm only self-promoting. I'm not adding any value to anyone's life.
I didn't engage with anyone else's posts.
My brand wasn't nailed down.
There's absolutely no reason to click on any of these tweets.
What a mess!
If you can learn how to use Twitter correctly, it's absolutely fantastic to make money through affiliate marketing or marketing your own products.
Want proof?
6 Twitter Accounts That Make Money
Here are 6 accounts that make a significant income. They all credit Twitter for helping them make those dollar, dollar bills, yo.
1. Charles Miller (@writingtoriches)
2. Dan Koe (@thedankoe)
3. Johnny (@MoneyAmplifier)
These are just a few accounts that I picked out quickly. There are many more just like them on Twitter.
From reading these accounts that make money on Twitter, what I know is that it just takes:
a little time
a little patience
consistency
Time and patience are things I can't help you with. You'll have to tackle those on your own.
But consistency…I can help you with that. That's where Tweet Hunter comes in.
Tweet Hunter Review – Is Tweet Hunter Worth the Money?
As I mentioned, the most crucial factor in growing a Twitter account is consistency.
(Any big goal that you want to achieve requires consistency!)
And Tweet Hunter allows you to be consistent without spending much time.
That is one reason why Tweet Hunter is worth the money.
Let me show you what it can do for you.
1. Schedule your Tweets
Want to be consistent but don't always have time to sit at home on Twitter? You can schedule your Tweets with Tweet Hunter.
It's so easy to do! You hit the little button with the pen. Then you write your content and hit the "Add to queue" button.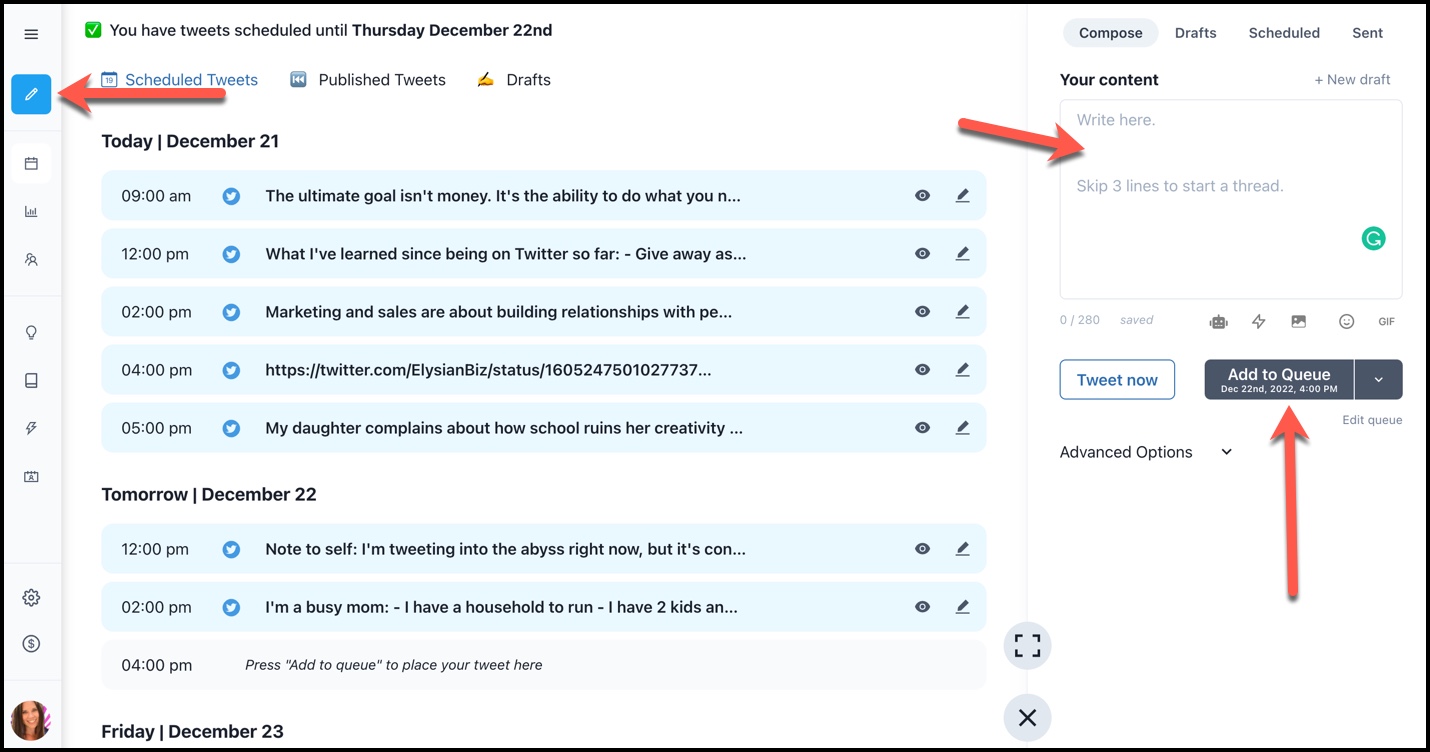 When you add to the queue, your tweet will be scheduled at 3 points of time in the day:
(There may be a way to adjust these times, but I haven't looked into it yet.)
But if you want to add other tweets to your schedule, it's no problem. You just hit the little arrow next to the "add to queue" button and you'll get a calendar. You can schedule any day and any time from here and it'll show up in the queue.
Once you get rolling with Tweets and have some data, you can also get analytics through Tweet Hunter. See what works (and what doesn't) and write more tweets that resonate with your audience.
2. Don't Know What to Tweet? No Problem!
Tweet Inspirations is one of my favorite things about Tweet Hunter. You can click on the little lightbulb and it'll give you a bunch of different tweets based on your feed.
(You can personalize your feed by typing in keywords that you want to focus on like "marketing", "affiliate marketing", "health", or any other words related to your niche.)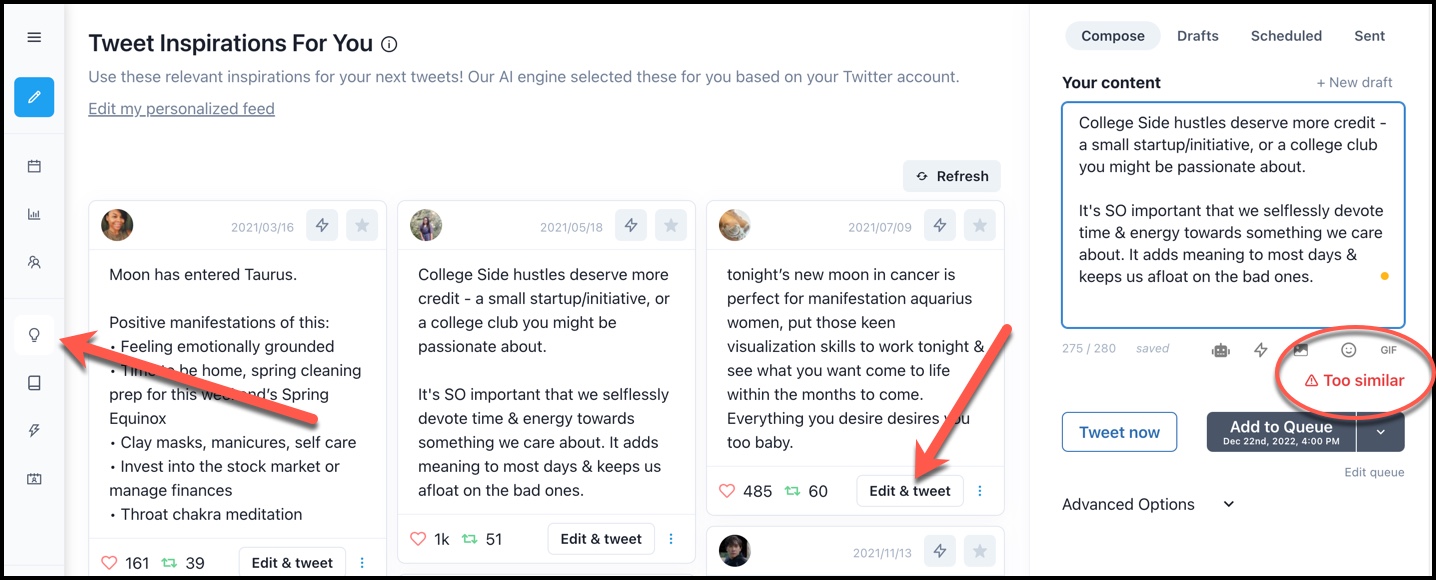 What's really nice is that you can take a tweet that you like (and use the metrics to see which ones did well) and hit the "Edit and Tweet" button.
That will add it to "Your content." Now you can rewrite the tweet and schedule it, or send it out immediately.
Of course, you do not want to copy anyone else's tweet. Rewrite it in your own words. Tweet Hunter will let you know if it's too similar or if it's good to go.
Another favorite of mine is "Staff picks". This is similar to "Inspirations" but these picks are curated by professional tweet ghostwriters.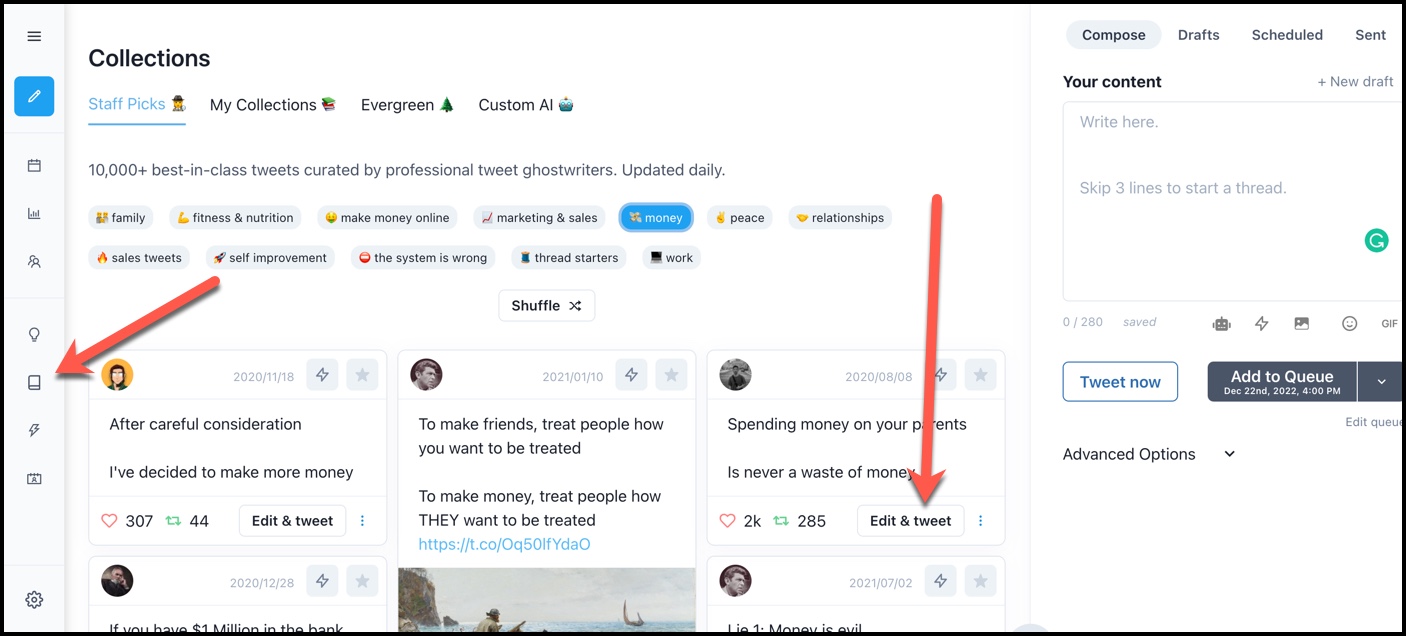 You can "Edit & Tweet" just like you do with "Inspirations". Again, just make sure that you rewrite it in your own words.
3. Get AI to Write Your Tweets for You
This is the ultimate lazy man's tool. And it's pretty fun, too (although imperfect). Why write your own tweets when you can have a robot do it for you?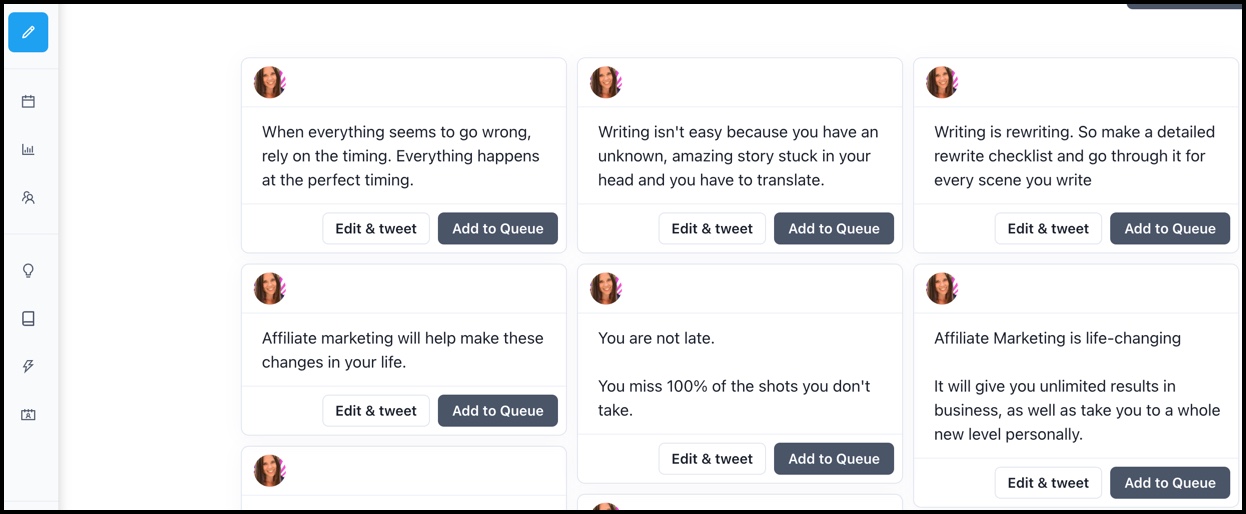 Here's the thing.
Let's take a tweet from the image above.
"Affiliate marketing will help make these changes in your life. "
Eh, it sounds like a robot created it. It doesn't really make sense. So while I love the idea of the AI-generated tweets, you still can't be so lazy not to rewrite them a bit.
They're a good place to start if you need ideas.
4. Thread Idea Generator
Threads on Twitter are like gold when you do them right. They can gain you a lot of followers and true fans. So having a thread idea generator is a great place to start when you need to figure out a topic.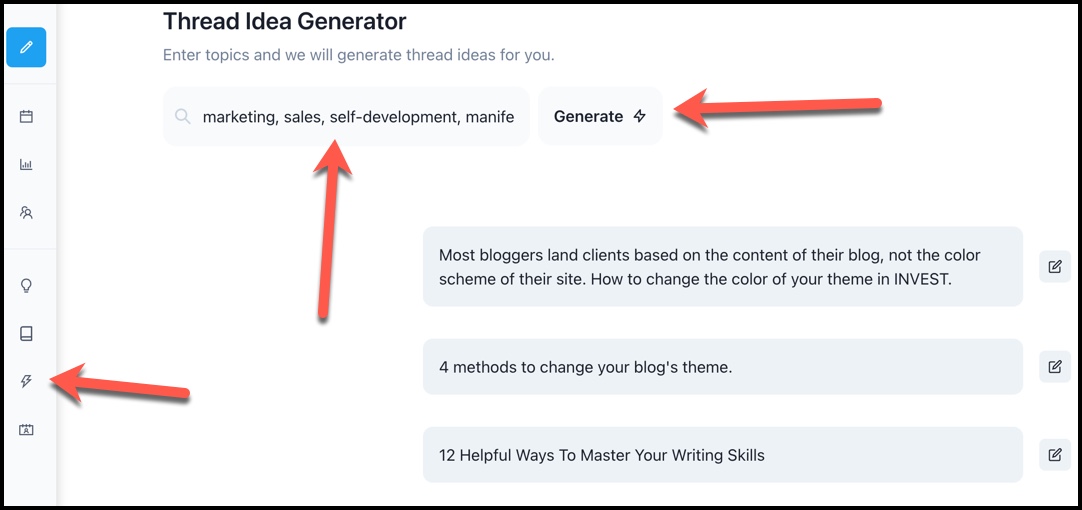 To get to it (and the AI-generated tweets), you just click the little lightning bolt. You can choose whatever topics you like. Then hit generate.
If you click on the little pencil and paper icon next to a thread that you want to write, you'll get some hook ideas for that thread.
(A hook is a sentence that draws the reader in.)
These are all great for generating ideas, but you'll want to put your personal touch on whatever you write.
AI-generated content is just a bit too generic. You don't want your readers saying 👇.
5. Engage with other accounts
This is probably my favorite thing about Tweet Hunter as a new person trying to grow my account on Twitter.
When you're new, you're going to be tweeting into the wind.
No one is going to see your tweets. Because you have no followers.
(That's OK. Just keep tweeting for consistency.)
The popular advice is to engage with other users in your niche. You can do this directly on Twitter and that's fine. But what I love about doing it in Tweet Hunter is that it's very focused.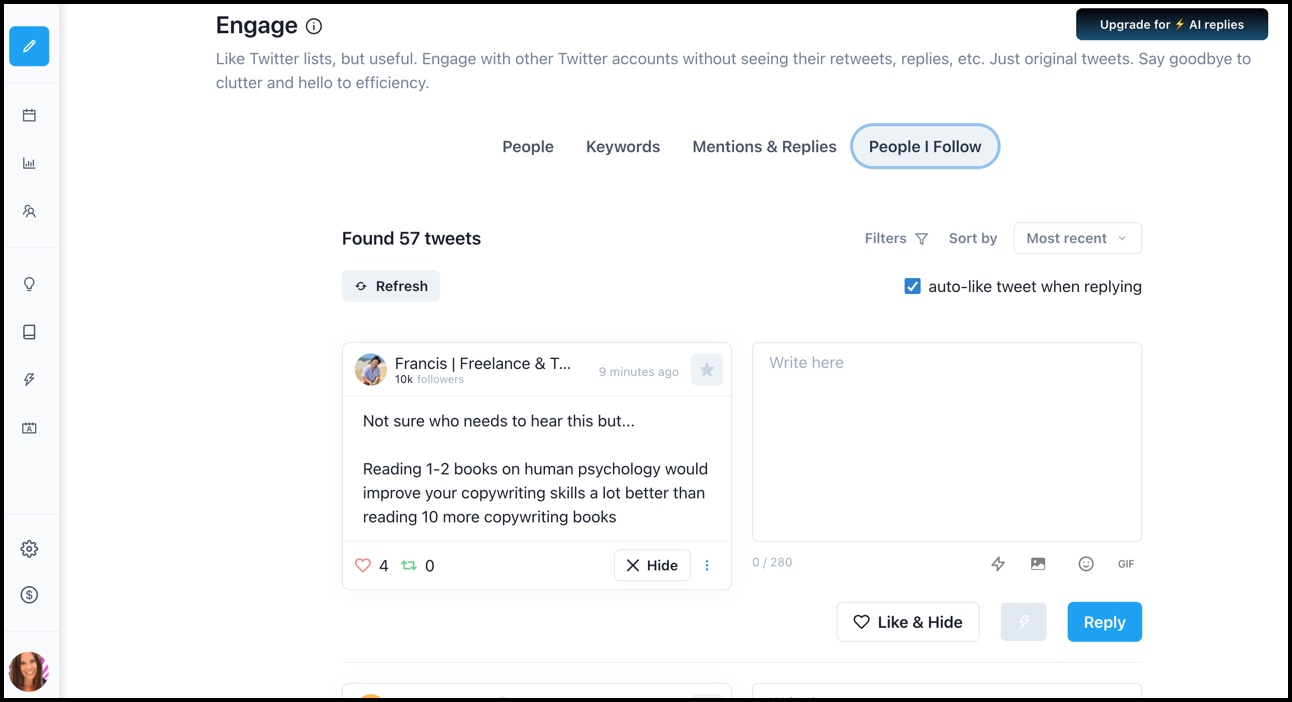 When you're on Twitter, it's easy to get distracted by other interesting Tweets that you see. (Ask me how I know…🙄)
With Tweet Hunter, it's just a Tweet that you want to engage with and a box where you can write your response.
Focus is everything when you're building something new. You don't have time for a lot of shenanigans.
The engage tab allows you to focus without all the distractions.
Is Tweet Hunter Worth the Money?
So, is Tweet Hunter worth the money?
It depends.
If you want to grow your Twitter account and make money quicker than the average person, then Tweet Hunter will help you do that.
In fact, here are just a few of the many Tweet Hunter reviews of happy customers: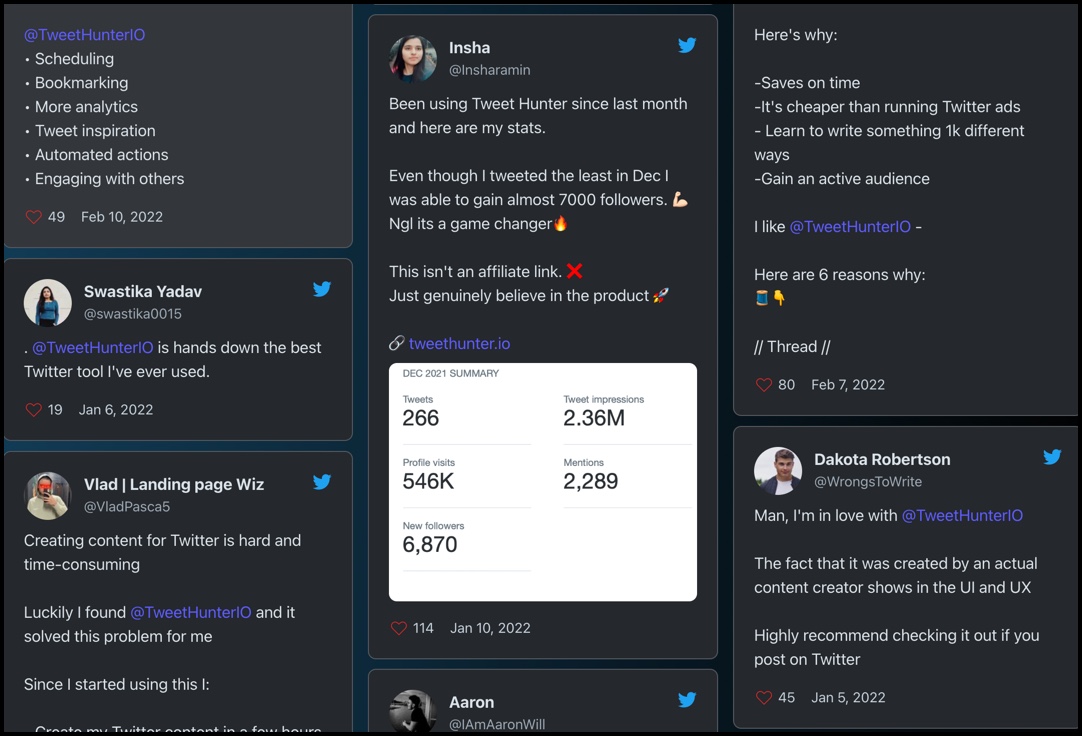 If you don't mind going slow, then that's fine too. But you know what they say…
Time is money! 🤷‍♀️
I hope this Tweet Hunter review helped you see what you get inside the platform. (I didn't even get to everything that it can do. And from what I hear, Tweet Hunter was recently purchased, and it will be bigger and better than ever!)
I hope I gave you enough information in this Tweet Hunter review, but the cool thing is that you can check it out free for 7 days. That allows you to poke around inside and see for yourself if it'll be useful to you.
All you have to do to try Tweet Hunter free for 7 days is click on this very long link.
Leave me a comment below if you have any questions about Tweet Hunter.