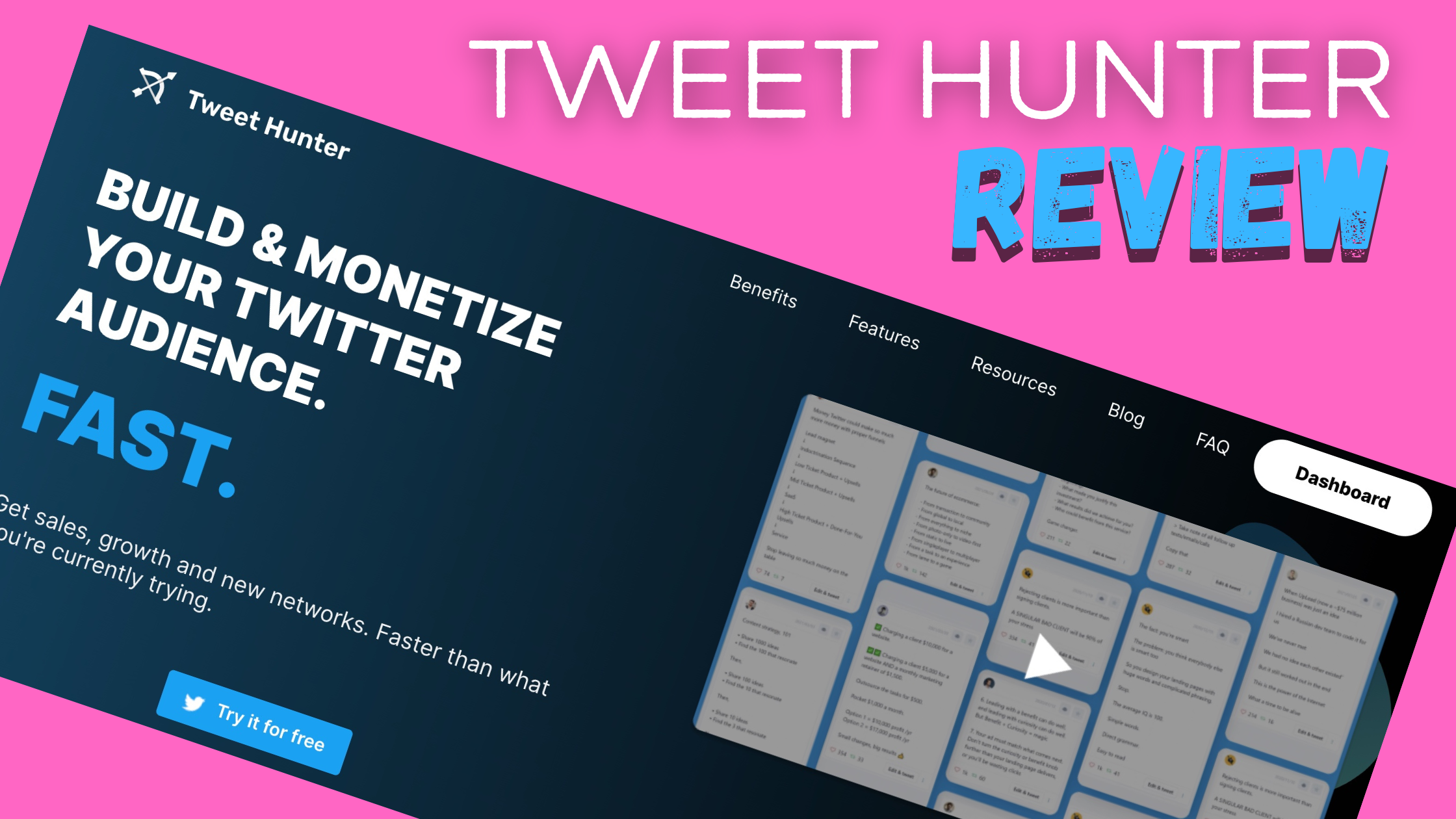 Twitter (X???) is a fantastic social media platform that helps launch one-person businesses and personal brands (I'll show you proof of that in a minute). I don't know about you, but I have 5,678 things on my mind, including keeping Mt. Laundry in order. I don't have time to spend my entire day on Twitter. That's why I decided to try a tool to help me grow there. Now I'm going to tell you all about it in this Tweet Hunter review.
---
Just to let you know, this post contains an affiliate link. If you like Tweet Hunter and decide to try it, I'll get a small commission. I appreciate the support! 🤗
---

---
Here's Why You Want to Use Twitter the Right Way
First, let me tell you why you want to build your Twitter account the right way. Twitter is a treasure trove of valuable information and is also a great way to grow your personal brand and lead people to your products and services. (Um, and make money, of course!)
But here's what happens when you do it the stupid way like I used to: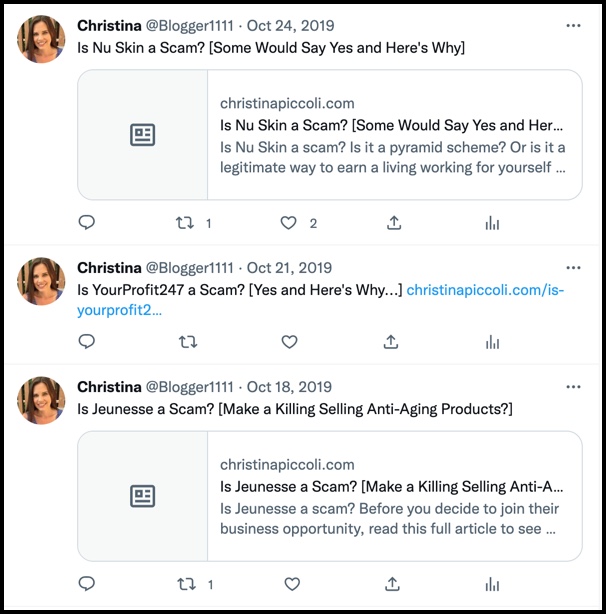 How embarrassing! 🫣
But I'm willing to humiliate myself so you can avoid my mistakes. Here are just a few issues with this Twitter account:
I didn't build an audience.
I'm only self-promoting. I'm not adding any value to anyone's life.
I didn't engage with anyone else's posts.
My brand wasn't nailed down.
There's absolutely no reason to click on any of these tweets.
What a mess!
If you can learn how to use Twitter correctly, it's absolutely fantastic to make money through affiliate marketing or marketing your own products.
Want proof?
---
6 Twitter Accounts That Make Money
Here are 6 accounts that make a significant income. They all credit Twitter for helping them make those dollar, dollar bills, yo.
1. Charles Miller (@writingtoriches)
2. Dan Koe (@thedankoe)
3. Johnny (@MoneyAmplifier)
These are just a few accounts that I picked out quickly. There are many more just like them on Twitter.
From reading these accounts that make money on Twitter, what I know is that it just takes:
a little time
a little patience
consistency
Time and patience are things I can't help you with. You'll have to tackle those on your own.
But consistency…I can help you with that. That's where Tweet Hunter comes in.
---
Here's How Tweet Hunter Can Help You Grow Fast and Not Be Forgotten Without Wasting All of Your Time
As I mentioned, the most crucial factor in growing a Twitter account quickly is consistency. Think about the people you follow online. I bet you expect their posts and videos at certain times. You get used to their posting schedule. If they don't post for some time, you'd probably forget about them and move on to someone else.
Tweet Hunter will help you to not be forgotten!
Here are 6 ways how:
1. Schedule your Tweets.
This is the main reason why people look into Tweet Hunter. Who has time to sit around posting every 4 hours on Twitter? Hell no. 👎
Tweet Hunter allows you to set up your tweets and threads, schedule them when you want them to go out, and go on with your day.
And it's really easy to do. Just hit the little button with the pen, write your content in the box, then hit the "Add to Queue" button.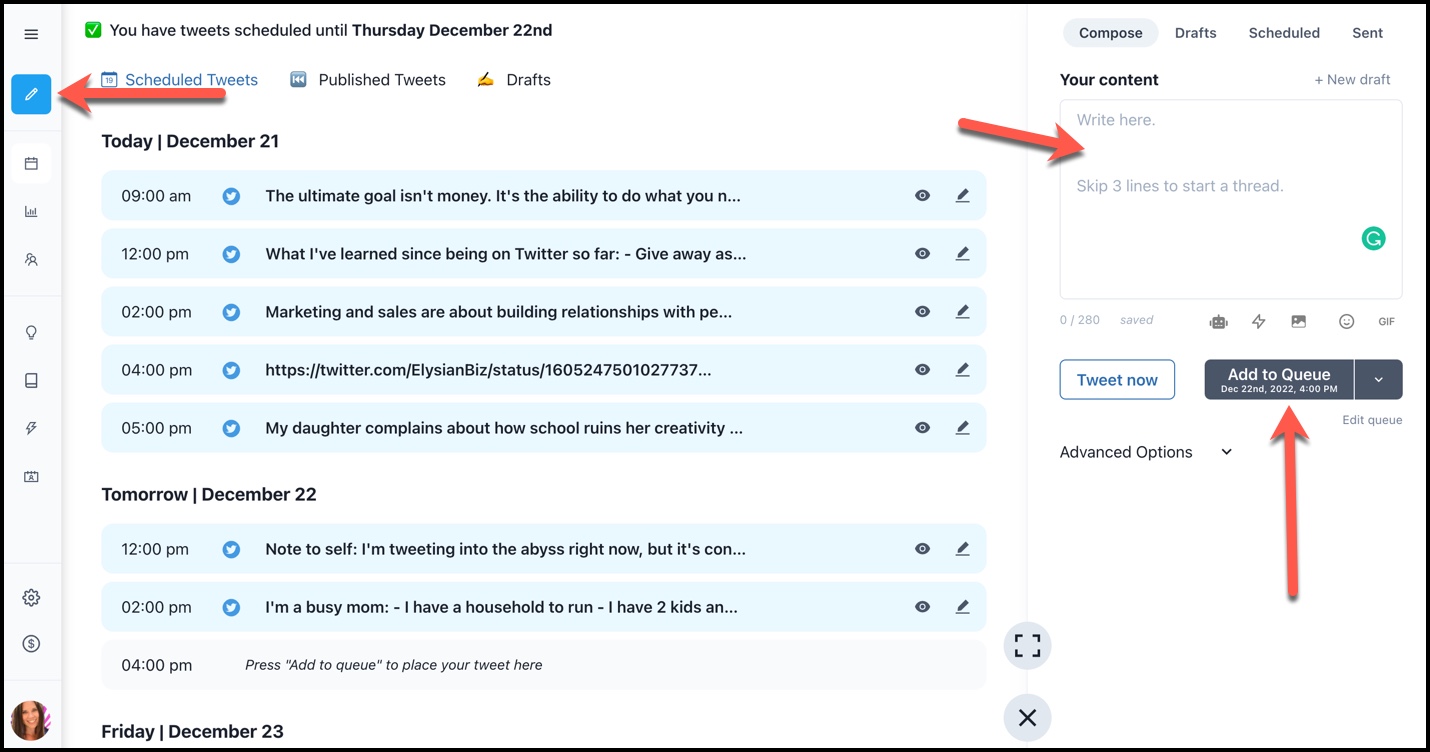 When you add to the queue, your tweet will be scheduled at 3 points of time in the day:
(There may be a way to adjust these times, but I haven't looked into it yet.)
If you want to add tweets at other times of the day, no problem, mon (as they say in Jamaica). You just hit the little arrow next to the "add to queue" button and you'll get a calendar. You can schedule any day and any time from here and it'll show up in the queue.
Once you get rolling with Tweets and have some data, you can also get analytics through Tweet Hunter. See what works (and what doesn't) and write more tweets that resonate with your audience.
2. Get help with what to Tweet.
Tweet Inspirations is one of my favorite things about Tweet Hunter. You can click on the little lightbulb and it'll give you a bunch of different tweets based on your feed.
(You can personalize your feed by typing in keywords that you want to focus on like "marketing", "affiliate marketing", "health", or any other words related to your niche.)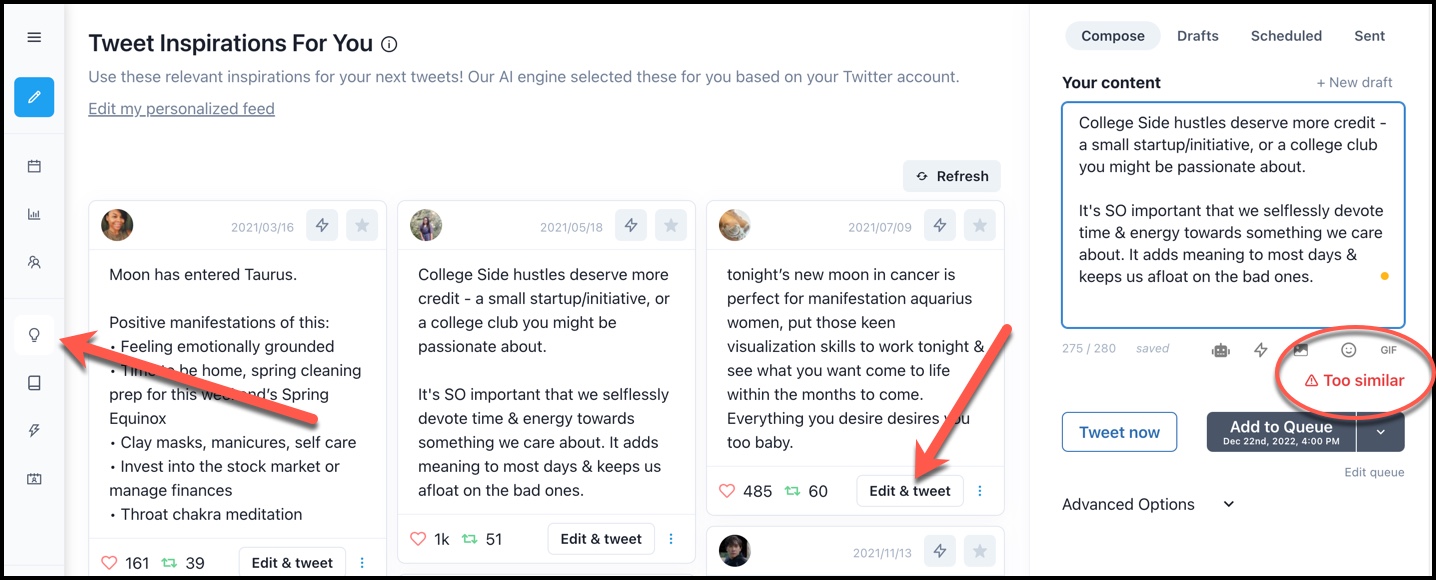 What's really nice is that you can take a tweet that you like (and use the metrics to see which ones did well) and hit the "Edit and Tweet" button.
That will add it to "Your content." Now you can rewrite the tweet and schedule it, or send it out immediately.
Of course, you do not want to copy anyone else's tweet. Rewrite it in your own words. Tweet Hunter will let you know if it's too similar or if it's good to go.
Another favorite of mine is "Staff picks". This is similar to "Inspirations" but these picks are curated by professional Twitter ghostwriters.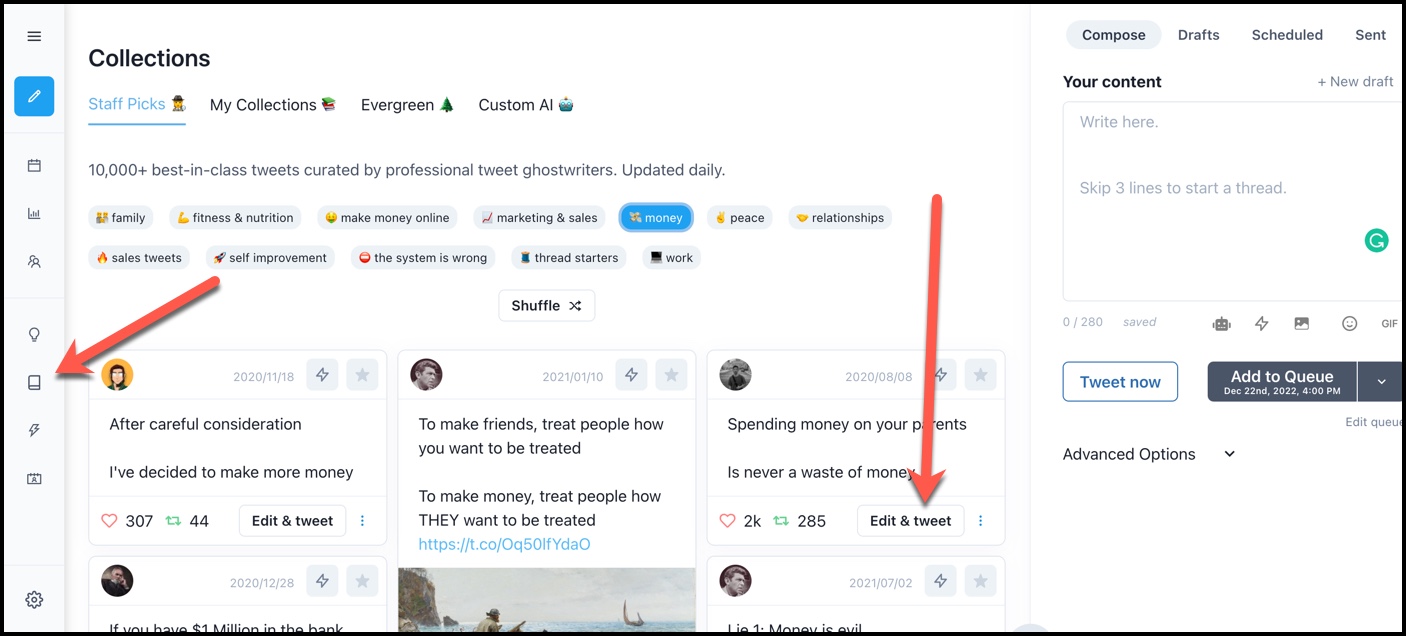 You can "Edit & Tweet" just like you do with "Inspirations". Again, just make sure that you rewrite it in your own words.
3. Get AI to write your Tweets for you.
This is the ultimate lazy man's tool. And it's pretty fun, too (although imperfect). Why write your own tweets when you can have a robot do it for you?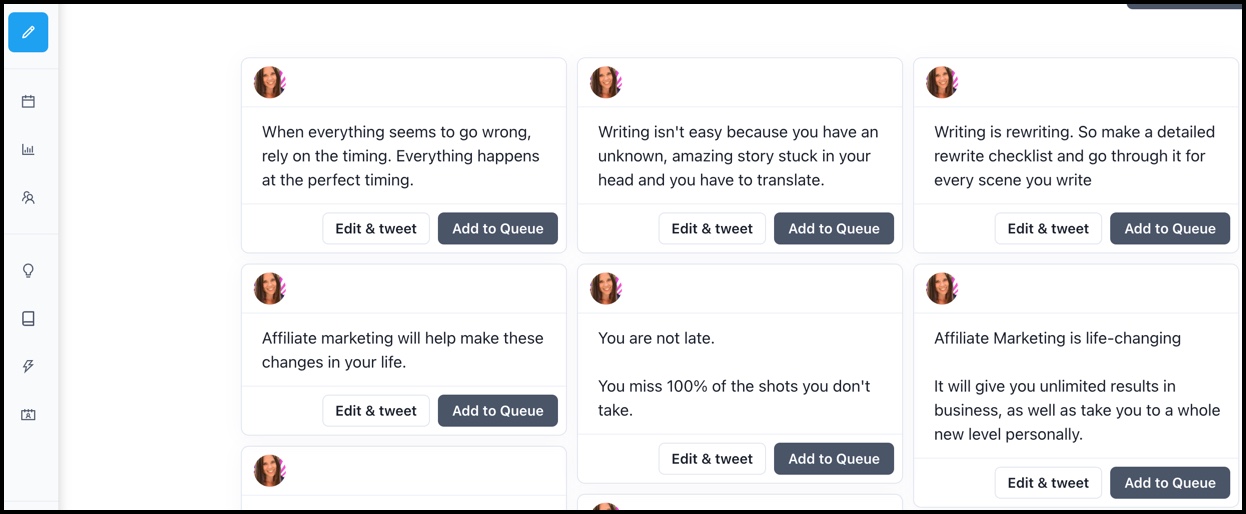 Here's the thing.
Let's take a tweet from the image above.
"Affiliate marketing will help make these changes in your life. "
Eh, it sounds like a robot created it. It doesn't really make sense. So while I love the idea of the AI-generated tweets, you still can't be so lazy not to rewrite them a bit.
They're a good place to start if you need ideas.
4. Generate thread ideas.
Threads on Twitter are like gold when you do them right. They can gain you a lot of followers and true fans. So having a thread idea generator is a great place to start when you need to figure out a topic.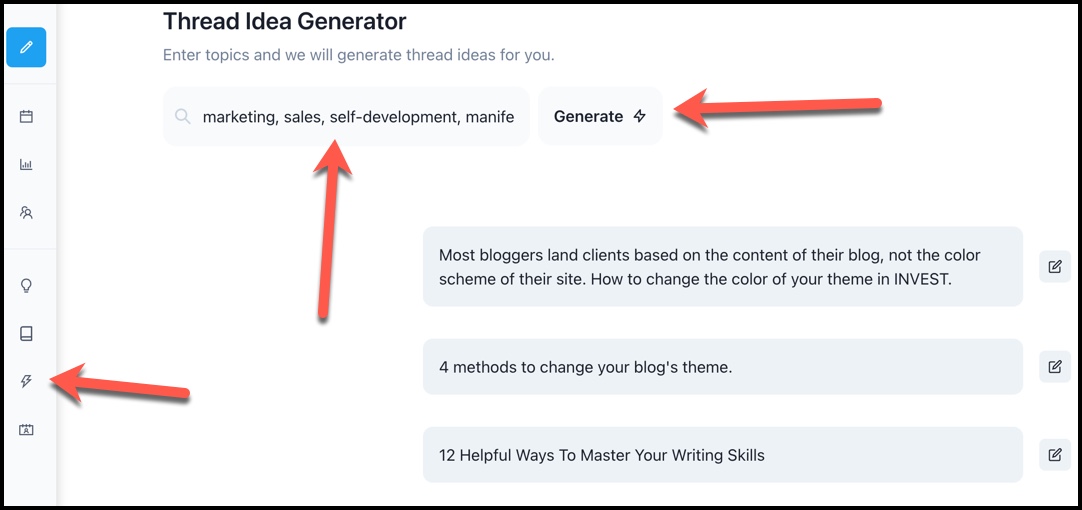 To get to it (and the AI-generated tweets), you just click the little lightning bolt. You can choose whatever topics you like. Then hit generate.
If you click on the little pencil and paper icon next to a thread that you want to write, you'll get some hook ideas for that thread.
(A hook is a sentence that draws the reader in. 🎣)
These are all great for generating ideas, but you'll want to put your personal touch on whatever you write.
AI-generated content is just a bit too generic. You don't want your readers saying 👇.
5. Engage with other accounts.
This is probably my favorite thing about Tweet Hunter as a new person trying to grow my account on Twitter.
When you're new, you're going to be tweeting into the wind.
No one is going to see your tweets. Because you have no followers.
(That's OK. Just keep tweeting for consistency.)
The popular advice is to engage with other users in your niche. You can do this directly on Twitter and that's fine. But what I love about doing it in Tweet Hunter is that it's very focused.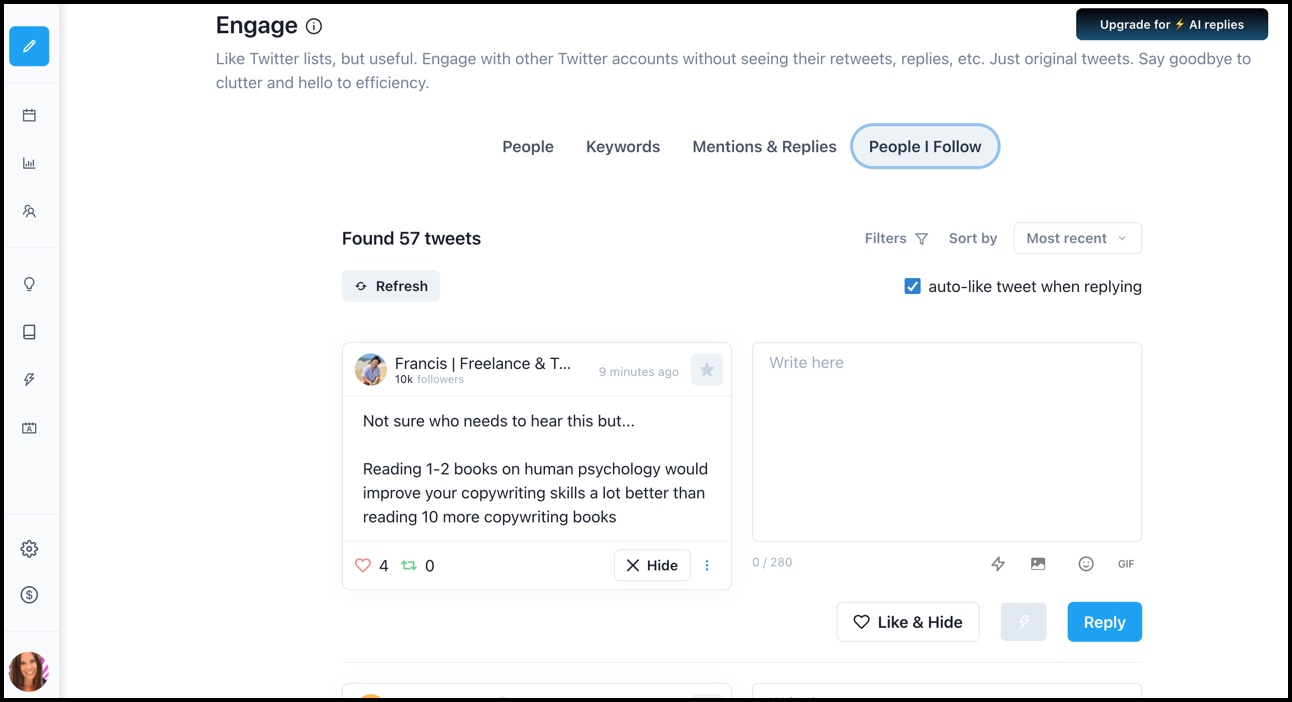 When you're on Twitter, it's easy to get distracted by other interesting Tweets that you see. (Ask me how I know…🙄)
With Tweet Hunter, it's just a Tweet that you want to engage with and a box where you can write your response.
Focus is everything when you're building something new. You don't have time for a lot of shenanigans.
The engage tab allows you to focus without all the distractions.
6. Use analytics to see what works.
I am NOT a numbers person. I like letters. But sometimes you have to deal with numbers to see what's working and what's not. Tweet Hunter makes it easy with their "Analytics" tab.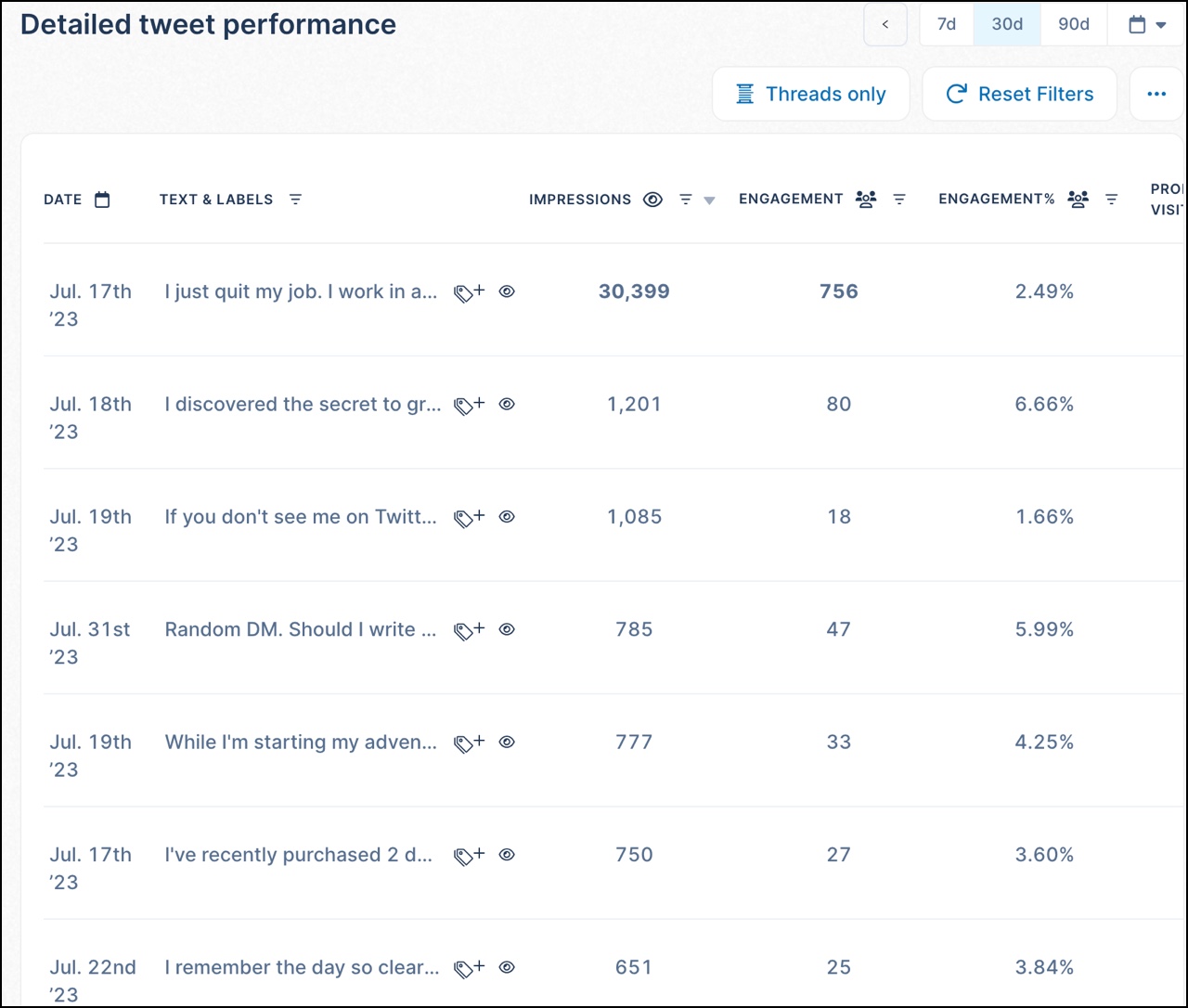 You can sort by:
Impressions
Engagement
Engagement %
Profile visits
Likes
Replies
Retweets
Quote tweets
Analytics will give you all the information you need to see what's working and double-down on those types of tweets.
This is how you grow faster, send a consistent message and not become forgotten in a sea of Twitter accounts.
---
Is Tweet Hunter Worth the Money?
There are a couple of different payment options for Tweet Hunter:
Starter Plan = $49 USD per month
Superior Plan = $99 USD per month
They also have a 7-day free trial, which I highly recommend using to make sure what I'm saying in this Tweet Hunter review is true, and that it fits all your needs.

I do think Tweet Hunter is a little pricey, but it's worth it for the time that you save. I have experimented with pausing my subscription, and every time I do that, my stats turn red. 😭
If you don't mind going slow, then that's fine too. But you know what they say…
Time is money! 🤷‍♀️
I hope this Tweet Hunter review helped you make a decision. However, In order to make the best decision, I recommend you try it for yourself with their 7-day free trial. You won't know for sure if it's good until you get in there and dig around!
All you have to do to try Tweet Hunter free for 7 days is click on this very long link.
Leave me a comment below if you have any questions or comments about Tweet Hunter.