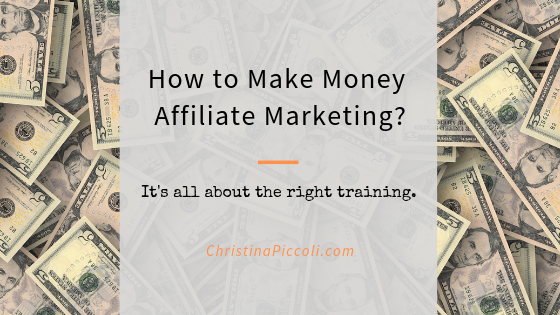 Making enough money for you and your family to live the live you want and need is definitely a huge topic in self-development. If you are constantly saying "I can't afford that", then you need to get yourself on track financially.
One of my favorite ways to make extra money (or a full-time income if you put enough time and effort into it) is affiliate marketing.
And how do you make money affiliate marketing? With the right training! We'll talk about that in a bit. First, I want to dive a little deeper into how affiliate marketing works. I also want to answer the question "Is affiliate marketing for beginners?"
---
What is Affiliate Marketing?
My simple way to explain affiliate marketing is that it's the act of matching up people who are looking for something online with the thing they're looking for. (If you don't have a short attention span like I do, here's a detailed explanation of how affiliate marketing works.)
Let me give you an example. Let's say we go into Google and type in "Forks Meal Planner Review".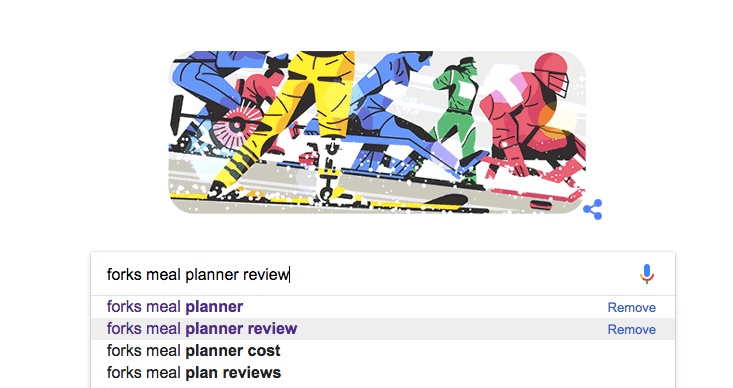 And you come to this results page.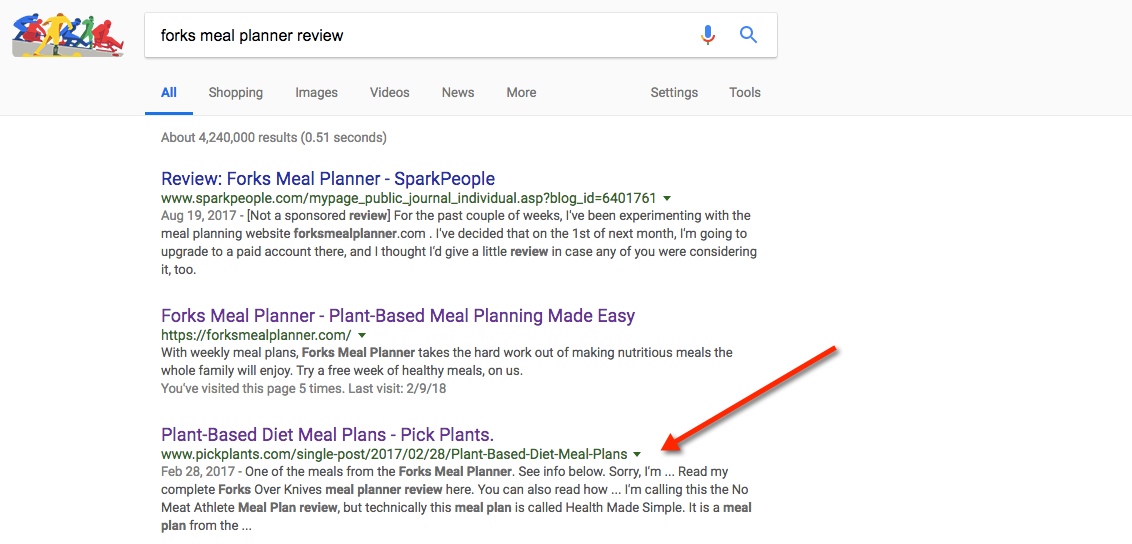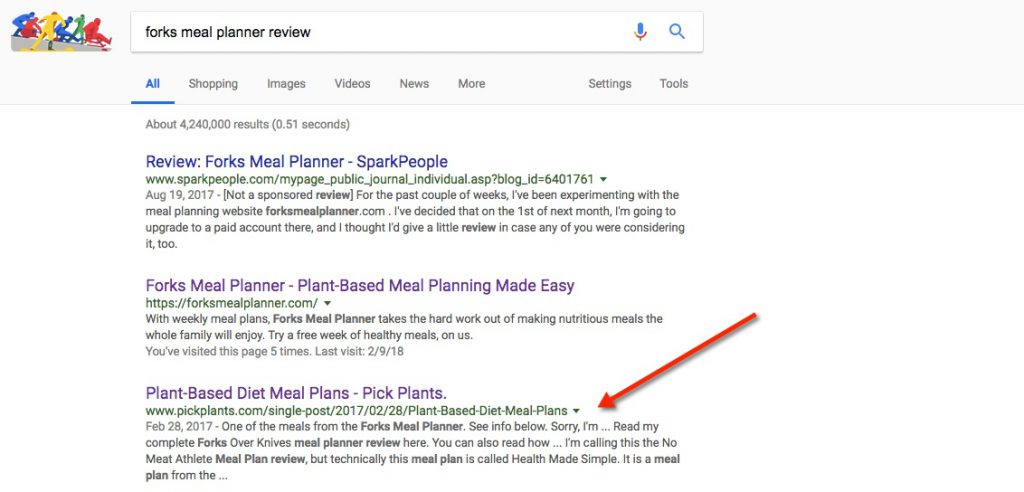 This is my other site, PickPlants.com, in the third spot. Now if someone clicks on my post, and then clicks on the link in that post and decides to sign up for the Forks Meal Planner, I get a commission. Cha-Ching! (That's what the Forks sales confirmation emails actually say. Fun, right?)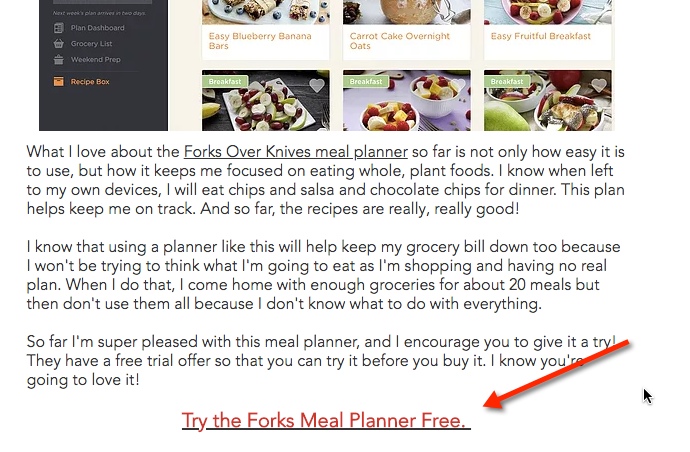 ---
The Benefits of Affiliate Marketing
These are my favorite things about affiliate marketing:
You help point people to what they're looking for.
(Just a side note that the customer does not pay any extra when using your link.) You get paid for helping. The company gets a sale. It's a win-win-win.
You get to write about things that you love. I love writing about eating plants, law of attraction, making money working from home, and other self-development topics. This is not a chore for me. I truly enjoy it! You could write about anything that interests YOU. There is a product out there for EVERY topic.
You can write something once, and the sales can keep coming indefinitely.
This is referred to as residual income. Residual income is good. Very good. Imagine multiple things that you've written having sales coming in. And then you write more, and you have more sales. Etc. Can you see the potential there?
You can easily make multiple websites.
There are different schools of thought on this, but if you have multiple websites, then you have multiple streams of income.
You work on your own time.
You have no boss. YOU are the boss of YOU. Some people have a hard time with this though. You have to make sure you set aside time to work on your site and not get distracted by outside forces like laundry and opening and closing the fridge 50 times to see what's in there. Otherwise, this is an awesome way to work. On your own time. Your own schedule. I want to tell every mom out there who wants to stay home with her kids about this. (Kids are distracting, by the way. If you didn't know that. You'll have to find quiet time to concentrate. But you can do it! I know it!)
---
Is Affiliate Marketing for Beginners?
Absolutely, yes! Everyone is a beginner when they first start. Here's the thing though. I do not recommend going off on your own, finding YouTube tutorials and trying to figure it out yourself. Of course, you can do that. You're the boss of you, remember? But if your plan is to start making money as soon as possible, this is not a great choice. I would call this the slower start option.
You could spend years trying to figure out how to get your websites to rank in Google and actually get people to visit them. Meanwhile, you're not making any money doing that. This is not good. You'll likely give up before you start to see some success. I know because I've been down this road. I've failed many times by either trying to figure it out on my own, or following bad training.
If you want to learn how to be profitable as soon as possible, then you need the faster start option, which includes proper training.
In anything new that you set out to do in life, you've got to have training if you want to learn how to do it the right way. This is true if you're learning to ski, taking a new job, or starting your own home-based business. Don't go it alone and set yourself up for failure. Get the training you need, follow it and succeed!
---
My Recommended Training
The training platform I personally use and highly recommend is Wealthy Affiliate. You see how my website is ranking #3 in Google up there with my Forks Meal Planner review post? (I have other posts that are ranked #1!) That would not have happened without Wealthy Affiliate. And ranking anywhere in the top 10 is something that's very important for website authority and sales. Wealthy Affiliate teaches you how to do that.
In fact, I wouldn't even have a website without Wealthy Affiliate. They taught me all the things. Everything.
They will take you step-by-step and show you exactly how to put a website together. You build it as you do the training. So, by the time you're done with training, you have a live, working site. And then once you have that, now you can learn:
how to write blog posts the proper way (yes, there's a right way to do this so that you get noticed in Google.)
how to use keywords in your blog posts and how to find good keywords
how to use social media to boost your website
how to use video marketing
how to use email marketing
etc, etc, etc
---
Let's take a little peek inside Wealthy Affiliate.
Here is where you get started and learn step-by-step exactly how to put a website together and how you make money from it. This is the main menu. Let me walk you through it.

Dashboard
– shows what's happening on the site. You can see member's blog posts, questions and answers, new members, live chat and your own notifications.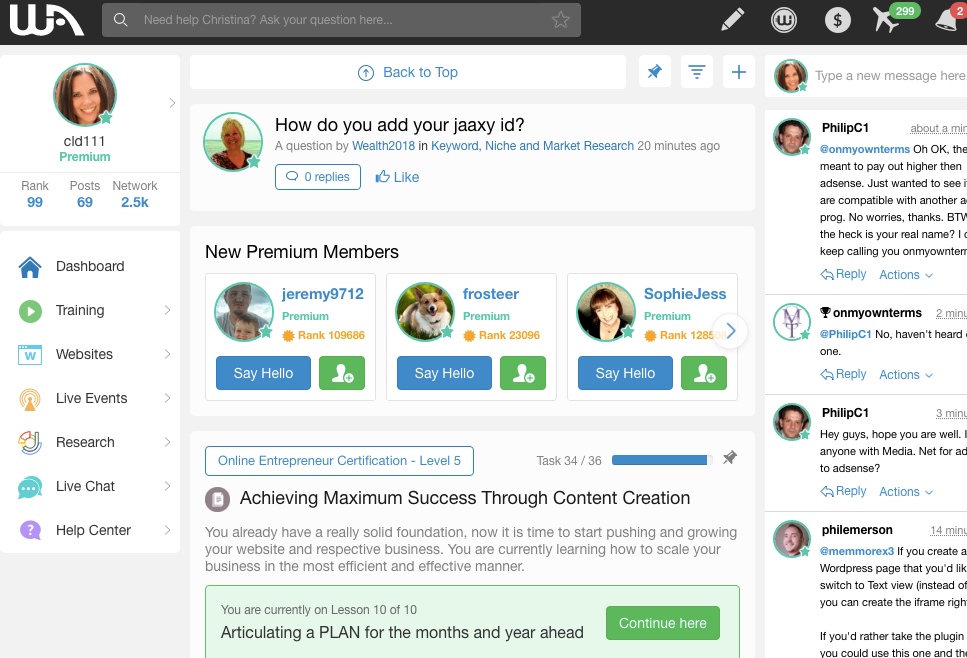 Training
– all of the trainings that you have available to you. Everything you need to know is right here! Each of the courses below (Getting Started, Building Your Own Traffic Producing Website, etc.) has multiple lessons within them and tasks to accomplish.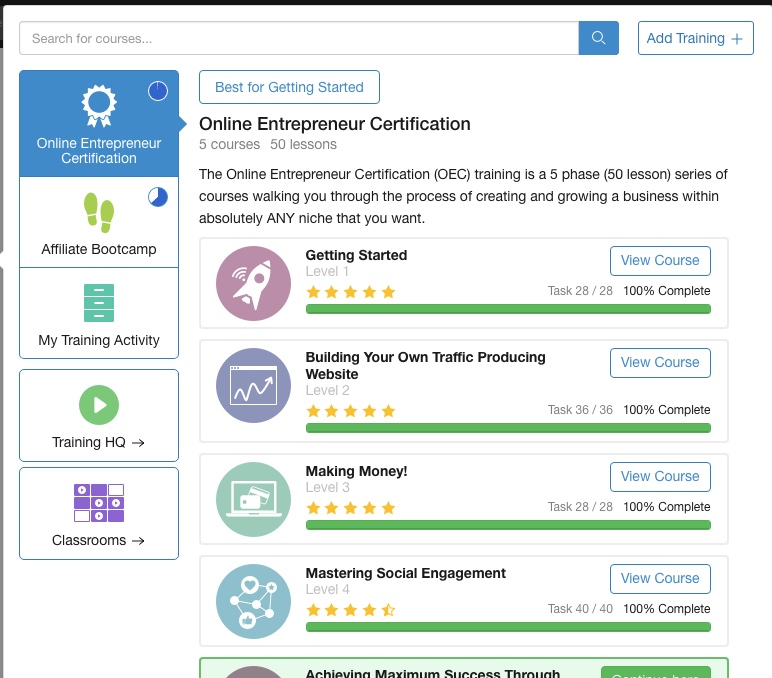 Websites
– Here is where you'll find everything you need to put your site together.
Site Manager is where you can manage all of your sites and get a snapshot of how many comments you have, the health of your site(s) and how many posts are up.
Site Builder is where you actually build your website. They tell you it takes 30 seconds to put a site together. I was skeptical. But I actually think it was less than 30 seconds. It was so easy. Also – and this is huge – they'll host your site for you too. I use Wix for my other site (I built that one before I joined Wealthy Affiliate),

PickPlants.com

, and I think I spend about $180 / year on hosting. So the fact that Wealthy Affiliate does it for me for this site is a BIG cost savings.
Site Domains is where you can find and register a domain.
Site Content is probably my most favorite thing ever. You use Wealthy Affiliate's templates to create a post, then you can check spelling and grammar, check to make sure your content is totally unique and then with a push of a button, post it to your site.
Site Comments is where you can get comments on your site from other Wealthy Affiliate users. This is really, really, really (I can't stress this enough) really important for ranking.
Site Feedback is where you can get feedback on your site from other Wealthy Affiliate users. They can give you insight into ways to make your site better!
Site Support is where you can submit a ticket if you need some technical help.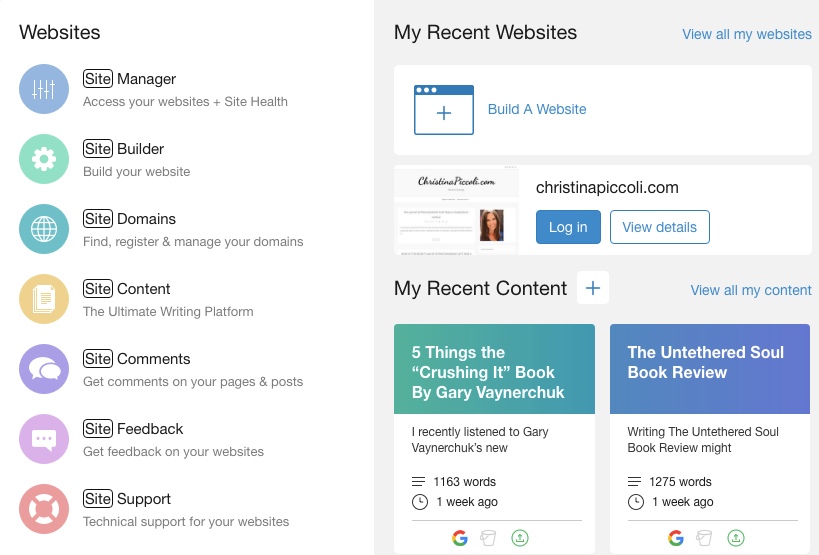 Live Events
– This is worth the cost of the membership itself! Every week, WA's trainer, Jay, does a live training on a certain topic. Right now he's focusing on email marketing. In the past he's done them on Facebook marketing, SEO strategies, working with local clients and the best strategies for them. And so much more.
All the trainings are saved here so you can access them at any time.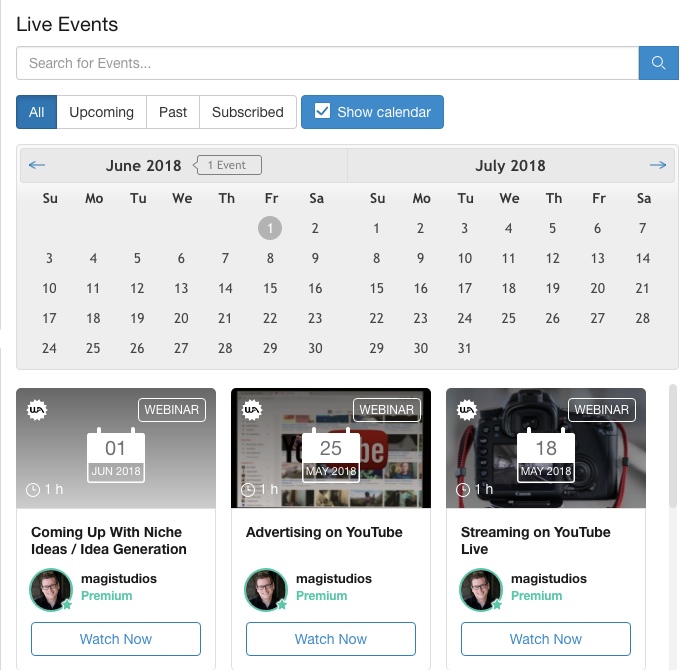 Research
– This is where you research Key Words. You'll understand the importance of all of these when you go through the training.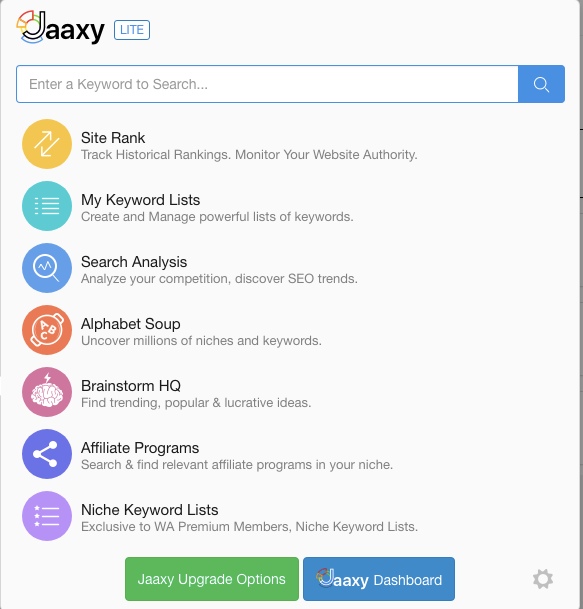 Live chat
– Need help right away, or have time to help someone else? Or, just want to chat? This is where you can do it!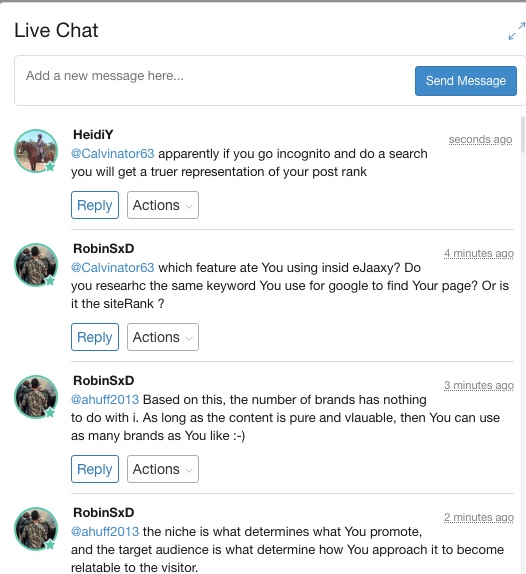 Help Center
– An easy-to-get to place where you can request help of any kind, at any time.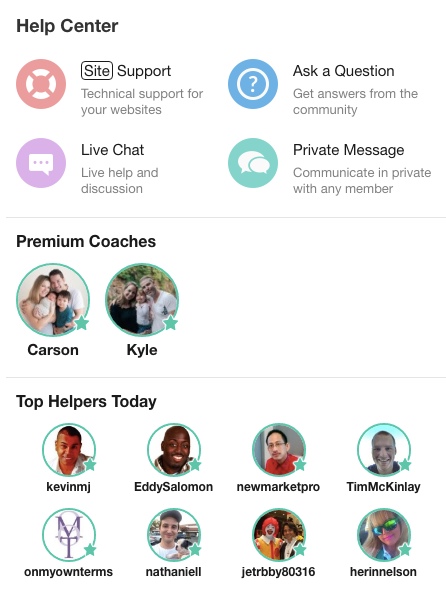 ---
As you can see, there's a lot going on inside of Wealthy Affiliate.
There's much, much more than I can even write here.
All I know is that without Wealthy Affiliate, my sites would not be where they are today. In fact, I started PickPlants.com with a different intention and it was doing absolutely nothing in Google. I decided to sign back up for Wealthy Affiliate, and now my website is growing at a steady pace.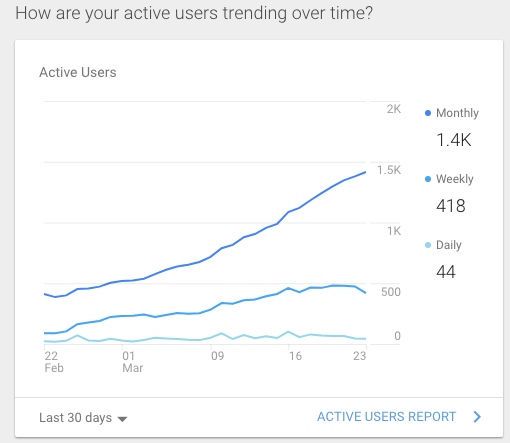 ---
What is the Cost of Wealthy Affiliate?
I know this is your next question, and it would be mine, too! The great thing is that Wealthy Affiliate lets you try everything out for free first. In fact, you can stay a Starter Member forever. I don't recommend that because then you're not getting access to everything that you need to become a true affiliate marketing professional. But it is an option.
Starter Membership: $0. I mean, it's truly $0. You don't even need a credit card to sign up.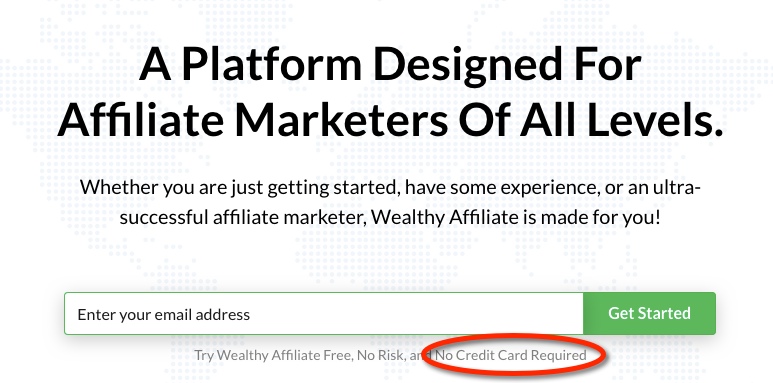 Premium Membership: $19 for the first month (if you take advantage of the first month's 57% off offer. You'll get 7 days to decide.) and $47 per month after that. You can cancel at any time.
Or, instead of the monthly price, you can pay a whole year up front. This is what I do, and it's what I recommend. First of all, if you dedicate a year to this business, you will move mountains! (As long as you're consistent.) Secondly, you'll get a discount. The yearly membership is only $359. That's $205 less than if you paid monthly. Third, I don't know about you, but the less monthly bills I have, the better! I like to just pay it and get it out of the way.
Maybe all of these prices seem like a lot to you, but you are investing in yourself and in your business. You would pay a lot more taking classes at a local college.
---
Here's the difference between the Starter and Premium accounts.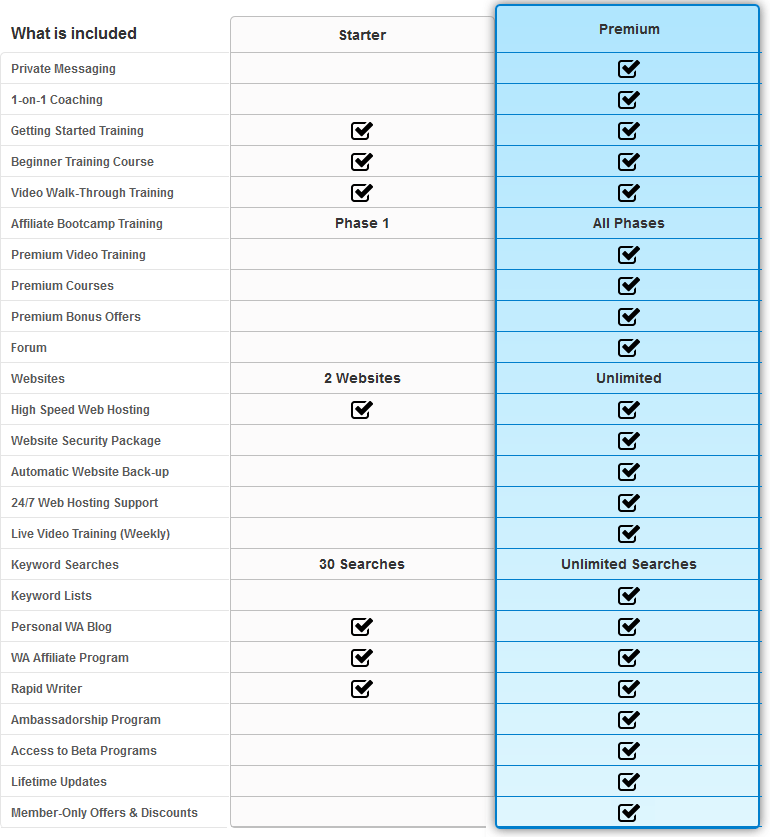 I do recommend starting with the Starter Account because it's always nice to try before you buy. To make sure that this is something you want to commit to.
But, if you truly are interested in affiliate marketing, I am confident you will be impressed. If you're serious about making money, then I know you benefit from this membership.
Sometimes you have to invest in yourself and in training in order to rise above the rest. Are YOU ready to rise above the rest? Think about it. Then just try it out. There's really no risk.
---
Questions? Comments? Leave them below, or feel free to email me at any time!