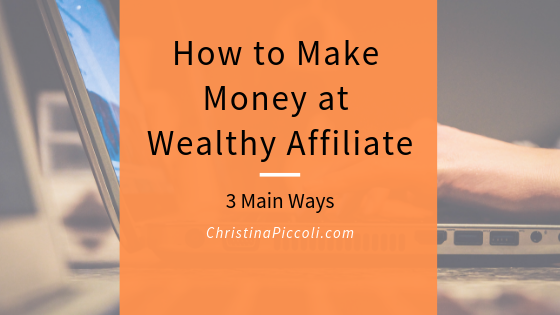 Are you an affiliate marketer or soon-to-be affiliate marketer thinking about joining Wealthy Affiliate? Are you on the fence because you're not sure it will work for you? Stay tuned because I'm going to show you how to make money at Wealthy Affiliate so that you can make a more informed decision.
You probably already know the benefits of affiliate marketing, but if not, you can read that post here. And looking for an in-depth review of Wealthy Affiliate? I take you inside my member area and show you everything they've got going on here.
---
How to Make Money at Wealthy Affiliate – The First Way
The main purpose of Wealthy Affiliate is to teach people how to become an affiliate marketer. A wealthy one! (Thus, the name, Wealthy Affiliate. Clever, right?)
So the first, and most important, way to make money with Wealthy Affiliate is by learning the ropes of affiliate marketing. The Wealthy Affiliate platform has all kinds of classes and trainings that take you step-by-step through the entire process of getting a website, setting it up properly, and learning how to make money with it.
I think from the outside, affiliate marketing seems like an easy way to make money fast. But, there's actually a lot that goes into it. (And if you ever see those "Make money fast and get this fancy car within 1 week with affiliate marketing!" ads, do me a favor. Run away. Run far, far away. They're just going to take your money and leave you high and dry. Been there, done that.)
Sure, you could potentially learn everything you need to through various YouTube videos and random blogs, but it's going to be really hard to bring everything together in an organized way that makes sense. When you learn how to set everything up the right way, in the right order, this will allow you to get ranked in the search engines, which will bring you visitors to your site, which will bring you sales.

Wealthy Affiliate not only has different step-by-step trainings that get you set up, start-to-finish, but they also have additional trainings on topics like email marketing, using Facebook ads, video marketing and so, so much more. There are trainings from members, and there are also weekly live trainings that are done every Friday night (and are available to view at any time after).
Here are some interesting topics that Wealthy Affiliate has trainings for:
How to use Canva (I personally learned a lot from this training!)
How to set up a Facebook business page and how to create successful ads in Facebook
Instagram 101 and 201
Where to get Branded Video Intros for Video Marketing
Drive Traffic to Make Money on Pinterest
And so, so much more. All you have to do is type whatever you want to learn in the search box, and you'll get plenty of tutorials and information.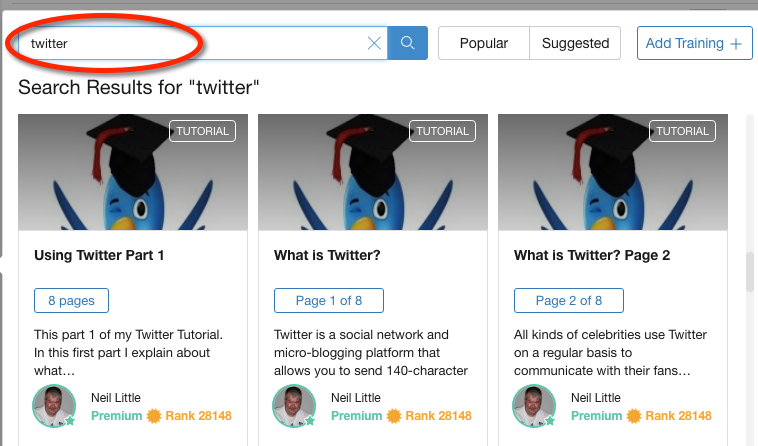 Everything you need to learn how to become a successful affiliate marketer is right within the Wealthy Affiliate platform. And you'll always have support if you have questions. There are always plenty of people on who can help at any time of day or night.
Another great thing about Wealthy Affiliate is that once you become a Premium Member, they will host up to 25 websites for you. So not only will they teach you how to make money, but they also will save you money by providing the hosting for you. This leads me into the #2 way to make money with Wealthy Affiliate.
---
How to Make Money at Wealthy Affiliate – The Second Way
We just learned that Wealthy Affiliate will host up to 25 websites for you. You could take advantage of this great opportunity by going to small, local businesses and asking if they would like you to create a website for their business.
Then, you put the site up and charge a certain amount a month (say $10-$20) for maintenance and hosting. If you did this with 20 sites, that would be $200-$400 per month.
This is really easy to do and it helps small businesses who don't know how to create a website and don't really have time to worry about it.

---
How to Make Money at Wealthy Affiliate – The Third Way
The third way to make money at Wealthy Affiliate is by promoting Wealthy Affiliate! Just to be clear, this is an optional way to make money, it's not a requirement at all.  I know there are some sites out there that make you promote them. This is not the case with Wealthy Affiliate.
Of course, they're an affiliate training site, so they do also have an affiliate program that you can take advantage of. By writing this article, I'm promoting Wealthy Affiliate. I really value the training I've gotten there and how far it has brought me in the world of affiliate marketing, so it's an opportunity that I want to share with others. It's a site that I'm proud to promote.
If you're someone who truly wants to learn all there is to know in affiliate marketing, I can't imagine that there's a better site out there to gain that knowledge. Wealthy Affiliate has everything you need to start a successful website. From step-by-step trainings to domain purchasing to website hosting and everything in between.
What's really great is that you can try Wealthy Affiliate for free and just see if you like it. You don't even need to put in your credit card. They're not all about tricking people into purchasing. They just want to help as many people be successful in this business as possible.
So are you ready to give it a try? Are you ready to start learning how to make money at Wealthy Affiliate? We'd love to have you aboard!

---
What do you think? Do you think Wealthy Affiliate could work for you? Leave me a comment below and tell me your thoughts.