Is LimeLife by Alcone a Pyramid scheme? Technically it's not a pyramid scheme, however, because it uses the Multi-Level Marketing (MLM) style of selling, it does have pyramid scheme qualities.
We'll dive into what exactly that means in this post below.
I'll also break down exactly how much it costs to join LimeLife by Alcone, how much money you can make, the compensation plan, positive and negative reviews, and much more.
I also have an alternative business you can work from home if you decide LimeLife by Alcone isn't right for you.
I encourage you to read everything below so that you can make an informed choice.
---
Quick Summary: LimeLife by Alcone is the direct sales portion of Alcone, a makeup and beauty company started in 1952 in New York City. LimeLife by Alcone was started in 2015 and was originally called LimeLight by Alcone (and Alcone at Home before that). Because LimeLife by Alcone uses the Multi-Level Marketing system to sell products, many people consider it to be a pyramid scheme. It's technically not a pyramid scheme, but it does have pyramid scheme qualities, which we'll take a look at below.
---
---
What Is LimeLife by Alcone?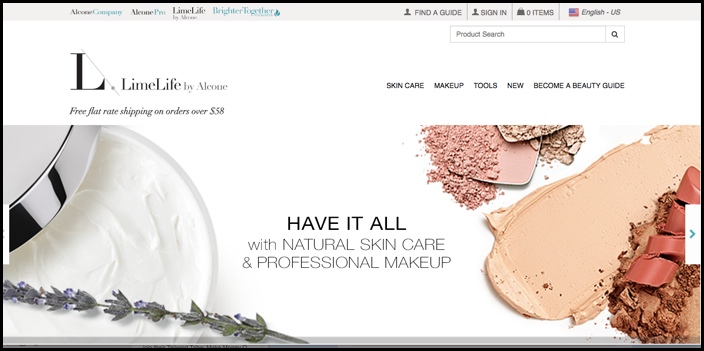 LimeLife by Alcone is a division of the company Alcone. Alcone was started in 1952 by Alvin Cohen who saw the need for makeup products specifically for the actors and actresses in New York City's theatrical productions. Vincent and Barbara Mallardi bought Alcone in 1982.
Alcone is the makeup provider for The Blue Man Group, The Lion King, and many more Broadway, theatrical and television shows.
Alcone at Home was launched in 2013. This was rebranded to LimeLight by Alcone in 2015 and LimeLife by Alcone in 2018, which is what it's known as today.
LimeLife by Alcone uses the direct selling method of promoting its products. Sellers in the business are called Beauty Guides.
---
How Much Does LimeLife Cost to Join?
In order to join LimeLife by Alcone, you will need to purchase one of their starter kits.
There are currently four kits:
Starter Kit – Dark Complexion
Starter Kit – Deep Complexion
Starter Kit – Light Complexion
Starter Kit – Medium Complexion
Each kit includes:
1 Cleanser
1 Mask
1 Moisturizer
1 Dew Date
1 Bamboo Renew
1 Perfect Mascara
1 Blenderful
1 Enduring Lip Liner
1 Enduring Lip Color
1 Perfect Lip Gloss
2 Perfect Lipsticks
1 Perfect Eyeliner Pen
1 Blush/Powder Trio Palette
10 Catalogs
Foundation Cards
Training Materials
The starter kits are all $169.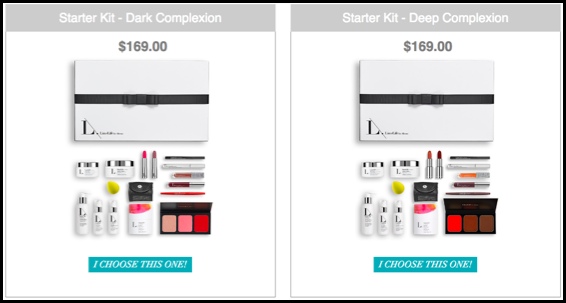 These are 2 of the Starter Kits. All kits contain the same items with different shades for different skin tones.
You get your own website, but it's $10 / month. The debit card is $1 / month if you choose to get one.
And don't forget that in order to be active, you need to have minimum amount of sales. Those start at $300. As I mentioned above, this is where people can get into financial trouble.
What happens if you've only sold $100 that month? Or, $0? You're going to feel pressured to buy products yourself in order to stay active.
Oh, and your upline will also want you to buy products. They will be on you because you're supposed to know what you're selling.
(Psst. The truth is…that's how they make their commissions. They make them off of you. YOU are the customer. We'll get a little more into this later.)
---
What is the LimeLife by Alcone Compensation Plan?
Every good MLM needs a complicated compensation plan, and LimeLife by Alcone is no different.
When you first sign up to be a seller, you will start as a Beauty Guide in Training. Your base commission here is 20% of your personal sales. If you enroll someone, you'll also make 5% of their sales.
As soon as you hit $1000 in lifetime sales, you will move up to Beauty Guide, and you'll get enhanced commissions based on your personal sales.
If you don't have any interest in building a team, you can make enhanced commissions from 5% – 15% (+20% base) on your personal sales, depending on your volume of sales.
In order to qualify for enhanced commissions (and a percentage of your downline's sales if you do want to build a team), you need to be "active". In order to remain active, you need to have $300 in sales every month.
(If you don't remain active, you'll still earn 20% of your personal sales and 5% of your enrollee's sales.)
LimeLife by Alcone also offers Fast Start bonuses. You can earn from 150 points up to $200 in cash. There are different qualifications for the different bonuses.
Here are all the LimeLife levels you can reach:
Beauty Guide in Training
Beauty Guide
Lead Beauty Guide
Star Beauty Guide
Director
Lead Director
Star Director
Lead Platinum Director
Star Platinum Director
Senior Platinum Director
Each of these has their own qualifications. You need to be active in all levels, which is that Personal Volume (PV). As mentioned, it starts at $300, It goes up from there depending on your level. This is where people get into trouble, and we'll talk about it later.
As you move up the ranks, you also need a certain amount of Group Volume (GV) every month in order to qualify. This is your personal volume plus your team's volume.
Confused yet?
I am!
You could watch this 30 minute YouTube video if you want to know all the nitty-gritty details of the entire compensation plan:
https://www.youtube.com/watch?v=vW12SPhGyYY
I wish I could go over absolutely everything, but this would be the longest post in history. Like I said, compensation plans are complicated! 
---
How Much Money Can You Make with LimeLife by Alcone?
Of course, as you move up the ranks at LimeLife, you will be able to earn more money with bonuses and higher sales percentages.
I found this video on YouTube, and I loved how she tried to break down the prices and how much you can actually earn. You're going to start to get an idea that this may not be the ideal "easy" work from home opportunity that you thought it was…
In reality, more than 99% of people in MLMs LOSE money. That's not just a made up stat. That comes from the FTC.
People lose money because of that minimum sales amount you need to hit, because of pressure from your upline to buy, because you may need other tools, products, brochures and business cards, and because this is HARD, daunting work that most people can't stick to doing.
It kills me when people say that working it network marketing is easy. You have to constantly be looking for people to recruit. Then you have to train them and keep them motivated.
Since there's a lot of turnover, you have a continuous cycle of that until you can reach higher ranks. And if you don't get in on a company early, you're really at a huge disadvantage.
Meanwhile, the only way this even works is if people below you spend money. You make money when people below you lose money.
It's kind of sucky.
---
LimeLife by Alcone Reviews
I wanted to add a couple of LimeLife by Alcone reviews I saw on YouTube so that you can get more information from others on this company.
I thought this was a great review because this is someone who had both positive and negative things to say about LimeLife by Alcone's products and also some complaints about the business opportunity.
Here's someone who started in Younique (you can check out my article on Younique here), went to LimeLife by Alcone, then back to Younique. Her review of LimeLife begins around 4:30.
Here's one more person reviewing the opportunity and what happened to her after she decided to quit:
---
Related Articles:
---
Is LimeLife a Pyramid Scheme?
According to Wikipedia:
A pyramid scheme is a business model that recruits members via a promise of payments or services for enrolling others into the scheme, rather than supplying investments or sale of products. As recruiting multiplies, recruiting becomes quickly impossible, and most members are unable to profit; as such, pyramid schemes are unsustainable and often illegal. Source.
A true pyramid scheme doesn't have any products to sell. So, technically LimeLife by Alcone is not a pyramid scheme. But because people at the top make the most money, and because they make it by recruiting others and not by selling the products to customers outside of the company, it's right on the border of being a pyramid scheme.
In fact, many MLMs end up getting sued for being pyramid schemes. ​I wrote about the lawsuits that MONAT is facing. From what I've seen, most MLMs end up getting sued at some point for being a pyramid scheme. It doesn't mean they are, but it happens a lot.
Let's talk about some Pros and Cons of joining LimeLife by Alcone.
Pros
You can potentially make a good income
The products seem to be high quality
Cons
There's more than a 99% chance that you will lose money
You don't actually own your own business (the owners of Alcone do)
MLM recruiting tactics are often harsh and not well received
You may alienate friends and family
MLMs prey on vulnerable women
You will have to hustle and grind your way to the top
This is not easy, passive income as some suggest
People below you have to lose money in order for you to make money
By the way, if you buy a kit and change your mind, you're out of luck with returning it (unless it hasn't been shipped out yet).

---
LimeLife by Alcone Alternative
One thing I realize about MLMs is that they are full of drama. It's like working with a bunch of high schoolers. There's always some issue with your upline or someone stabbed you in the back or your leader is cheating you out of sales.
I don't know. It's dramatic.
Seems weird for owning your own business and being an entrepreneur. (Because you're not.)
In any case, if you like the idea of working from home, on your own schedule and NOT dealing with drama, then I have an alternative solution for you that you may like. Or maybe you won't, I have no idea. I'm just throwing it out there for you.
It's what I do and I love it. (And I came from an MLM before this.)
It's affiliate marketing.
First, let me tell you what's not involved.
No:
Inventory
Hard sales
Chasing friends and family
Messaging strangers
Calling anyone on the phone
Buying products every month
Monthly minimums
Ordering anything at all
Meetings
Uplines or downlines
Customer service
Instead you:
Work from home
Work on your own time
Create helpful content
Promote products that you recommend and get paid a commission
Attract people to your site using keywords
Read exactly why I chose affiliate marketing over MLMs…
Just like MLMs, affiliate marketing isn't a get-rich-quick scheme. It does take time to build it up. However, you don't have to hustle and grind and train and recruit.
You never have to tell anyone you know what you're up to if you don't want. It's just so much more chillaxed than MLMs.
And so many great companies have affiliate programs. If you like makeup, you could start a blog on makeup and then use Amazon's affiliate program to promote products that you recommend.
Easy!
I do recommend training because there's a lot to learn in this business. But I'm telling you, I've done a little bit of everything (including MLMs), and affiliate marketing is the least intrusive. You can read my review of my #1 recommended affiliate marketing training program here.
That will also give you more of an idea of what affiliate marketing is all about.
---
Conclusion
So, is LimeLife by Alcone a pyramid scheme? I'll leave it up to you to decide for yourself.
I do find it interesting that:
More than 99% of people lose money in an MLM. The money you make is mostly (almost all) from recruiting people, NOT from selling the products
LimeLife is no different.
---
Other related articles:
---