If you want to know how to make money selling essential oils online, I'm going to show you exactly how you can do it. This is something I have personal experience with and I want to help steer you in the right direction.
There are two main ways that people sell essential oils online – through a multi-level marketing (MLM) company or through affiliate marketing. There are a couple of other ways to do it (Amazon FBA and working with a distiller and creating your own essential oils brand), but MLM and affiliate marketing are the top ways.
I'm going to show you why one is clearly a better way to go,
Let's get into it!
---
---
The Top 2 Ways to Sell Essential Oils Online
While I haven't personally sold essential oils via affiliate marketing, I am experienced as an affiliate marketer. I am also experienced selling essential oils through an MLM.
Let's talk about them both and I'll show you why affiliate marketing is clearly a better option.
1. MLM / Network Marketing
There are two main essential oil MLMs out there – Young Living and doTERRA. You may be thinking of joining one of these companies, and I'm going to attempt to talk you out of it.
Hear me out because I was with Young Living before I started this website.
The quality of the oils is really good with both doTERRA and Young Living, but there are some issues with them, and MLMs, in general.
On this site, I've been taking a look at different MLM companies, and there is a pattern of problems for all of them:
Overpriced products
YOU are the customer
Really hard to sell
More about recruiting than selling the product
You don't have your own business
You're extremely unlikely to make money
Let's talk about each of these a little more.
Overpriced Products
Almost every MLM has overpriced products and Young Living and doTERRA are no exception. You can find perfectly good essential oils at MUCH lower prices. They will tell you that you can't trust other brands because their quality hasn't been tested, but that's just sales tactics.
(There are higher quality oils and lower quality oils, but there are plenty of companies who sell high quality oils.)
The reason the prices are so high is that of the complicated compensation plans that favor the people on top of the pyramid. The people on top get all kinds of bonuses and high payout amounts, and that money has to come from somewhere….
YOU are the Customer
The biggest problem with MLMs is that YOU are the customer. These companies have a closed-market system. That means that the people inside the MLM are the same people who are buying the products.
This is where a lot of people get into trouble and start losing way more money than they're making. (Been there, done that.) Your upline is going to pressure you to buy, buy, buy, to "be the brand", experience all the products that you can…
That's because they make money off of you.
Not only that, but you'll have a sales limit every month. For Young Living, it was 100 PV (personal volume), which was approximately $100. If you don't hit that, you won't stay active and won't be eligible for all the payments (that you likely won't earn anyway). Many people end up buying that amount themselves so that they can stay active.
That's at least $100 every single month.
Really Hard to Sell
Because the products are overpriced, they are really hard to sell to people. No one wants to pay more money for something they can get for almost half the price. Let's compare Young Living's Peppermint oil with Rocky Mountain's peppermint oil.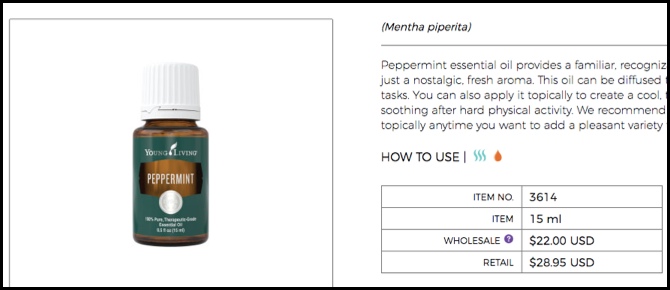 Young Living's 15ml peppermint is $22 wholesale (you get that price only if you're a member) and almost $30 retail!

Rocky Mountain's 15ml peppermint is $16.95.
Are you going to convince someone to get the Young Living oil? No. The only people you'll convince are the people that you recruit.
More about Recruiting than Selling the Product
Being in an MLM is more about recruiting people to that MLM than it is about selling the product. (Which makes it right on the edge of being a pyramid scheme.)
So if you're looking to sell essential oils online and you're thinking of using an MLM, just know that you'll be recruiting more than anything. Which can be daunting and exhausting. The people at the top of these things are not creating nice, easy passive income from what I've seen.
They are busy recruiting and training. Recruiting and training. Over and over again. That's all they do.
Unless you're really into that, it's not that fun from what I can tell.
You Don't Have Your Own Business
The MLMs tell you that you'll be a "boss babe" running your own business, but it's not really true. The MLM company IS the business. You don't own that business, so it's not yours.
In fact, because you're the one buying the products, you are actually the customer and not a business owner.
Ouch.
That hurts.
You're Extremely Unlikely to Make Money
99% of people in MLMs lose money. I didn't make that up. That's from an article posted on the FTC's website.
…whereas less than 1% of MLM participants profit. MLM makes even gambling look like a safe bet in comparison.
Yes, I thought I was going to make tons of money too.
If You Still Insist…
If you still insist on selling essential oils online through an MLM (I seriously highly advise against it), you can read my article, How to Make Money Selling doTERRA Online.
2. Affiliate Marketing
Affiliate marketing is the act of promoting someone else's product for a commission. Now, you might think that sounds just like an MLM, but they are vastly different.
(Note: I'll walk you through the basics of affiliate marketing below, but if you want more information, you can check out my free guide, How To: Affiliate Marketing for Beginners.)
With affiliate marketing there's no:
Recruiting
Hard sales (you attract people to your site by providing great information. I'll show you a little later.)
Training others how to do what you're doing
Parties or classes
Inventory
Monthly fees (except small fees for hosting, and optional tools and training)
Expensive sign-up kits
With affiliate marketing, you DO run your own business. You put the work in and YOU get paid, not someone above you.
---
5 Great Essential Oils Affiliate Programs
Let's take a look at some essential oil affiliate programs and then I'll show you how this all works and how it's so much easier than working for an MLM.
1. Rocky Mountain Oils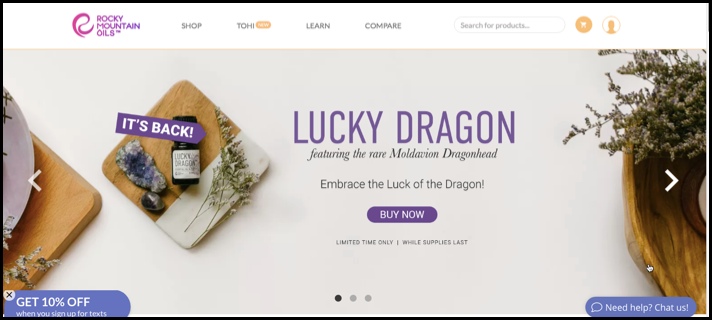 I mentioned them above, and there's a reason for that. Rocky Mountain Oils has a great affiliate program.
Commissions: 9% – 16%
Cookie: 30 Day
Rocky Mountain Oils has been delivering quality oils since 2004. They have a strict commitment to quality, pureness and safety that you can read about here.
They have a customer satisfaction guarantee that's unbeatable. Customers can return their oils within 90 days of purchase, no questions asked. Rocky Mountain Oils will even pay for the shipping cost!
They support small farms and use sustainable sourcing practices.
2. Barefut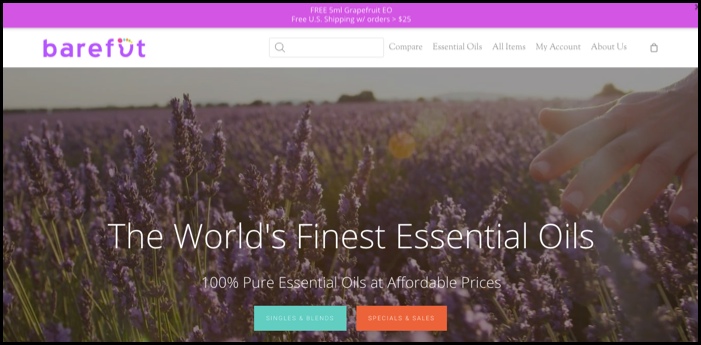 Barefut is run by Certified Aromatherapists and have been in business since 2010. Like Rocky Mountain Oils, Barefut also uses GC/MS testing to ensure the quality and purity of their oils. You can check the test results right on their website.
Besides essential oils, they also sell herbal teas, books, diffuser pendants and bottles. If unhappy, customers can return their products within 30 days of purchase for a full refund.
3. Artisan Aromatics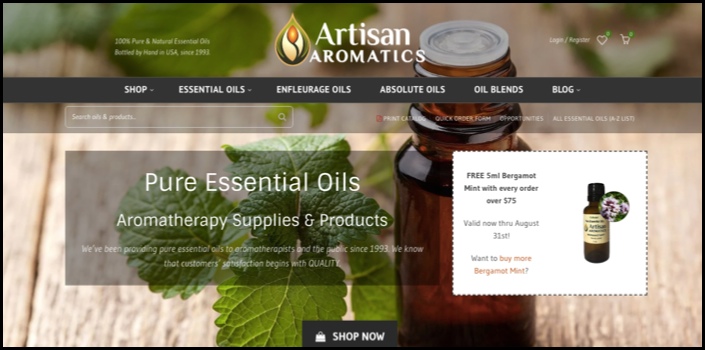 Commissions: 10% commissions
Cookie: 30 days
Artisan Aromatics is a small company that was started by a husband-and-wife team. They also use GC/MS testing to ensure the quality and safety of their oils.
They have over 150 essential oils for sale, include rare enfleurage oils, which use a very old technique of extracting oils from plants. You can see their list of these unique oils here. Since these are very expensive oils (up to $3,000), there is a great opportunity to make fantastic commissions.
They offer a 100% satisfaction guarantee on all of their oils, except for the enfleurage oils. You can request a sample to make sure that you like one of these oils before making a full purchase.
4. Plant Therapy

Commissions: Not listed
Cookie: Unknown
Plant Therapy is a well-known essential oils company that was started in 2009. They have hundreds of products including single oils, blends, oil sets, diffusers, lotions, and accessories.
They are 100% cruelty-free and are Leaping-Bunny certified. They have a 90-day money-back guarantee and they also pay for return shipping for ultimate customer satisfaction.
They have an average review rating of 4.9.

5. Amazon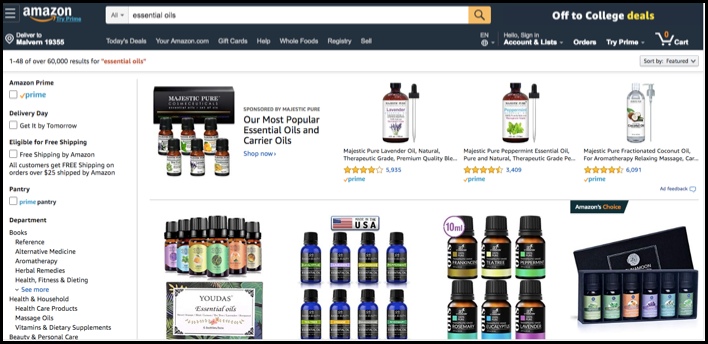 Commissions: 4% to start
Cookie: 24 hours
That's right. Amazon has it's own affiliate program, where you can promote any of its products, including essential oils. The benefit of using Amazon is that they are trusted and people feel comfortable shopping with them. The downside is that they offer low commissions and a short cookie.
Another benefit is that when someone clicks on your affiliate link, you'll get commissions on anything that they buy. This can add up!
---
How to Get Started Selling Essential Oils Online
Let's put all of this information together so you can understand how you can sell essential oils online using an affiliate program.
Here's how it works:
You buy a domain name and create a website. (Don't worry, this is easier than it sounds.)
You create helpful content that people are looking for. (I'll show you in a minute.)
You sign up for an affiliate program
You get a special link that's attached to you and you place the link in your website
When someone clicks on the link in your website and buys, you get a commission
Let's dive into these steps a little more.
1. Buy a Domain Name and Create a Website
I'm going to recommend a training platform that I use called Wealthy Affiliate (here's my full Wealthy Affiliate review), and they have everything you need to get started with an essential oils website.
You can easily purchase a domain name right inside the platform for about $14-$16 (this is a yearly cost) and create a website in seconds. Here's an article I wrote about exactly how this is done, and you'll see that it's super easy.
With the technology we have available today, it just takes a few pushes of a button, and you're live on the web!
2. Create Helpful Content
How did you end up on this site? Likely, you were looking for an answer for how to make money selling essential oils online. I created this article just for you! How did I know what you were looking for?
Keyword research and Google.
Let me show you.
Through Wealthy Affiliate's keyword research tool, Jaaxy, I found that people have an interest in learning how to sell essential oils online.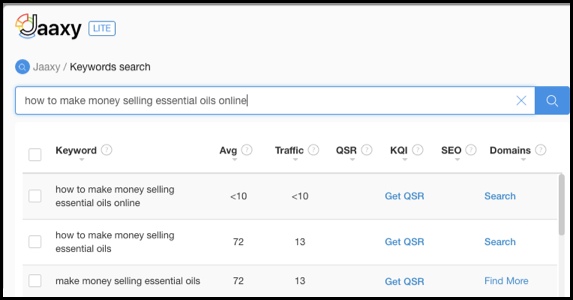 These are keyword phrases and it's how you know what people are looking for. I can also go into Google and see what else people are looking for: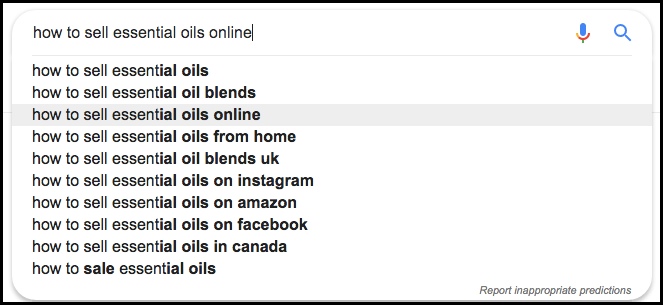 This gives me an idea of what to write about. Now, if I do this right, Google and the other search engines will put this article somewhere at the top so that people can easily find it. And hopefully people (like yourself) will click on it and find useful information here .
That's how it will work for you too. That's why affiliate marketing is better than an MLM. You attract people to YOU instead of chasing people for sales and recruiting.
Some helpful information you could provide:
Answering people's questions about essential oils Reviews of different essential oils Your personal experience with essential oils
3. Sign Up for an Affiliate Program
You could pick any of the affiliate programs I listed above, or you can even choose more than one. (Just make sure to read the terms because some may require you to be exclusive to them.)
When you sign up, you'll want to ensure that you have some good content on your site first so that these programs can see what you're all about. Don't worry, Wealthy Affiliate will walk you through everything, step by step in their training.
4. & 5. Get Your Affiliate Link & Make Commissions
When you sign up for an affiliate program and are approved, you will receive information on your own personal affiliate link. You will use this link within your content and when someone clicks on it and makes a purchase, the affiliate program you signed up for will know that it was you who created the sale and you'll earn a commission.
Different affiliate programs have different payout amounts and times, so be sure to read the terms. For instance, some programs may require you to have $20 or $50 in affiliate commissions before they will pay you. Some pay weekly, some pay monthly. They're all a little different.
---
Ready to Start Selling Essential Oils Online?
Not only is affiliate marketing a fantastic way to sell essential oils online, but you can learn how to sell ANYTHING online.
For instance, you could have a website centered around a specific type of pet. You could talk about essential oils for pets, but you could also promote other pet accessories, supplies and even food!
Or, if you decided that essential oils really isn't your thing, you can promote anything else that you have an interest in. Wealthy Affiliate can help you decide in their training.
We live in such amazing times and we have incredible technology that makes it easy for us to create our own businesses online in no time.
I'm not saying you'll be able to get rich quick because it's not quick and it's not easy. But you have a MUCH better chance of getting rich with affiliate marketing vs with an MLM.
It does take time, consistent effort and persistence, but YOU have complete control over it unlike with being in an MLM.
I hope this article has helped you see how easy it can be to make money selling essential oils online, and I hope to see you get started at Wealthy Affiliate!
(P.S. You can join for free – no credit card re​​quired.)
---
Pin Me!