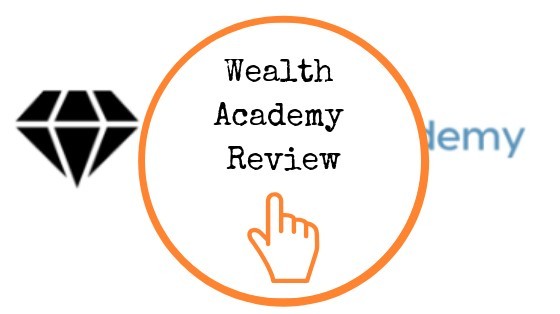 My mysterious friend "Martin" from Kindle Sniper is back! He's already left me some fun mail in my inbox. This is the first one that I received, and you can see he's already up to his old tricks again. Look at this gem.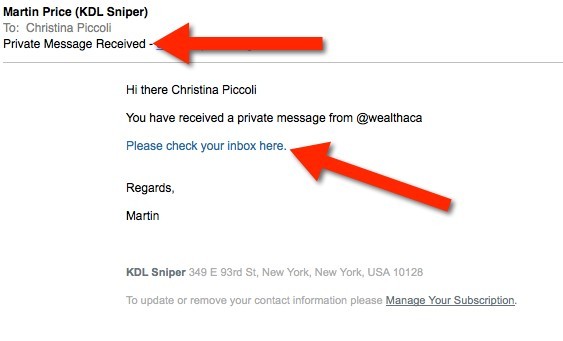 I received a "private" message and of course I had to click the link to check my inbox. What inbox exactly did he send this private message to anyway? You gotta love these tactics! That link just clicks to another one of Martin's money-making programs.
OK, Martin. I'm game. I love reviewing your products. They're fun. And funny. Is Wealth Academy a scam? Maybe Martin's turned his life around and is making better choices now. Let's see in this Wealth Academy review.
Before even clicking to watch the video, this is what you see. We're already off to a bad start.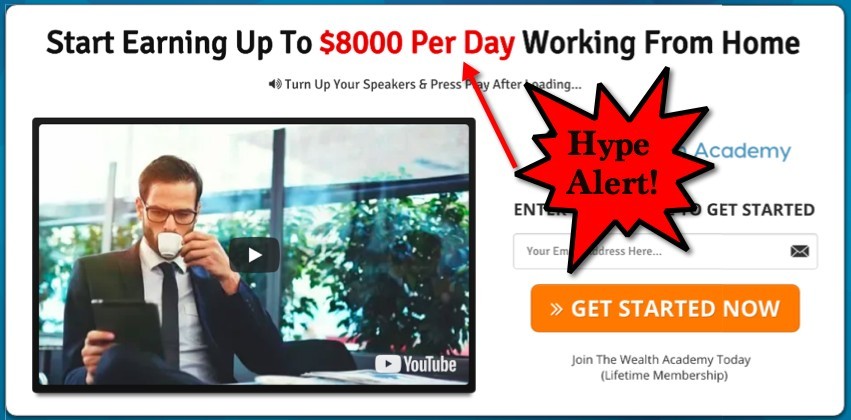 After watching the video, I learned this product is actually from someone named Richard. I guess Kindle Sniper wasn't actually making enough for Martin. He's trying to promote other products too.
This is another typical sales video. You get all the usual hype, like:
You don't need any previous online experience
It takes 5 minutes to get set up
You can make up to $8000 per day
You can make life-changing income, even while you sleep!
You can easily access hungry customers
This is brand new lucrative income
How many foreign trips you want to take and cars you want to buy is up to you
You'll create your own personal ATM machine
You only need 2 hours a day
You don't need a website, it's all handled for you
Richard takes us through his whole sob story about losing his job and then runs into someone named "Mike" who gave him an action plan. And guess what? A sale the first day! In fact, more and more sales came that same day! All he had to do was follow some simple steps. The sales came in like magic!
And now, he only works 1-2 hours a day and makes $5000 a day! He either drives a Mercedes or a Ferrari, depending on what he feels like that day.
Doesn't this sound perfect?
He asked around and people said he should charge $6000 for this system, but he's only going to charge $24.95. This small investment will allow you wake up when you want and just check sales from the night before. And only in 2 hours a day at your computer.
I think that was a good synopsis of the video, but if you'd like to see it all for yourself, have at it!
https://www.youtube.com/watch?time_continue=6&v=_rRAii23Nhc
You know what the video didn't say? What the Wealth Academy is or what you'll be doing to make money. It just mentions using affiliate marketing and Amazon. Hmmm… You just have to trust that it's good and it works. I have a feeling that's not the case, so let's dig a little deeper.
Or, rather skip all that and learn the REAL way to get started making money online. Click the button to get my FREE guide for beginners.
Click Here to Get My FREE Guide to Making Money Online for Beginners

Here are the areas we'll explore in this Wealth Academy review.
What is Wealth Academy?
How Does Wealth Academy Actually Work?
Is Wealth Academy a Scam or Legit?
A Better Path – Get Started the RIGHT Way
Let's Recap
---
What is Wealth Academy?
Product: Wealth Academy
Cost: $24.95 one-time payment
Owner(s): Richard Someone. He doesn't say his last name. Not good, Richard. Not good.
[yasr_overall_rating size="medium"]
Wealth Academy is a training site that gives you a free website (exceeeeeppppt… you'll have to pay for a domain name and hosting, which can run you an additional $150ish.) and then teaches you how to sign up as an Amazon Associate, pick hot products and then market them.
You'll be shown how to market these products via various Social Media sites (Twitter, Facebook, Snapchat, Instagram, etc.)
The price is pretty low, so that's a positive. But is it even worth that much? Let's see…
---
How Does Wealth Academy Actually Work?
Well, for your $24.95 you will get a decent amount of training. You'll learn how to set up your Amazon account and you'll get training on marketing those products through the various social media sites as stated above.
However, from the research that I did, it seems that their training is outdated and possibly even reused from a previous product. That's one the of the issues with these one-and-done products. The training just isn't up-to-date.
There's not much else to say about this one and how it works. But let's see if it's worth spending your hard-earned money on it.
---
Is Wealth Academy a Scam or Legit?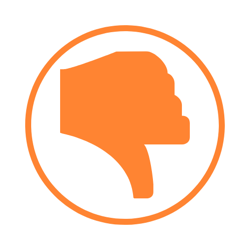 I wouldn't exactly call Wealth Academy a scam. You will get some training for your money. But I definitely, definitely, definitely would not recommend it.
First of all, you can already tell by the sales pitch that everything is completely overstated. You're not going to make a bunch of sales your first day. In fact, I can almost guarantee that you won't make 1 sale your first day, unless you happen to sell something to your mom.
The only way to make a lot of sales is to have a lot of traffic. You can't just go around posting things to social media and expect the sales to come rolling in. It just doesn't work that way.
It takes time for people to trust you to buy something from you. You have to give them something of value first.
I signed up to their affiliate program just to see what it's like. And I can tell you that if the way they train people to make money is as bad as their promotional emails, then whoever buys this program is in real trouble.
Usually when you sign up for an affiliate program, you get different banners and images you can use. Sometimes you get sales videos. And yes, sometimes you get email templates. But Wealth Academy only provides email templates, and they're all super shady. One is shadier than the next. Here's an example so you can see for yourself: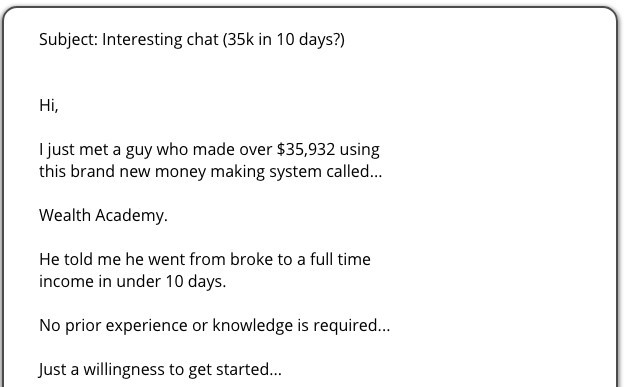 They expect you to send this out to people and the sales will just "show up like magic", just like they say in their crappy sales pitch. Who in their right mind would click on this? This would go right into my spam folder.
This shows you what you're dealing with here. These guys are all about pocketing money and not actually about helping people succeed in online marketing.
This really frustrates me because it makes ALL of us affiliate marketers look bad and untrustworthy. I'm glad i started reviewing these products because I need to help clear the names of us good marketers out there. We're not all bad! Some of us DO really want to help people find a better path.
---
A Better Path – Get Started the RIGHT Way
Wealth Academy promotes affiliate marketing via Amazon as a way to make money online. And it IS a way to make money online. It can be a very good way to make money online. The thing is, you need more than just some training on how to post things to social media.
You need to know how to set yourself up for success, right from the start. You have to know how to bring in the right traffic. In fact, it looks like what they teach you is how to chase sales. No one likes to do that. No one. You will give up if you try to chase sales.
Instead, if you get yourself set up the RIGHT way, the sales will come to you. This is much more satisfying, much more rewarding and a much easier way to make sales.
It takes time though. You're not going to make $8000 in a night right away. But get yourself set up with the proper training, put in the effort, and you can grow your income more and more. As much as you want really, depending on the time and effort you put into it.
Ready to do this the RIGHT way? Click on the button to get my free guide to making money online for beginners.
Click the Button for my FREE Guide

---
Let's Recap
Wealth Academy is just another program set up to take your money and not give you much value. They try to prey on your feelings of being able to "wake up when you want and check all the sales that came in last night", "work only 2 hours a day for all this money" and "drive a Ferrari and take fancy vacations as much as you want!"
I'm not saying that stuff isn't possible – eventually. But you'll need to learn the whole affiliate marketing system, learn how to attract people to you, learn how to write helpful posts and a whole host of other things. Is learning all of this work? Yup! Is it fun work? Hell yea!
So forget about trying to make money really fast. Instead, embrace the challenge of learning new skills and setting yourself up for long-term success. Please don't waste any more time or money on these training programs that will lead you right back to square 1. I know that's what will happen because it's happened to me before. More times than I wish to remember.
Instead, get on the right path from the start. Check out my Free Guide to Making Money Online for Beginners first to see how the process all works and to find out what training I used (and still use) to get myself set up the RIGHT way.
Click here to get my FREE Guide!

---
Questions or comments about Wealth Academy? Leave them in the comments section below.