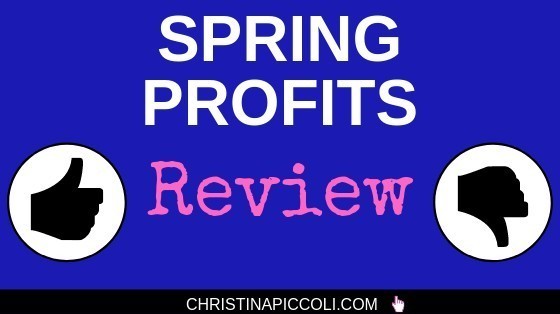 Welcome to my Spring Profits review!
You are very smart for doing your homework before just handing over your cash to some unknown program.
Unfortunately:
A lot of programs you see out there are only out to do one thing – get your money.
They say they want to help YOU make money, but it's not really true in many cases.
Will this one be different?
Let's dive into this Spring Profits review and find out.
Tired of disappointing or scammy products?
I've got ya covered!
Spring Profits Summary
Product: Spring ProfitsCost: $37Owner(s): Daniel Green (pen name) Good For: Those who want basic information on selling t-shirts online

<img alt="Spring Profits Review – Logo" width="832″ height="186″ title="Spring_Profits_Review_Logo" data-id="4564″ src="https://christinapiccoli.com/wp-content/uploads/2019/05/Spring_Profits_Review_Logo.png" style="width: 100%;">
What is Spring Profits?
Here's the headline on the sales page:

<img alt="Spring Profits – Headline" width="820″ height="80″ title="b3de96ee6f00255122788c6c53c235ae_cropped_optimized" data-id="4558″ src="https://christinapiccoli.com/wp-content/uploads/2019/05/b3de96ee6f00255122788c6c53c235ae_cropped_optimized.jpg" style="width: 100%;">
Lots of Money with Little Work and No Experience
The video claims that average Joes have been making over $25,000 every week with this system – with only 10 minutes of work per day.
Our narrator, Daniel, claims that he makes thousands per day, however, we don't have any idea who he actually is and there's no proof this is true.
He says that we can make money from the e-commerce giant, Teespring and we don't need any special skills or experience to use it. While it's true making money from e-commerce (and specifically Teespring) is legitimate, it's going to take a lot more to make it work than a $37 training and 10 minutes a day.
But that's not what Daniel tells us. He says it's incredibly easy to make money with Teespring and he started to see huge profits right away.
In fact, Daniel claims that users of this system have been able to make $1,000,000 per year. Does he offer proof of this?
No.
(Just some screen shots that could have easily been made up.)
Fake Testimonials
One of the biggest factors in whether I believe these products can do what they say is their testimonials. Many of the products that I review use actors for their testimonials.
Why use actors if your product is so good?
Why not use real people? It would be easy to find testimonials if the product actually worked.
Bad news:
Spring Profits uses actors too.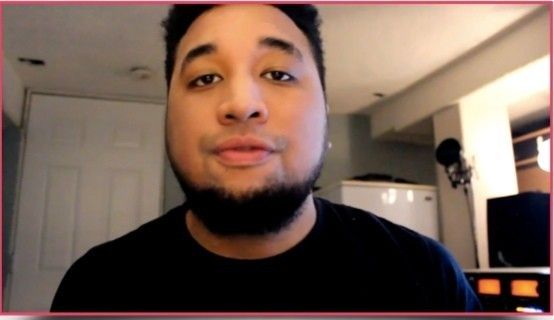 <img alt="Spring Profits uses fake testimonials" width="554″ height="320″ title="11fdf107e0ea73b407928be7bbb67da1_cropped_optimized" data-id="4559″ src="https://christinapiccoli.com/wp-content/uploads/2019/05/11fdf107e0ea73b407928be7bbb67da1_cropped_optimized.jpg" style="width: 100%;">
This testimonial guy says that in 4 months, he's made over $430,000. But no, he didn't. He didn't make any money from this. He's an actor hired from the freelancer site, Fiverr.com.
In fact, he just showed up in my Secret Online Goldmine review that I did recently.
There are several more testimonials throughout the video, many of the same faces I've seen again and again.
We get a lot of the same nonsense in this sales video as in many of the other sales videos I've reviewed. There's a sob story about how Daniel ended up needing to make money fast, how he found this magical product that solved all of his problems and how he has SUCH a big heart and that's why he's now sharing it with us.
Lies and trickery.
How Does ​​Spring Profits Work?
Spring Profits is a product that gives you an overview of how to use the site, Teespring. (Teespring is a site that allows people to make money by selling custom t-shirts.)
The sales video claims that you'll be up and running on Teespring in less than 20 minutes and can start making money that very day. Daniel assures us that it'll be quick and easy for us to make money with this site. We only need to work 10 minutes a day to make millions!
Sounds perfect, right?
The reality is that once you're inside the member's area, all you're left with is a few e-books to help you get started. There's not even any video training!
The PDFs give a decent overview of how this all works, but let's be real here. It's not enough for you to understand how to turn this into a million dollar business.
The Real Purpose of a Sales Video Like This
There's generally a few reasons why someone would take the time to put up a sales video so outlandish as Spring Profits (and the many others I've seen just like it).
1. To get your $37 2. To get you to buy into their upsells so that you can get the "really good" information 3. To get your personal information so they can sell you more things. They might even give your info away to others:

<img alt="Disclaimer says your info might be used elsewhere" width="749″ height="134″ title="f79a4fee9f252cc7628bb77a412d5ccd_cropped_optimized" data-id="4560″ src="https://christinapiccoli.com/wp-content/uploads/2019/05/f79a4fee9f252cc7628bb77a412d5ccd_cropped_optimized.jpg" style="width: 100%;">
After doing some research, I saw they had another hidden gem inside the member's area. A link to another product. A product that if you ended up purchasing, they would make affiliate sales from.
That's more money for them!
And here you are left high and dry.
(To be clear, I think it's perfectly fine – GREAT even – to make money. And if these guys created a product with VALUE, then I would recommend that you spend money with them, and all would be happy. Unfortunately, they're trying to take your money and not give you much back. That's what I don't like.)
Is ​Spring Profits a Scam or Legit?
I wouldn't call Spring Profits a scam because you do get something for your money, and it's at least a pretty good overview of how to sell t-shirts online.
But the sales video is scammy and over-hyped, and therefore I wouldn't recommend this AT ALL.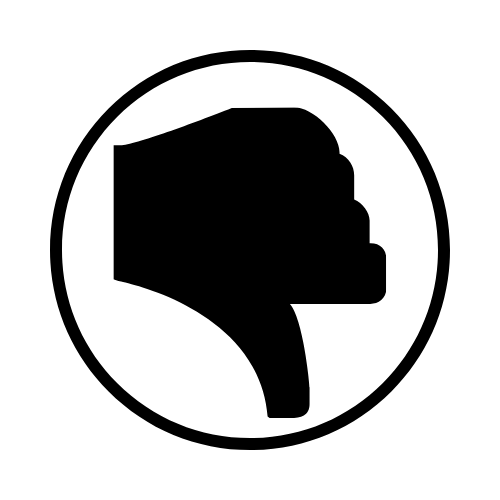 <img alt="Thumbs Down" width="500″ height="500″ title="Thumbsdown_Black" data-id="3634″ src="https://christinapiccoli.com/wp-content/uploads/2019/03/Thumbsdown_Black.png" style="width: 100%;">
Spring Profits Review – Pros
You can get your money back if you purchase and don't get the results you're looking for
You do get some OK information on selling t-shirts
Spring Profits Review – Cons
We don't know who the product owner is (they are usually proud to show their faces when their product is good)
Using fake testimonials
Saying you only need to work 10 minutes a day
Saying you can become a millionaire with this product and selling t-shirts
Saying you don't need any experience or skills
Saying it's easy to set up and easy work
Why It's Not Going to Be Easy
You can absolutely make money selling t-shirts on Teespring. It's a legitimate way to make money. However, it's not going to be easy. Here's why:
1. You'll need catchy designs for your shirts so they stand out from the crowd 2. You'll need to know who to market your shirts to 3. You'll need to know how to get people to your shirts and then convert them into buyers This is no different from anything else in life. In order to make it really worthwhile, you will have to invest time and effort into it.
And while it doesn't cost anything to get yourself set up in Teespring, you'll have to pay for advertising to get people to see your stuff. This is really risky if you don't know what you're doing and instead of selling shirts, you could end up losing yours!
An Alternative Solution
There are many, many ways to make money online, and selling t-shirts is certainly one way. I always like to tell you about affiliate marketing because it's my personal favorite.
Affiliate marketing allows you to make money with someone else's product.
For instance, if I like Spring Profits and I wanted to promote it, I could add an affiliate link here. If you decided to purchase it from my link, I would get a commission for the sale.
It's awesome because you don't have to deal with inventory or customer service. You just promote things!
I am not going to promote Spring Profits because I don't think it's going to help you make money.
I do have a recommendation that can help you make money though. It's a site that trained me how to put this very website together step by step. But it's not just training, it's also all the tools and support you need too.
Check out the full review of my #1 recommendation here.
Conclusion
Can you make money selling t-shirts?
Yes!
Will you become a millionaire selling t-shirts if you use Spring Profits?
No.
I don't know enough about the t-shirt industry to give you clear direction on how to make it successful. But if you're just looking for opportunities to make money from the comfort of your home, and you're willing to put in the time and effort, then I recommend affiliate marketing.
This is my #1 recommendation to get started.
Do you have any questions or comments about this Spring Profits review? Have you ever heard of or used Teespring? What do you think of the idea of selling t-shirts online? What about affiliate marketing? Are you familiar with it? Leave me comments down below!