Welcome to my Affiliate Revenue Engines review! 
Affiliate Revenue Engines (ARE) is an online marketing product by Paul Scrivens "Scrivs" and was recently changed from Authority Revenue Engines. We looked at another product of his called Ad Revenue Engines, (formerly Blog Revenue Engines) and both are a part of his Blog Simple Framework.
What does all of that mean?
We'll talk about it in a bit.
Just know this:
When you get a Scrivs product, it's going to be good.
I'll show you exactly why in this Authority Revenue Engines review.
Just a note that I have personally purchased and used AffiliateRevenue Engines and this review is based on my opinion of the product from my own experience.
Let's dive in.
---
---
Quick Summary
The following Affiliate Revenue Engines review will show you exactly why I favor this product so much. I believe this product is great for someone who isn't brand new to online marketing and wants to know how to create an authority website. The content is easy to go through and Scrivs' personality is strong, truthful and yet loving. It's like having your older brother teaching you. There are some missing pieces to the full puzzle, so if you are brand new, I have suggestions below.
Great quality product for the price
Scrivs is someone who is easy to learn from
You will understand what it takes to create an authority website (and why you would want to)
Great training without any fluff
Scrivs is extremely successful in online marketing and is therefore someone great to learn from
Great mix of text-based and video-based training
Setting up an authority website takes time and you may lose patience
The product isn't 100% detailed and therefore you may miss some things if you're new
I would absolutely recommend Authority Revenue Engines (or any of Paul's courses) based on my own experience with it. Even though I've been in online marketing for quite some time now, I learned many new things in this course.
---
What is Affiliate Revenue Engines?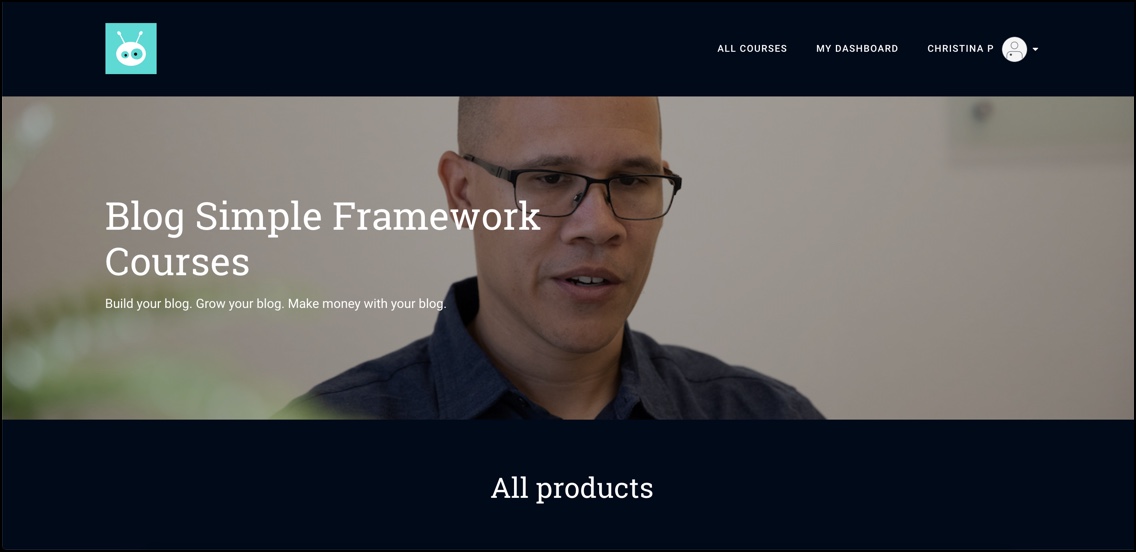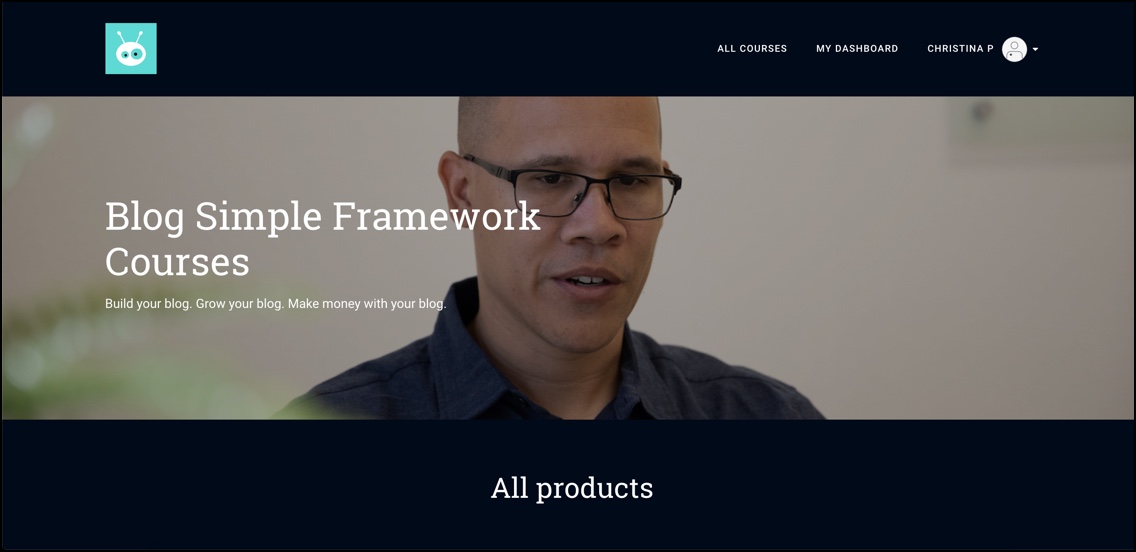 Affiliate Revenue Engines is a course designed by Scrivs (that's him up there) who says: "The goal is to provide you with more confidence with SEO, affiliate marketing, and being more specific about the people that you are targeting."
While the goal of Ad  Revenue Engines was to create a site that gets as many visitors as soon as possible so that you can make money from ads ($1000 a month, to be exact), Affiliate Revenue Engines is geared to help you build a site that Google (and the other search engines) love so that you can gain consistent, targeted traffic.
Ad Revenue Engines = make money from placing ads on your site. Affiliate Revenue Engines = make money from affiliate marketing.
The two strategies are a little different to get you to the same goal – making money with a website.
There are 12 modules in ARE. We'll go over them in more detail in the next section, but let's list them here so you have an idea of what's in the course.
The 12 modules are:
Welcome
About This Business
Choosing Your Niche
Finding Content
Setting Up Your Site
Writing Content
SEO Magic
Affiliate Marketing
Information Products
Getting Started with Promotion
What Next
Setting Up an ARE Network
Let's see what's in each of these modules next.
---
How Does Authority Revenue Engines Work?
From my point of view, the Blog Simple Framework (again, this includes Ad Revenue Engines, Affiliate Revenue Engines and several other courses which we'll go over in future posts) was developed by Scrivs to help you get up a blog and make money with it as quick as possible.
Scrivs has a whole other membership site called Dare to Conquer (formerly Billionaire Blog Club), which I'm also a member of. DTC is more focused on finding a hero (target audience) and creating products to help that solve a problem and transform into a different person.
I'll talk a little bit more about DTC versus ARE later on so that you can make the best choice about which one is right for you.
Now, let's go into each of the modules so that you can see exactly what you get with the ARE course.
Module 1 – Welcome
There's not too much here. This goes over why Scrivs wanted to make this course and talks about support. With ARE, you can get help from Scrivs and his community through Slack.
I haven't dug into Slack too much, but there does seem to be a thriving community there.
The lessons in this module include: 
Module 2 – About This Business
This is where we learn about why we want to do this business, the pros and cons of setting up an ARE site, how to deal with competition and how much time should be devoted to this.
One of the best parts of this module is deciding which type of entrepreneur you'll be. I think you may be surprised by what Scrivs suggests: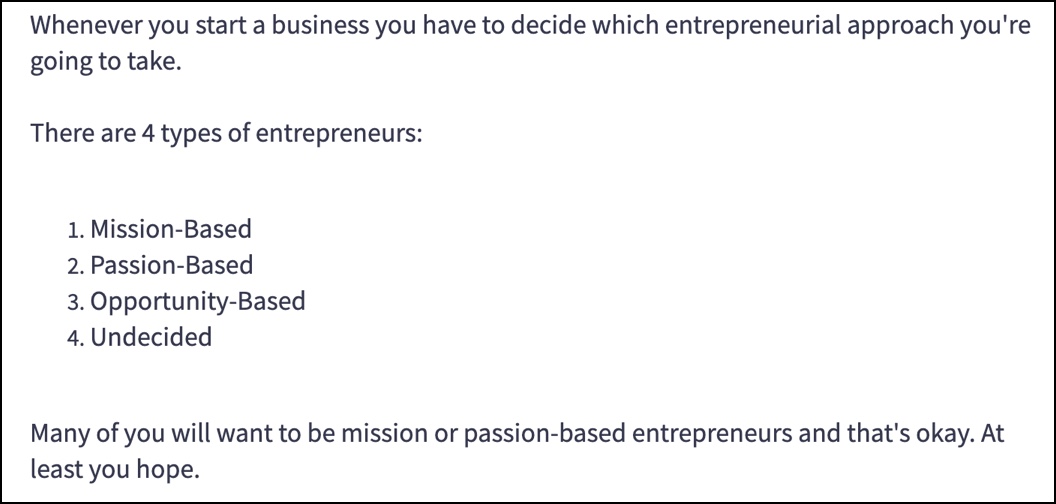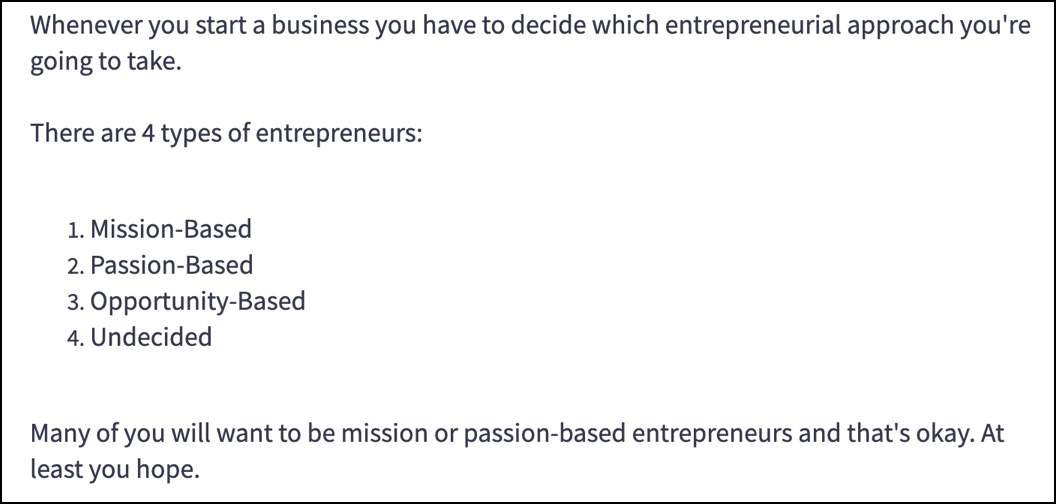 Of course, I can't give away all of his secrets. You'll have to see for yourself what he says. 🙂
The lessons in this module are: 
Why You're Doing This
The Opportunity Based Entrepreneur
The Authority Revenue Engine
Pros and Cons of AREs
Time and Energy
Dealing with Competition
Module 3 – Choosing Your Niche
Deciding what niche to be in is one of the hardest things that people struggle with when creating a new website. There are lots of factors to think of: What do I like? What about the competition? What will make money?
I personally love this module because Scrivs has a unique way of taking you into the world of niches and discovering what exactly to pursue.
Here are the lessons covered in this module: 
What is a Niche?
Single Niches Only
Evergreen, Seasonal or Trending?
Finding the Niche
ARE Analysis Spreadsheet
Using Google Trends
My favorite part of this lesson is how he gives a range of articles that a site should have. This was surprising to me because I thought you just had to write, write, write! But that might not exactly be the case…
Also, Using Google Trends… Google Trends is a treasure trove of niche-picking information. It's something that I often forget to use and I can just kick myself for that. This is a great lesson to learn and may be worth the whole cost of the course itself.
Module 4 – Finding Content
Now we're really getting into the meat of ARE. I'm sure you've heard the saying "Content is King". You've got to have good content in order to have a good authority site. But how do you know what content to write? That's what this module is all about.
The first lesson is called "The World Revolves Around Google." Here's a little snippet from that lesson:


Did I say how much I love Scrivs? He just tells it like it is!
Yes, it's not fun to rely on Google because they are always changing things up, but they are the biggest search engine, so we need to play by their rules for now.
How do you do that? That's what this module is all about. How to know which content to create that Google (and your readers) will like.
It includes these lessons: 
The World Revolves Around Google
The Keyword Hunter
Alphabet Soup
Using UberSuggest and Competitive Research
Back to Google
Analyzing Search Results
Useful Browser Extensions
Keyword Analysis Spreadsheet
The Keyword Hunter is a great lesson because, again, Scrivs just has a different way of looking at things. He really makes you understand why you need to look at things from different angles. Also, the Alphabet Soup technique is one of my favorite techniques to use to look for keywords.
Another thing I love about this module is Analyzing Search Results. This is something that other courses leave out, and yet it's so important so that you're not wasting your time on keywords that are dominated by bigger players than you.
I sure wish I learned this lesson long ago…
Module 5 – Setting Up Your Site
This module is pretty self-explanatory. It's about choosing a web host, finding a good domain name, and setting up your WordPress site on the host.
Here are the lessons: 
Why WordPress
Finding and Purchasing a Domain
Choosing Your Web Host
Installing WordPress on SiteGround
The User Experience
Installing a Theme
Other Plugins to Consider
The lesson on User Experience is everything. Because it's that important.
Module 6 – Writing Content
Again content is king, so learning how to write content is really key to everything.  These lessons teach you how to research your topic and your competition, set up your post structure and write compelling headlines.
Here are all of the lessons:
Research Your Topic
Research the Competition
The Two Types of ARE Posts
Search Engine Crazy Post Titles
Answer Post Structure
Ultimates Post Structure
Scannability Prevention Tips
Answer the Public
See the lesson that says "The Two Types of ARE Posts?" Yea. That's good stuff in there. This really gives your whole ARE site structure and focus.
There's also a really cool tool in these lessons that will make writing content a whole lot easier. And it takes the Alphabet Soup technique and puts it into the easiest format ever.
Module 7 – SEO Magic
SEO Magic is about – you guessed it – SEO! In the first lesson, Scrivs says this:


In case you can't read it, it says "SEO stands for Search Engine Optimization and it's the thing that is going to make you cry in the fetal position at night."
I'm laughing now because when I first wrote this review (I'm updating it because there were changes made the course), I just laughed at this line.
In the summer of this year, Google did one of its core updates and my traffic almost died to nothing. And I kid you not. I actually cried. I did. It was so frustrating!
I got over it and my traffic made a comeback, but damn he was right about this.
In any case, Scrivs has you covered. This isn't a super in-depth course on SEO (he actually has that in another Blog Simple Framework course called Blog Simple SEO), but he has the basics covered enough that you should be able to understand what Google is looking for.
He actually has some new and interesting ideas about how to organize your site in a way that both users and Google will love. These are things I haven't seen mentioned before. Definitely check this module out closely…
The lessons here include: 
What is SEO?
Basic SEO and WordPress
SEO and Site Structure
Setting Up Category Silos
ARE SEO Workflow
Module 8 – Affiliate Marketing
Scrivs starts off by saying this isn't a deep dive into affiliate marketing (he has a course for that in Blog Simple Framework called Blog Simple Affiliate Marketing ), it's more of an overview of affiliate marketing and how you can use it to maximize your Affiliate Revenue Engine's potential.
The lessons included in this module are:
Affiliate Marketing Primer
The Buyer's Journey
Authority and Affiliate Marketing
Affiliate Content that Work
Even though this module is short, there are some very important takeaways in here. One is regarding the buyer's journey. And the other is regarding your site serving, not selling. Very important and something I need to remind myself about often!
Module 9 – Information Products
Scrivs says that information products are his favorite way to make money online.


We absolutely live in the most incredible time. We have so much information at our fingertips and people are always looking for more.
This is where we can take full advantage by helping people solve issues and answer questions, and earn a great income by doing so.
This is what this module is about. And it's a pretty exciting one. This module is just a stepping stone to making products for your site. If you really want to dive into course creation, I suggest you check out Scrivs' membership site, Dare to Conquer.
The lessons here include:
Information Product Primer
Types of Information Products
Useful Tools
Your Audience
There's one key piece of advice in the Information Product Primer that makes all the difference with creating an information product. It's about making a promise. Make sure you don't miss that one.
Module 10 – Getting Started with Promotion
This module goes over the basics of promoting your site. Why would you want to promote it? Well, it takes Google time to even start looking at a brand new site.
The average is about 6-12 months. (Yea, you need patience in this business.) But you can use other sites to promote your site in the meantime.
The main sites that Scrivs recommends are:
This module is about those two platforms and getting people to find you through them.
The lessons here include:
Why You Need Promotion
YouTube is a Gem
Pinterest Workaholic
Module 11 – What Next
I love the way that Scrivs starts this module. He says: "Let's have a heart to heart. Some people just aren't cut out for this." This is so true, and I love that he puts it out there.
Being in online marketing for some time now, I see people come and go all the time.
Why are they going?
They can't hang.
Here are the reasons that Scrivs gives, and I happen to agree with him:
I also used to be this person. But being this person will get you nowhere. Wouldn't you rather get somewhere? I always say time is going to pass anyway, so why not do something good with it?
The lessons here include: 
Mentality
Branding & Audience
Alternate Revenue Streams
I love the lesson in here about setting goals. There are right kinds of goals to set and wrong ones to set that will lead to disappointment. Why not learn how to set the right goals that will set you up for success?
There is also an interesting perspective in here about branding. Like, maybe you want to set up AREs to sell in the future. (Yup. Websites are like real estate and can be sold as such. Check out Dylan's story about how he sold one of his websites for $40,000.) So do you want to add your personality, or not? Branding & Audience answers that question.
Module 12 – Setting Up an ARE Network
This module goes over the reasons why you may want to set up an ARE network of sites. There are two reasons you may want to:
Distributed Revenue
Backlinking
This module / lesson goes into a little more detail about these two topics and then you can decide for yourself if it's worth setting up your own network.
There's just one lesson here: 
FYI: there is a big ol' warning in here that is super important to pay attention to.
---
Is Affiliate Revenue Engines a Scam or Legit?
I hope this Affiliate Revenue Engines review has already answered this question well, but in case it hasn't, it is NOT a scam, and it is totally legit.
Affiliate Revenue Engines is a course designed to help you get started with creating an authority website as quickly and easily as possible. It's not an extremely in-depth course, but Scrivs has unique ideas that you can not find anywhere else.
In fact, in the next sections, I want to go over Affiliate Revenue Engines (actually, Blog Simple Framework) versus the Dare to Conquer membership.
But first, here's a great video from Scrivs about choosing an online business idea that is relevant to all of his courses.
https://youtu.be/23qTyLignig
---
Blog Simple Framework Versus Dare to Conquer Membership
Both the Blog Simple Framework courses and the Dare to Conquer Membership (I think I mentioned this earlier, but DTC was formerly called Billionaire Blog Club, which still may be a more popular name at this point) are both creations of Scrivs.
Scrivs is someone that I found through Pinterest (he knows his Pinterest stuff), and I've been hooked ever since. And that's the thing with him. He teaches you how to hook people. And he's good at it himself.
So my journey with Scrivs went like this: 
I bought Feel Good Funnels and 6-Figure Product Creation
I bought Ad Revenue Engines
I bought Affiliate Revenue Engines
I said "screw it, I love this guy" and bought into the DTC Membership, which has ALL the other in-depth courses (I'll do a separate review on this when I have a moment.)
Now that I have it all, I can tell you the differences and why you might choose Blog Simple Framework over the DTC membership and vice versa.
You might want to get Ad Revenue Engines if: 
You're just looking to put up sites that generate ad revenue
You're not interested in gaining authority with your sites
You like the passive income that ads provide (even though you might make less money overall)
You don't want to or aren't ready to pay a monthly fee for ongoing training
You might want to get Affiliate Revenue Engines if: 
You like the idea of having an authority site that ranks in Google
You want to use affiliate marketing to monetize your site
You want to sell your own information products
You want to build authority sites and then sell them for profit
You don't want to or aren't ready to pay a monthly fee for ongoing training
Other Courses in the Blog Simple Framework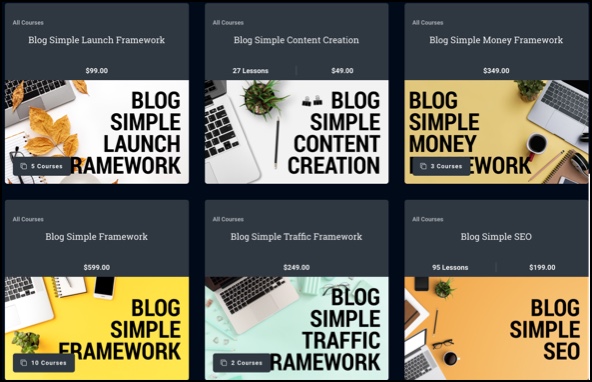 Recently Scrivs added even more courses to the Blog Simple Framework and now it's so much better than when I purchased! Check out these other courses available:
Blog Simple GeneratePress (P.S. I switched to GeneratePress and I absolutely love it.)
Blog Simple WordPress
Blog Simple Niche Selection
Blog Simple Bootcamp
Blog Simple Content Creation
Blog Simple Pinterest
Blog Simple SEO
Blog Simple Affiliate Marketing
Check out all the courses in the Blog Simple Framework
You might want to get the Dare to Conquer Membership if: 
You really want to take over the online world
You want to create a 6-figure income with your website
You want more in-depth courses that cover more topics
You want any future courses that Scrivs' develops for DTC
You want to be involved in his amazing $100k Climb course (this course will take you from $0-$100k in 18 months)
You are ready for ongoing training so that you can really develop your skills in online marketing
Click here to get the DTC Membership
Conclusion
I hope this Affiliate Revenue Engines review covered everything you need to know about this product. This is a good product for you if you want simple instructions about getting an authority website up and running, possibly to earn money from affiliate marketing and informational products, and possibly to sell someday.
This course is best if you already know a little bit about online marketing as it doesn't cover everything in a lot of detail. If you're newer to online marketing, and you want more detail, I would recommend either the Dare to Conquer Membership or Wealthy Affiliate membership.
In any case, you will learn great things that you can use to advance your skills. You can't go wrong with any of the choices here.