Welcome to my Ad Revenue Engines review!
(Note: Ad Revenue Engines was formerly known as Blog Revenue Engines.)
(Note #2: Ad Revenue Engines is now a part of Blog Simple Framework, and you can read my Blog Simple Framework review here.)
Paul Scrivens is someone I came across on Pinterest. (This is good because he teaches us to use Pinterest to gain lots of traffic. Looks like he knows what he's talking about!)
"Scrivs" is someone that I recommend you follow whether or not you buy his products.
He's one of these marketers that you want to be just like when you grow up.
He dives deep into your brain, knows what's exactly what's in there and tells you all about it in his "marketing" emails. (I say marketing loosely. His emails do sell things, but they do much, much more than that. You'll never want to get off his list. And that's amazing to do with marketing emails. I'm going to show you an example a little later.)
I've already purchased a couple of Paul's products, so when Ad Revenue Engines came up, it was a no brainer.
With this product, he says he can guide us to taking a brand new site from $0 to $1000 per month in passive income in 6 months' time.
And I believe him.
Let's take a deeper look into this Ad Revenue Engines review.
---
---
What is Ad Revenue Engines?
Scrivs says he created Ad Revenue Engines because:

What I love about this is that it's a completely different way of blogging. It's not about building up a site slowly over time and getting in good with Google.
Instead, it's about producing content quickly (still high quality though…your content should ALWAYS be high quality) that gets to the most amount of people as soon possible so that you can stick ads on it and make passive income.
How great is that?
The reason we want to do this, as Scrivs notes, is that we want to have a site that makes passive income so that we don't have to worry about making money as much.
Once you have some money flowing, you have more time to work on other projects. (Like building an Affiliate Revenue Engine, which I'll tell you a little bit about later.)
Who Is Scrivs?
I want to talk to you a little bit about Scrivs because he's someone that you'll want to get to know.
He's someone who, like me and perhaps like you, can not stand working for someone else. He says it never felt right to him to work on someone else's schedule. (Boy do I understand this so well.)
He said his mom kept asking him, "When are you going to get a job?" Like many people in this business, it started off rough for him and it took a while to gain traction.
But he had bills to pay, so he knew he had to find a way.
He mentioned in one of his last emails that he made $750,000 last year. I think he figured it out. 🙂
He now runs a bunch of websites in all different niches and therefore has the experience to guide people in making money online that has worked for him in a variety of ways.
That's why I believe him when he says he can help us go from $0 to $1000 in 6 months.
To give you a better idea of his personality and how he operates, here's a YouTube video Scrivs did about the people you hang around with and how they can dictate your success:
https://www.youtube.com/watch?v=DFOOENjo3uk&t=18s
Scrivs' Emails
One great thing about Scrivs is his no-nonsense approach to marketing. He just gives it to your straight and doesn't beat around the bush at all. He'll tell you about all the good things, and about all the crappy things.
But he also is a master at digging deep into your brain and pulling out your thoughts and connecting via email. His emails aren't the usual marketing fluff you get in your inbox, "Hurry! This offer isn't going to last!".
Here's an example of an email he sent on Mother's Day:
This weekend is Mother's Day.

It's a good holiday because it reminds me of sacrifice.

My Mom sacrificed a lot just so she could watch every single soccer game I ever played. She could've gotten a higher paying job which would mean less stress with paying the bills.

She could've finished college which meant no longer working at a job she hated.

My wife sacrificed a lot just to help me get in this position. When I wasn't bringing in money she worked as a dog walker and then a nanny.

She has two Masters degrees.

We do things for the people we love so that they can live better lives.

I think if you're reading this email it's because you want a better life for your loved ones and yourself. That means you're sacrificing some things.

It could be money. It could be time. It could be your dignity as people laugh at you for trying to do this online business thing (fuck those assholes).

It took me a long time to finally understand this whole business thing. All of my good friends had high-paying jobs and every time I hung out with them they would ask "are you still trying to do that online thing?"

Yep. Still trying.

I kept trying because I knew I could pull it off.

I kept trying because I knew I hated working for others.

But most importantly, I kept trying because I knew I could get to a life where I didn't have to sacrifice. Where my wife didn't have to sacrifice. Where my family didn't have to sacrifice.

I know life is full of tough decisions where you will have to make sacrifices, but I don't like to be put in situations that others put me in. I shouldn't have to choose if I need to work for my boss or go to my kid's game.

I shouldn't have to choose if I can wake up happy and look forward to the day or just know that I have to do what is needed to get by.

I think you feel the same way.

Most importantly, I want to give you props for taking this journey. It's a huge sacrifice to go against what society wants you to do.

The world wants you to be average and doing anything else means you're sacrificing some things.

But you aren't sacrificing YOU.

I think one of the things that doesn't get talked about with this online business stuff is the feeling of accomplishment you need for yourself.

You can say you're doing this for a lot of various reasons that sound good to everyone else, but deep down, I know there is a part of you that needs to do this for you.

You need to show yourself you're capable of creating this business.

You need to show yourself that you can achieve something very few others can.

Sometimes this is just about looking in the mirror and being proud of who you see because of what you are trying to do.

Building this business is just as much about finding yourself as it is anything else.

Most people won't get that and that's a sacrifice you're making because there is a chance of failure.

But you've decided to take that chance and bet on you.

And I love you for it.

To all of the Moms out there, Happy Mother's Day.

– Scrivs
I almost replied back to tell him that I loved him. That's how much he got to my soul.
With that said, let's get back to the Ad Revenue Engines and see how it works and if it's a good fit for you.
---
How Does Ad Revenue Engines Work?
Ad Revenue Engines is a series of training modules. Some are written text and some are videos. I'll break them down for you here so you know what you're getting when you sign up.
Module 1: Welcome
The lessons in this module include:
Module 2: About This Business
The lessons in this module include:
Why You're Doing This
Types of Entrepreneurs
The Blog Revenue Engine
Pros and Cons of BREs
Time and Energy
Dealing with Competition
Module 3: Choosing Your Niche
The lessons in this module include:
What is a Niche?
The Four Horesemen of Niches
Single or Multiple Niches
Evergreen, Seasonal or Trending?
Finding the Niche
Finding a Niche Using Pinterest
Validating the Niche Using Google Trends
Note:  The lesson "The Four Horeseman of Niches" will completely set you in the right direction. Don't miss it!
Module 4: Finding Content
The lessons in this module include:
The Skyscraper Technique
The Skyscraping Spreadsheet
Using Pinterest
Using YouTube
Using Ubersuggest
Using Browser Extensions
Note: The Skyscraper Technique is brilliant!
Module 5: Setting Up Your Site
The lessons in this module include:
Why WordPress?
Choosing Your Web Host
Installing WordPress on Siteground
Installing WordPress on Big Scoots
The User Experience
Installing a Theme
Installing Google Analytics
Other Plugins to Consider
Module 6: Writing Content
The lessons in this module include:
Back to Skyscraper
Types of Posts
How to Write Viral Post Titles
Post Structure
Getting Images
Scanability Prevention Tips
Writing Workflow
Module 7: SEO Crash Course
The lessons in this module include:
WordPress & SEO
BRE vs Long-Tail Keywords
Module 8: Promoting with Pinterest
The lessons in this module include:
Why Pinterest?
Setting Up Your Profile
Setting Up Your Boards
Designing Pins
Scheduled vs. Manual Pinning
Manual Pinning Strategy
The Super Simple Tailwind Pinning Strategy
Mastering Pinterest
Module 9: All About Ads
The lessons in this module include:
Avoid Adsense
How Ads Work
Why Ads are Awesome
Why Ads Suck
Improving your RPM
Ad Networks and List Posts
Module 10: What Next?
The lessons in this module include:
Mentality
Branding & Audience
Alternate Revenue Streams
Module 11: Setting Up a BRE Network
The lessons in this module include:
Why Bother
The 2 Network Options
Everything is laid out in a way that's super clean and easy to follow as you can see here: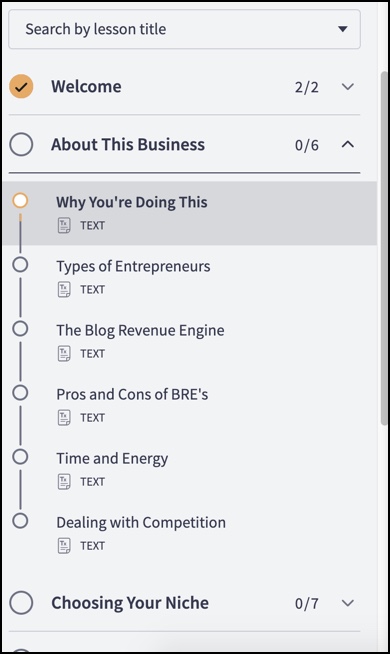 As you go through each lesson, you'll mark it as "complete" and it'll check off everything that you've done. You can always go back and see where you left off.
After going through all of the lessons, you should be able to create a fully-functioning website that should bring in about 100k visitors in the next 6 months.
What I love about this course is that the focus isn't on a small niche website. It's about casting a wider net and bringing as many people to your site as possible on a specific topic (he uses the example of gardening a lot).
There are many, many ways to be an online marketer, and this is another viable option.
---
Is Ad Revenue Engines a Scam?
Ad Revenue Engines is definitely not a scam. It's a legitimate way to earn an income online with your own website. I absolutely recommend Ad Revenue Engines (and everything else that Scrivs teaches).
Pros
Easy, no BS method of teaching you how to create a website
A different way of creating a website that has a goal of making passive income quickly
Clear step-by-step instructions with a little philosophy thrown in for good measure
Scrivs is a great leader and someone who truly cares about helping people succeed
Low cost for what you get (Especially considering you can make at least $1k from it – and more if you set up multiple Ad Revenue Engine sites)
Cons
Some pieces are missing like setting up Search Console in Google (though not as important since this isn't focused on SEO, it's still good to have that data)
Has a Slack account set up where you can ask questions, but otherwise support isn't easy to get
My Ad Revenue Engines Experience
At the time I'm writing this, I have gone through the entire Ad Revenue Engines course, and I have picked my topic, grabbed my domain and set up my new website.
(I'm keeping it a secret for now since it's still in the works. )
I just started going through Paul's Affiliate Revenue Engines training, since I knew it would also be gold. This training is focused on using SEO (Search Engine Optimization) and getting in good with Google and the other search engines to be an authority in your chosen niche. (Read my Affiliate Revenue Engines review.)
The benefit of building an authority site is that you can make MUCH more money in the long run. The downside is that it takes longer to become an authority.
That's the beauty of doing both the Ad Revenue Engines training and the Affiliate Revenue Engines training. As you build up your Ad Revenue Engine and get that making money, that gives you more time to then build up an authority site.
---
How Much Does Ad Revenue Engines Cost?
Ad Revenue Engines is now a part of Blog Simple Framework, which comes with 11 different courses, all designed to get your website up, running and making 6 figures.
You can read my Blog Simple Framework review here.
What's great is that you'll first be offered a free Master Workshop to give you an idea of what Blog Simple Framework is and how it can help you achieve your goals.
You can join the Free Blogging as a Business Master Workshop here.
---
Conclusion
l hope this Ad Revenue Engines review gave you a great idea of what the course is all about.
As mentioned, since it's now a part of Blog Simple Framework, it's just one of 11 great courses that will help get your site to making 6 figures.