Direct Cellars is a Network Marketing, or Multi-Level Marketing (MLM) company that was started in 2016. But is it a scam?
I'm going to give you all the details in the article below including how much it costs to be a Brand Partner for Direct Cellars, what the Compensation plan is like and if there have been any complaints.
Once we look at all the details, I'll let you know if I think Direct Cellars is a scam, or if they're legitimate.
Let's take a look!
*There has been a major update with Direct Cellars. Please scroll to the bottom of the article for the full scoop.*
---
---
What is Direct Cellars?
Direct Cellars is a subscription wine company that was started in 2014. In 2016, they decided to turn to a direct selling model and they now have over 10,000 independent consultants.
Direct Cellars sells wine retail in a few different ways. First, it seems they have individual bottles for sale directly on their website for $30 each, or $20 for VIP members.
There are 3 levels for VIP members:
$49.95 for 2 bottles of wine
$79.95 for 4 bottles of wine
$99.95 for 6 bottles of wine
This is a monthly subscription and you also have a $25 / year membership fee.
You can also become a business builder (what they call a "Brand Partner") and build a team of other business builders. Through this process, you can earn commissions from your team's sales. (See below for more details on the compensation plan.)
---
How Much Does It Cost to Be a Direct Cellars Brand Partner?
If you want to join as a business builder, there are two member options to choose from:
Elite Wine Lover: $499.95 and that gives you 12 bottles of wine.
Premium Wine Lover: $249.95 and that gives you 6 bottles of wine
Besides the cost of the initial member cost, you'll also need to have at least $79.95 in monthly sales to remain active. These could be sales that you make, or orders that you buy yourself.
The goal, of course, would be to sell enough to stay active. But I think a lot of people get into trouble with these minimum amounts. They find out they can't sell enough, and they end up buying it themselves. It's happened to me, and I've seen it happen to others.
This is why so many people lose money in an MLM.
---
What is the Direct Cellars Compensation Plan?
Every MLM needs a compensation plan that makes you scratch your head. I sometimes wonder if they make them confusing on purpose so you don't ask too many questions.
In any case, here's a video explaining it. I'll also do my best to break it down for you in case you don't want to watch the video.
https://www.youtube.com/watch?v=3Rivb0bJ1z4
There are four ways you can earn with Direct Cellars:
Binary
Unilevel
Check Match
Fast Start Bonus
1. Binary Commissions
Wine Enthusiast: (You have two personally sponsored business builders) – You earn 6% commission on the weaker volume leg.
Master Cellar: (Top rank in the company) – You earn 20% commission on the weaker volume leg.
To make it clear, there are a bunch of ranks in between these two, but I think he focused just on the bottom rank and the top rank to show us what the difference in commission is.
He goes into a whole explanation of which legs to build and why and which is the weaker leg and how to maximize the compensation plan by building out your spouses's leg (or some family member's leg who's doing this with you). If you're interested in all that, definitely watch the video because there was a lot of drawing involved.
Here's an image with the different levels and payments. This is taken directly from Direct Cellar's compensation plan.
2. Unilevel
Unilevel is paid on the monthly autoship volume of your organization. It goes infinitely wide, and 9 levels deep.
Level 1 – 10% commission
Level 2 – 5% commission
Level 3 – 5% commission
Level 4 – 4% commission
Level 5 – 4% commission
Level 6 – 3% commission
Level 7 – 3% commission
Level 8 – 2% commission
Level 9 – 2% commission
For instance, if every person going 9 levels down (just for 1 leg) orders the 4-bottle monthly autoship (worth 40 personal volume), you'll get a total of $15.20 from unilevel commissions per month (as long as they remain autoship customers).
3. Check Match Bonus
You get paid a percentage of your team's binary and unilevel commissions.
You'll earn:
10% of your personally sponsored business builders' binary and unilevel commissions
5% of your level 2's binary and unilevel commissions
4% your level 3's binary and unilevel commissions
3% your level 4's binary and unilevel commissions
4. Fast Start Bonus
New business builders that you bring in have two membership options – Premium Wine Lover and Premium Wine Lover Elite. You earn 50% commission on either of these options.
DC Car Club
Direct Cellars also has a car bonus. Like I mentioned in my Arbonne article, you don't just get a car when you hit a certain rank. Instead, you qualify for a monthly car allowance.
You have to stay the same rank in order to keep getting the car allowance.
I can see this being an issue because if you go buy a car and then you end up dropping your rank, you're going to be stuck with a full car payment for a very pricey car. (Direct Cellars gives you a choice between a Cadillac, Audi, BMW, Mercedes-Benz or a Tesla)
They have a whole list of qualifications that have to be met in order to get the car allowance. You can see those here, if you wish.
My favorite qualification is "Must publish positive and compliant social media posts about the DC business opportunity at least 8 times per month."
---
What is the BBB Rating for Direct Cellars?
Direct Cellars has an A- rating with the BBB, which you can see on their website here.
There are a few complaints on the BBB website and a few positive reviews. All of the complaints said that there is no way to cancel the monthly membership and they have been getting charged month after month.
(These were in 2017 when they first started, so I would hope this is resolved by now.)
This complaint was interesting because the person said she found a bottle of wine that Direct Cellars sent to her at the liquor store for $4.
I think that's the riskiest part of all this. Are people going to trust that they're getting a quality wine for the price?
---
Is Direct Cellars a Scam?
Direct Cellars is not a scam, but many people are against MLMs and will label it as a scam anyway. Direct Cellars is also not technically a pyramid scheme, according to the FTC guidelines because they have a product that can be sold directly to customers.
However,  since there's more incentive to recruit people and build a downline, it's right on the edge of a pyramid scheme, as almost all MLMs are.
Pros
Cons
$500 for 12 bottles of wine comes out to almost $42 per bottle! (They are about $20 / bottle once you're a VIP member.)
They say it's convenient to have your wine shipped to you, but isn't it more convenient to just go to the store?
Who wants to wait for their wine to arrive?
You don't get to choose what wine you get (only red, white or a combo of both)
MLMs are really hard to work (no one wants to pay $42 for a bottle of wine!)
When you're in an MLM, you are the customer so you will be the one buying most of the wine
There's about a 99% chance you'll lose money
You are not running your own business, as they try to convince you (Direct Cellars is the business)
I do think there are people out there who like the idea of having a subscription wine service because they might like to try out different wines that someone chooses for them.
But this one seems to be quite pricey and I personally feel that it's going to be a tough sell.
If you like the idea of selling wine online though, I have an alternative solution for you.
---
You Can Sell Wine With Affiliate Marketing
Instead of relying on an upline and a downline, worrying about monthly fees and recruiting people, you can make money selling wine online with affiliate marketing instead.
If you can learn how to connect with the people who love to experiment with wine (which is easier than you think), you can join a wine affiliate program and get paid a commission every time someone buys through your affiliate link.
For instance, you can set up a wine-focused website and / or YouTube channel and you can promote a wine subscription service that has an affiliate program, such as Vinebox or Wine.com, or Wine of the Month Club.
In my opinion, this is a better and easier option because you don't need to worry about holding inventory or making a minimum sales amount each month. You don't even need to chase sales because you learn how to attract them to YOU.
In fact, you can promote absolutely anything with affiliate marketing. You're not just tied down to one thing. You can promote rabbit slippers if you want.
I encourage you to read more about affiliate marketing on my homepage.
---
Conclusion
Direct Cellars is not a scam. It is a multi-level marketing company (MLM) where you can join as a Brand Partner and make retail sales and / or build a team and earn commissions on your downline. Because this is an MLM, you are going to have many skeptical people calling it a pyramid scheme and a scam, though technically it's not.
The issue with MLMs is that over 99% of people lose money. Only the very few people at the top make a significant amount of money. This particular MLM is quite pricey, and in my opinion, would be very hard to sell.
If you like the idea of earning commissions by selling wine, you can do so through affiliate marketing instead. You won't have to worry about recruiting anyone, monthly sales, monthly subscriptions, inventory or anything of the sort. You join an affiliate program, promote products that you recommend and earn a commission when someone clicks on your link and purchases.
You can learn more about affiliate marketing right on my homepage.
---
Direct Cellars Update
It seems that Direct Cellars has shut down its direct selling portion of the company. Here's a Facebook post by Sherry Leasure that talks about the shut down.
This is the part that always makes me extremely nervous about MLMs: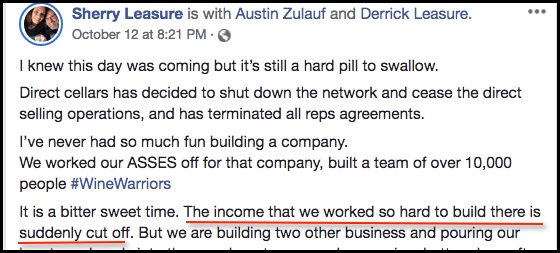 Let's say you work super hard, and you're one of the rare people that actually makes a good income. Then all of a sudden the FTC decides to shut you down, or the company decides to close shop.
Poof.
Your income is gone.
You are not in control of anything when you're in an MLM. It's not your own business. Just keep that in mind.
If you'd like to learn how to run your own business that you're in control of while working from home, then affiliate marketing is the way to go.