Welcome to my The Fearless Momma review!
Will this instant funnel really bring you $250 commissions without having to learn how to sell anything?
Well, maybe.
But it's not all unicorns and rainbows with this system.
There are some definite risks you'll want to consider first.
(Nothing's ever as easy as it seems, right?)
Have a look at The Fearless Momma review and see why I do NOT recommend this one.
Let's dig in.
---
---
What is The Fearless Momma?
The video on the first sales page claims that you can make $250 in the next 72 hours. The woman in the video, Tammy, does say results are based on your efforts. This is true for everything, and I'm happy she pointed that out.
(But then she goes on to say that you can have the system work for you so you don't have to work. )
She scrolls through her list of leads in the video: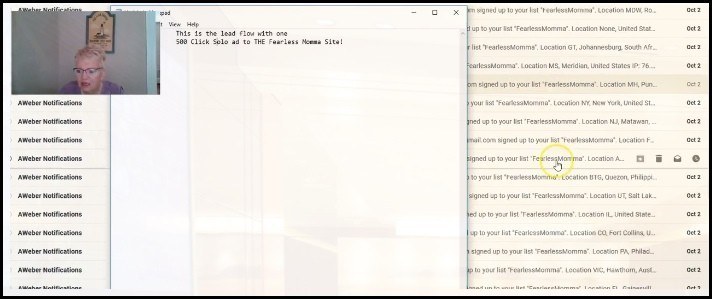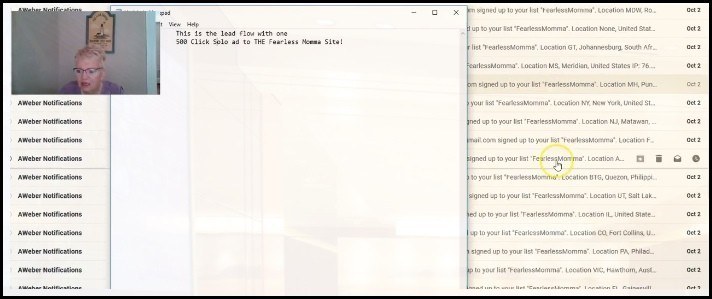 They recommend purchasing leads via solo ads: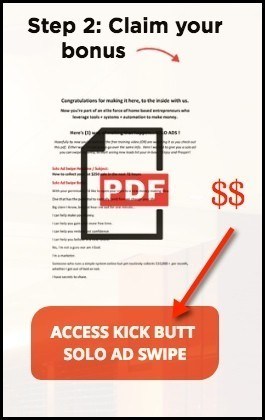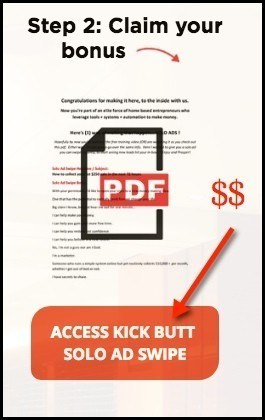 So already we know that this is going to cost more money above and beyond the cost of the product.
Solo ads are leads you can buy from someone who has an email list. For instance, Joe may have a big list of people who want to make money online. You can buy an "ad" from him. What this means is that he'll send your product offer to his email list for a certain amount of money per click (usually $0.50 to $1).
You might buy 100 clicks from Joe, and that can cost you $50-$100. From there, you'll make commissions from anyone who buys.
If you'd like to go a little deeper into solo ads and what they are, I found this article.
Now keep in mind that just because you buy clicks doesn't mean that people will then go on to buy your product. That's why it can be a little bit risky – and can turn into a big investment as you test out different solo ads to see what works.
Of course, you don't have to buy traffic to do this. You can use SEO, but that takes time to build up (at least a few months) and there are other issues with this that I will discuss a little later.
The second sales page shows our narrator's email and it's showing how he made sales "even while he sleeps". That's like every person's dream, right? That's why all these sales videos talk about that.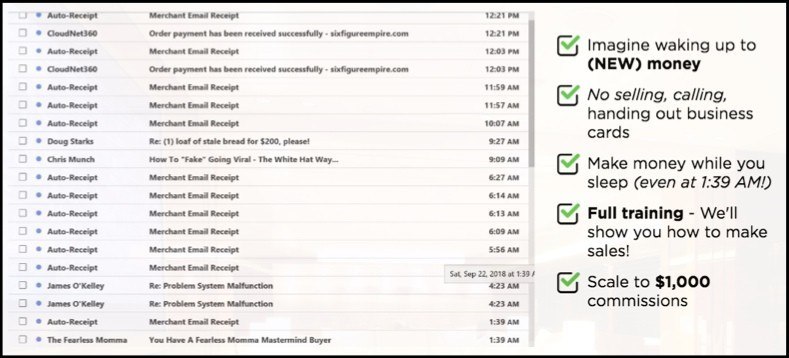 This sales video is pretty convincing. This guy has $250 sales coming in and coming in and coming in.
So, you might be thinking, "What's the problem with this, Christina?"
Let's talk about it.
---
How Does The Fearless Momma Work?
OK, this The Fearless Momma review is turning out to be very similar to the Instant Cash Solution review that I did. It turns out, this is one of those "pay to play" type of systems.
In other words, you pay $250 for The Fearless Momma, and you'll get some training videos on how to sell The Fearless Momma system. This is the way they explain it:


In addition, from the research I did, there are higher levels than $250. There's a $1000 level, a $3000 level and a $5000 level. Now let's say you are just at the $250 level and someone buys from you at the $5000 level. You don't get $5000 because you're not at that level.
This is one of those tricks these kinds of systems use to try to get you to buy into a larger piece of the pie. I know, I know. It's so tempting thinking about selling $5000 products to people.
But the likely scenario is that you're going to lose out big time. (This is why MOBE and Digital Altitude got shut down by the FCC.)
Now, with regular affiliate marketing (that's what I do), you promote a company's product(s) and you get a small commission for it. In this case, the company isn't paying you. Instead, your referral pays you directly.
And again, if you're at a lower level, and someone you refer buys at a higher level, someone above YOU who's at the higher level will qualify for those commissions instead of you.
---
Is ​The Fearless Momma a Scam?
Well, first of all, I didn't purchase the product myself. I'm not really into spending $250 on this. So, from that point of view, I don't want to 100% call it a scam because I haven't truly tested it out myself.
Also, you do get some training for your money. It looks like decent training.
But I wouldn't recommend this program because of a few reasons, which you'll see listed in the cons section.
The Fearless Momma Review – Pros
You probably can make some money with this eventually.
The Fearless Momma Review – Cons
The best way to do this is to buy leads, which can get expensive, and there's no guarantee those leads will buy anything.
You could potentially use SEO (search engine optimization), but that will take you a while and because you're selling the same thing as everyone else, you will need to find a way to make it unique so that Google won't see your site as duplicate content.
You're learning how to sell the same system you bought. There's not a ton of value in that.
You may be tempted to buy into the higher levels, and that can really get expensive.
There's Very Little Value Here
This is just my opinion, and you can feel free to do whatever you like, but I really don't see the point of these pay-to-play "products". To me, there's very little value in it because you're not learning a lot of marketable skills. You're learning how to do 1 thing – resell the same program you purchased.
I also just think this is really, really risky if you try going up to those higher levels. How are you going to convince people to spend that much money on this? You might have to buy lots and lots of leads, and then what? How much money are you going to be out?
Things like this just make me nervous and I think it's way too risky.
Why not learn some marketable skills instead and really learn how to make money online the right way?
---
Learn to Make Money Online the Right Way
I know learning how to do something the right way isn't as sexy and exciting as making $250 in your sleep. But when you learn how to do things the right way, you'll have a lasting income that you won't have to fear will be shut down by the FCC.
Plus you can learn skills that you can take with you anywhere.
Now you might be thinking that you don't want to go back to school to learn these skills, or you can't afford it.
I actually learned how to put this site together through online training. You can even try it out for free for as long as you like. (Although, I wouldn't stay a free member if you really want to learn how to make money online because there's just not enough information in the free courses.)
You can check out everything they have to offer here in my review.
---
Conclusion
Again, feel free to do whatever you feel is the best choice for you. I personally wouldn't recommend The Fearless Momma. It just doesn't seem worth it to me because there's a big risk of losing a bunch of money.
Instead, see the site that can teach you how to create your own income-producing website, step-by-step. Over 45 people have already joined with me this year! Click here to see a detailed look at this site.
Do you have any questions about my The Fearless Momma review? What do you think of these pay-to-play types of systems? Have you ever tried them? Were you successful or did you lose money? Leave me your thoughts down below!