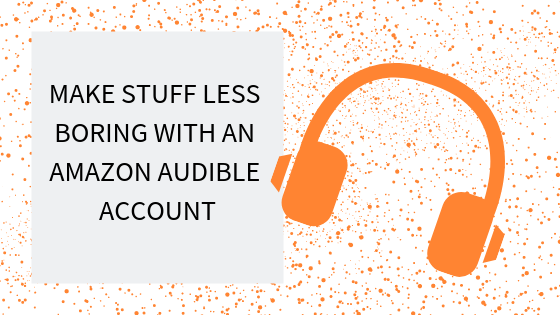 When my sister first told me about Amazon's Audible, I didn't really get it. It took me a long time to understand what the point of it was. Now I have an Amazon Audible account, and I'm obsessed with it. Let me show you what it's all about.
---
Amazon's Audible Payment Plan
In order to get an Amazon Audible account, you will pay $14 / month. You will get 1 book credit per month. (This is the Gold Membership, which is what I'm on. There is also a Platinum membership, which is $22.95 / month, and you get 2 monthly credits.)
Now, I know what you're saying to yourself. $14.95 per month?! And what the heck is a credit anyway?
Let's say you wanted to buy The Untethered Soul (which I highly recommend you do! Click on the link to see my review of it!)…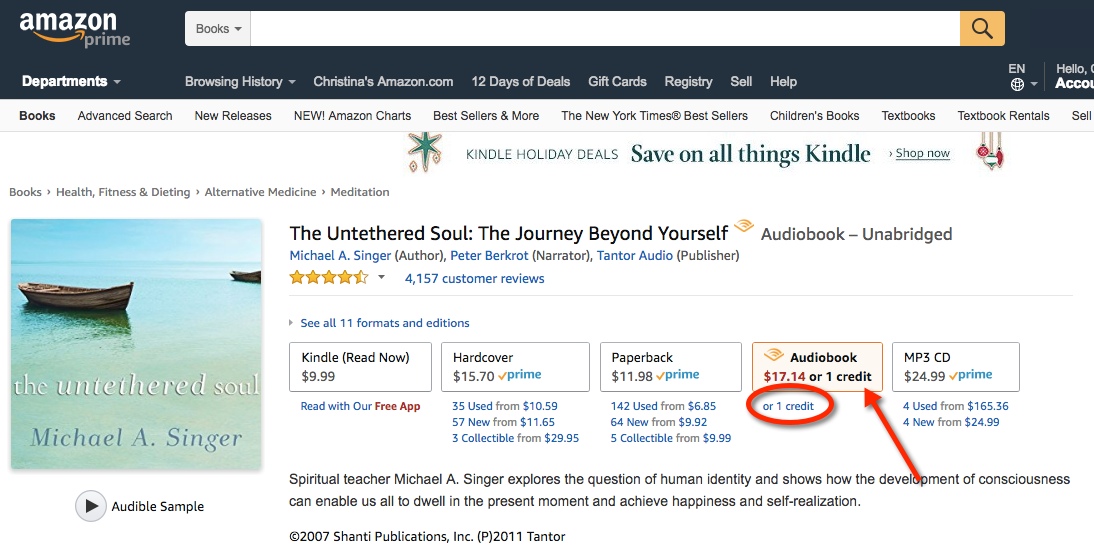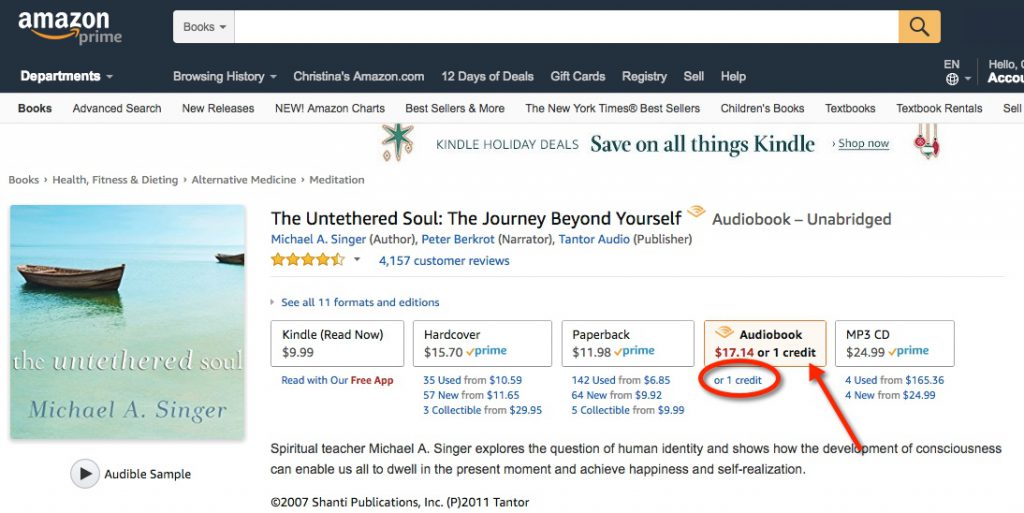 You can see (I hope…it's a little small!) that this audio book is $17.14 or 1 credit. Since you get 1 credit per month, you could use that on this book and it would be included with your membership.
You paid $14.95 for the membership, but now you have this awesome book that was more than the $14.95 that you paid. You basically got a discount on the book.
---
Other Benefits
There are a couple of other nice benefits to having an Amazon Audible account. First, many of the audiobooks are discounted. To clarify this, because this confused me at first… You get 1 credit per month, and then you purchase any other books that you want beyond that credit. When you have a membership, many of these books are at a discounted price.
Second, and this confused me too, you get to keep all the books. Even the ones that you used a credit on. This is not the library. You don't have to return them. They are yours to keep. You can listen to your books 1,000 times if you want.
Last, you can exchange or return books. I actually didn't know you could do this until yesterday. There were two books that I purchased that I was so disappointed in. Amazon has this kind of thing down. You easily log into your account, find the book that you purchased, and hit the return button.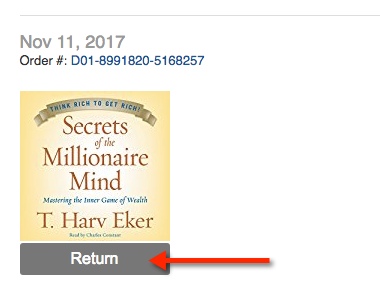 (P.S. I would never return Secrets of the Millionaire Mind! It's a gem of a book!) Amazon sent me two notices, one for each book I returned, telling me that I would receive a refund. Easy.
---
Now, On to the Obsession Part
The reason I'm obsessed with this whole thing is just simply because I love audio books. Do you know how stinking boring laundry is?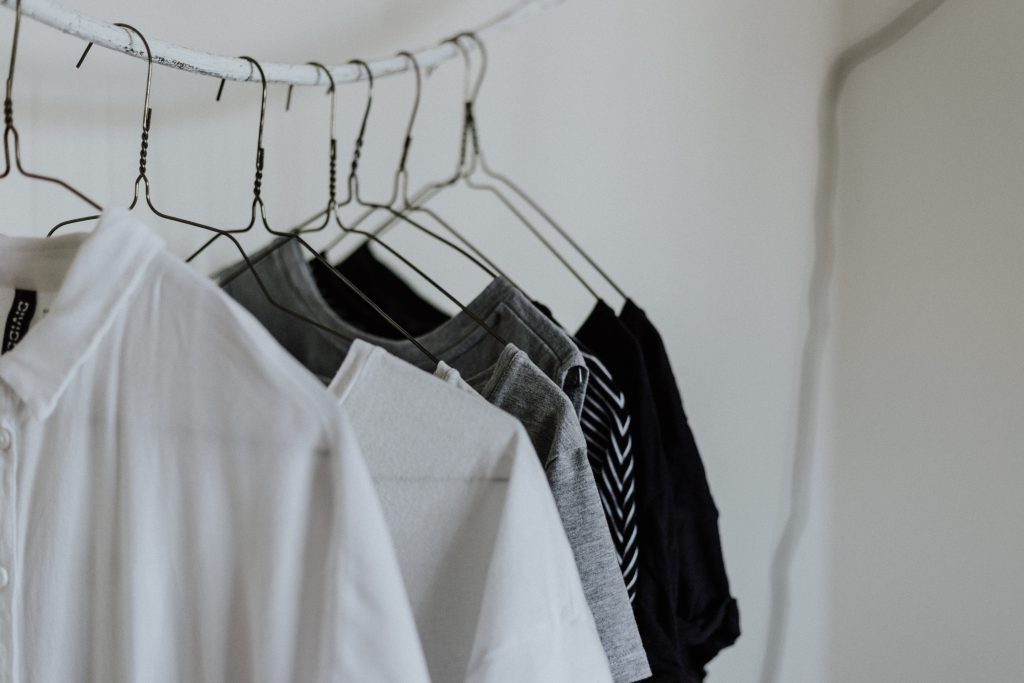 It's. BORING. But it's not as boring when you're listening to an audio book.
How about when you're out for a walk? I love being in nature, and enjoying my surroundings. But I love it much better when I'm listening to a great book.
I love running. I love it better when my mind is occupied.
Do you see what I'm getting at? Not only do audiobooks fill those boring laundry gaps, but they allow you to get through books at a much faster pace than reading. (Oh, I'm not knocking reading. I read nightly too. But I'm slow because I fall asleep after 1.5 pages.)
For me, I absolutely love self-development books. They teach me so many things. I want to know ALL the things. Audible audiobooks lets me get through them quickly, so I can get to the next thing. I love that! (I also love cookbooks, but they're just not as good on audio.)
---
Try Out an Amazon Audible Account – For Free and For Less
Another thing that Amazon does right is letting you try things before you fully commit. First, you can try an Amazon Audible account for free. You'll get 2 free books to try!

Once you try it out for free, they sometimes have a promotion where you can try it out for $4.95 for 3 months. That's a great deal! Then, you can really see if you like it and will use it.
I like saving money. So, what I do first is see if my local library has the audio book I want to listen to. That's a great option! Your local library probably has a website where you can borrow audio books. I would check them out first.
My library is pretty good, but of course, they just don't have the selection that Amazon has. Once I looked at the library, I pop on over to Amazon, and I grab my book there. That's what I recommend you do. Again, if you want to keep your book, then Audible is definitely the way to go.
---
Sign Up for a Trial Account
You can easily sign up for the Amazon Audible trial account. Find a book you like in Amazon, then click on the "Try Audible Free" button.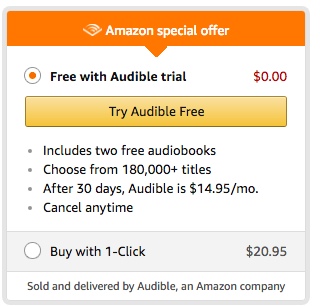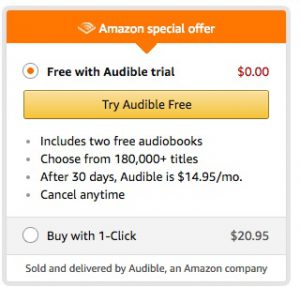 You'll go through the process of signing up at Audible. Just be aware of the date that you sign up. Payments will automatically start when your trial is over unless you cancel. So make a note somewhere when your trial is over in case you decide it's not right for you.
Amazon makes everything easy, and canceling your Audible account is no exception. But I'm confident that you'll love it and want to keep it forever. Well, at least you can try it and see for yourself!
---
Do you already love Amazon's Audible? What's your favorite audio book you've listened to so far? When do you most like to listen to audio books? Leave me a comment below!