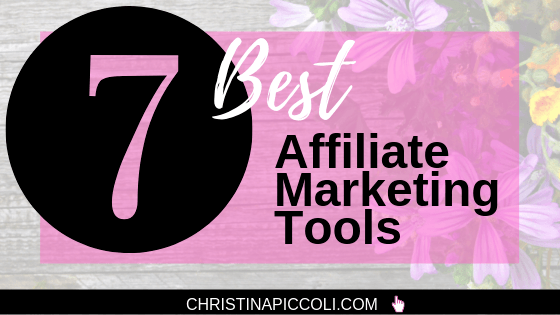 Building an affiliate marketing website is a fun and fairly easy process, but there are definitely some tools you need to have in this business, and some tools that are just great to have. In this post we're going to talk about the best affiliate marketing tools that I personally use on a daily basis. (See also my Resource Guide.)
Here are the best affiliate marketing tools that we'll explore:
The Best Affiliate Marketing Training Course
The Best SEO Keyword Research Tool
What is the Best Web Hosting for Affiliate Marketing?
What is the Best Domain Registrar?
What is the Best Content Writing Platform?
The Best Online Graphics Maker
What is the Best Screen Capture Software?
---
1. The Best Affiliate Marketing Training Course
Wealthy Affiliate is my #1 recommendation for the best affiliate marketing training course. Why?
Step-by-step training to get a website up and running start-to-finish
The training includes written text and videos
Member training that compliments the official training
Live weekly trainings on various topics (email marketing, sales funnels, graphics, etc.)
The best part about Wealthy Affiliate's training is that you build your website as you go through the steps. By the time the training is done, you have a fully functioning website!
And because Wealthy Affiliate is a membership site, it also includes 24/7 support (from community members or SiteSupport) for any questions you may have along the way.
Unlike many of the one-and-done products out there (like those I've reviewed here), the trainings stay up-to-date. And there aren't any upsells for more things that you need. Once you're in Wealthy Affiliate, you'll have everything you need to run a successful online business! (I'll talk about a couple additional things outside of Wealthy Affiliate below that are helpful to have.)

---
2. The Best SEO Keyword Research Tool – Jaaxy
I have used a keyword search tool or two in my time and the best SEO keyword research tool – in my humble opinion – is Jaaxy. I used to use Google's keyword tool, but I actually find it a bit cumbersome. It's not really that easy to use and doesn't give as much information as quickly as Jaaxy.
Let's do a quick search so I can show you what Jaaxy offers. Let's take a look at the phrase "how to train a cat". (lol, right? Cats are not easy to train!) I type that phrase into Jaaxy, and here's what we see.
You can see that "how to train a cat" gets an average of 834 searches per month. If you were able to rank #1 on Google for that phrase, you could expect to get about 142 people per month coming to that post.
Now let's look at QSR. QSR = quoted search results. This means if you went into Google and typed "how to train a cat" in their search, exactly like that with quotes, you would see 131 pages with that exact term. What does that mean for us affiliate marketers? That means that that phrase has a lot of competition. Ideally you would want this number to be less than 100.
If you decided, "OK that's too much competition. Let's try something else." Now, you can see when you are more specific about the topic, there's less competition. "how to train a cat to use a toilet" (don't laugh, I've thought of doing this myself!) only has 13 competing pages. That's MUCH easier to get your site in there and dominate!
I don't want to go into too many details on this post, but I will do a full Jaaxy review soon. There is SO much more to this tool. The one other thing I want to point out is on the right, you can see related keywords. You can click on each of those and get even more keyword ideas. Do you see how powerful this is? You will get almost limitless ideas with this tool.
You can give it a try now yourself. You'll get 30 free searches, so try some different things and see what ideas you come up with.
Jaaxy is included in the Wealthy Affiliate membership, or it can be purchased on its own.

---
3. What is the Best Web Hosting for Affiliate Marketing?
There are many good, reliable hosts out there perfect for affiliate marketers. Some the most popular ones in this line of work are:
I've personally used HostGator in the past. (I've used 1&1, but only for domain registrar. We'll get to that in a minute.) HostGator was a great host. They were very easy to use, and I didn't have any issues with my sites being down.
I have used Wix in the past. Wix isn't really known as a web host. With Wix, they make it easy to build a website with their drag-and-drop builder. However, if you plan to have your own domain name, you will need to switch to hosting with Wix. I can't say I had any issues with their hosting either.
Wix was pretty good for me, however, I thought of changing that Wix website to Wealthy Affiliate and WordPress. But because Wix is such a different platform, it's not as easy as just transferring everything from one host to another. If I would have kept that site, I would have had to start over. UGH!
Wix is awesome if you want to get a site up and running easily and have it look pretty nice, but if you ever see yourself switching out of it down the road, I would suggest not starting there. Why was I considering switching? Because hosting with Wealthy Affiliate is included in the membership.
With the Wealthy Affiliate Premium Membership, you can host up to 25 websites at no additional cost. This is HUGE! If I would have switched from Wix to WA, I would have saved $180 a year on hosting. (I decided to put that site to rest.That's why I didn't end up moving it over. RIP Pick Plants.) Not only that, but Wix also charges for comment and search functionality (which I think is kind of crazy), so that would be additional cost savings.
Not only have I not had any issues with Wealthy Affiliate's hosting (this site is hosted by them), but they include SSL for free. Some other hosts charge extra to make your site secure.
Another thing I love about Wealthy Affiliate's hosting is that they also include a Site Manager that keeps track of the health of my website. It gives me a quick view of everything that's going on with my site so that I can fix any issues quickly if they come up.
---
4. What is the Best Domain Registrar?
There are lots and lots of domain name registrars out there. And they're all pretty good and easy to use. The most popular ones are:
I have used GoDaddy in the past with no issues. I still have a couple of domain names with 1&1, however, I plan to switch them over to Wealthy Affiliate. I haven't had many issues with 1&1, except that I think their website is very clunky and really hard to get around. Just looking for the domains I purchased can take me some time because of the way their site is laid out.
I tried purchasing a domain from Wealthy Affiliate, and the process was very easy. There are three reasons why I want to move all of my domains over to Wealthy Affiliate:
Free Privacy. Many of the domain registrars charge extra to keep the information connected to your domain private. This is included at no additional cost at Wealthy Affiliate.
Everything's connected. When you purchase your domain at Wealthy Affiliate, it's connected to the other parts of the web-building process. For instance, once I have a domain, I can now go into Wealthy Affiliate's hosting and have a new site up and running in a matter of seconds. It's easy because they're connected on the same platform.
Everything's in one place. I like that my domain names are in the same place as my web hosting and those are all in the same spot as my content. (We'll talk about that next.) it makes it easy to manage your website when everything's in one spot.
If you like the idea of Wealthy Affiliate, but you're happy with your domain registrar, that's no problem. You can still use Wealthy Affiliate's web hosting and all the other areas of the site with a Premium Membership. Domain registration is just another perk that's offered.
---
5. What is the Best Content Writing Platform?
Inside Wealthy Affiliate is a tool that I'm using right now as I'm typing. It's a little something they call SiteContent. Now, you could easily just go into WordPress, or Wix (or whatever other blogging system you're using) and just write within the system itself. That's a perfectly fine way to do things.
However, with SiteContent, it allows me to streamline the writing process:
I create my post within the platform
It keeps track of how many words I'm using
I have the ability to use thousands of free images right in the system or I can upload my own
I can spell and grammar check before publishing
Since I have my site hosted at Wealthy Affiliate, I can publish right to my WordPress site
There are two especially great things about SiteContent.
First, I can set writing goals. I set my goals and then I can check the progress of those goals to see how I'm doing. This helps me stay focused on writing and keeping my website up-to-date so that I get better results in the search engines! I can always go back to set new goals, or edit the existing ones.
Second, I can create writing templates. When you do the same type of posts a lot, this can really help save time. For instance, I do a lot of review posts. I made a template for these kinds of posts. Now, when I'm ready to do a review, I just start with my template and go from there. I can set up what it looks like, and I can also set writing goals here too.
Is having SiteContent an absolutely necessity when it comes to creating an affiliate marketing website? No, it's not. But it sure is nice to have! When you are an affiliate marketer, you do a lot (A LOT) of writing, and this is just one way to make things a little easier.

---
6. The Best Online Graphics Maker
Having a website requires a lot of writing, as we just discussed right up above. But no one wants to look at walls and walls of text. So, it's good to break up your writing with images. Those images could be photos, charts and graphs, screenshots (we'll discuss that next) or graphics that you create.
The best online graphics maker is Canva.com. Canva is really easy to use once you get used to it, and it's completely free! They have all kinds of templates you can start with such as Facebook ads, blog banners, Twitter banners, logos, presentations, charts, infographics and much, much more!
I use Canva to create all the graphics, for this site. Here's a sampling of some of my designs I've done:
You get access to all kinds of photos, icons, fonts, backgrounds, shapes and much more so that you can create any kind of graphics you can think of. (Some items in Canva have a cost, and that will be indicated on each item.) Canva is a fantastic tool for anyone who is online.
---
7. What is the Best Screen Capture Software?
I know there are many, many screen capture programs out there. I personally think the best screen capture software is Snagit® by TechSmith. Now, I say that because that's the one I use and love. I can't say I've used them all, but Snagit is the one I've been using since forever, and it's been great for me.
All the screen capture images above have been created using Snagit. I have a little button that sits on the side of my screen and whenever I need a capture, I just hit the button and Snagit gets it for me. Snagit also allows me to add my own flair to things I want to call out. This makes it really fun when I'm reviewing those terrible scammy products.
Snagit is a product that I paid for, but they do have a free trial if you want to check it out. I personally feel like it was worth the money because I absolutely use it every single day. It makes my life easier, and my posts more fun! 🙂
If you'd like to try out some free screen capture programs, TechRadar.com has a list of the best ones.
---
These are some of the best affiliate marketing tools that I use every day. I hope you keep checking back as I add on new tools. (I still have to get to autoresponders and screen recording software!) I hope this list doesn't overwhelm you. There are a lot of tools that we use as affiliate marketers, but these are all something that you learn about as you go along.
If you have any questions or comments about any of these tools, or if you'd like to suggest some of your favorites, leave me a comment below!