Welcome to The Downline Building Network review (also known as DBN).
This system is a home-based opportunity that uses direct mailing instead of the internet. The basic premise behind it is that you mail out postcards and you refer people into the business and make commissions.
This sounds very similar to Too Damn Easy that I recently reviewed (with the exception that Too Damn Easy has zero products associated with it), so you might also want to check that one out.
This is a multi-level marketing (MLM) business where you get paid on different referral levels (as shown below).
At first glance, this seems like a really easy way to make money.
But is it?
Let's take a look at the entire system in this Downline Building Network review.
---
---
What is The Downline Building Network?
I actually found The Downline Building Network in a home-based business magazine, and the address in the ad there was MailPostcardsfromHome.com. So, if you've seen that web address, it will lead you to The Downline Building Network by Gerald Peters, which is what we're reviewing here.
In fact, the sales page says "As seen in publications such as…" as if they were featured as a news story, but the truth is that Gerald paid to advertise in these publications. To be fair, he did mention in the video on that these are paid ads in the magazine.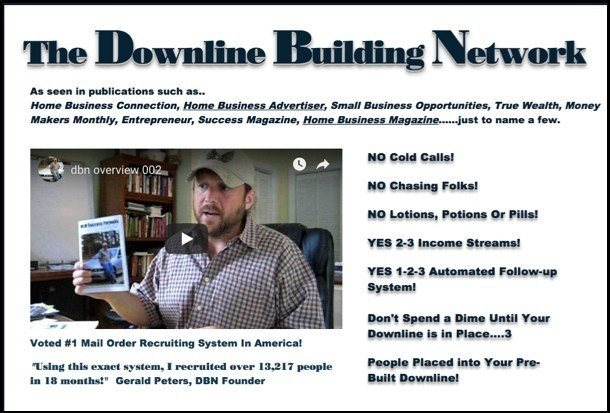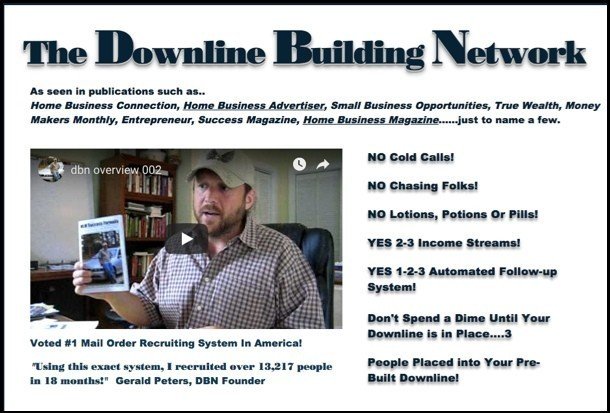 In the video, Gerald says this is not an internet program. What's really funny is that he says internet programs typically last from 6 months to a year. Perhaps the shady products like i review here, but not legitimate programs.
So…what is Downline Building Network? It's a postcard mailing MLM system that Gerald says helps you put money in your pocket without any face-to-face communication.
He says that you just mail out postcards and all the follow-up is done for you, and that if you get 10 people in your downline, you'll earn $250 residual income every month. He says this is an honest and ethical business. But is it? We'll take a closer look a little later.
You can watch the video yourself here:
https://www.youtube.com/watch?time_continue=357&v=3JKoFyNspbE
Who is Gerald Peters?
I couldn't find much information on Gerald Peters. He mentioned that he started The Downline Building Network 3 years ago, and that he's been in the direct mail business for over 20 years.
He does a Facebook page, but there's not much going on there.
What Happens When You Call the Downline Building Network Number?
I gave the number a call to see what happened. It's a prerecorded message from Gerald, who starts off by saying you can get started in as little as $1 a day.
He said this is one of the easiest and most profitable systems out there. He's built an organization of over 8,000 people without chasing any friends or family. He tells you that if you can stick a stamp, you can make money with DBN.
Basically, when you call the number, you get a prerecorded sales message, urging you to give them your name and number so they can send you a free information packet.
Are There Any Products with The Downline Building Network?
While Gerald says there are no lotions or potions to sell, he does have some products for sale via the Downline Building Network. These are books that he's written, training CDs, and other training materials.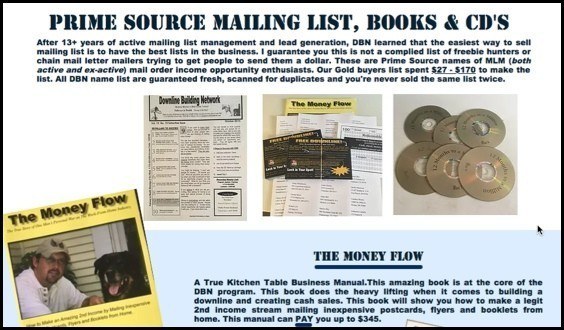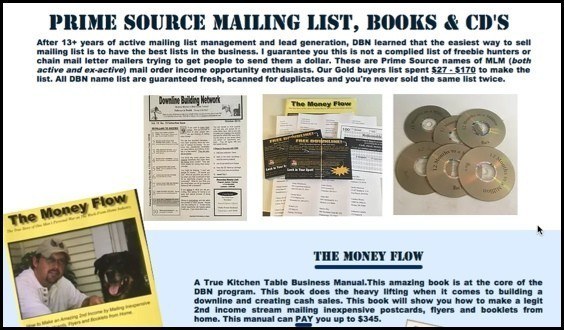 Here are some of the products that The Downline Building Network sells, but this is not the main product.
What the real "product" DBN sells is "opportunity seeker leads". These are leads of people who are looking for work from home opportunities. We'll talk more about this in the next section.
---
Related articles:
---
How Does The Downline Building Network Work?
When you call the number, or sign up on the website, you'll be mailed a free information packet. Remember, this is not an internet program, it's a direct mail ordering program.
If you decide to join The Downline Building Network, what you'll get for your money are, as mentioned above, opportunity seeker leads. These are names and addresses of people who are interested in making money from home, and they come on a label sheet.
You can use those leads to market any program you want. However, we all know that the main opportunity that people will market is being a part of the DNB program. Why? Because there are different levels and downlines and it could be a good way to make money. (Just note that I said "could".)
You'll also get postcards included in your package. That way you can just sticky-sticky that little label right on that postcard and send them out easily.
How Do You Get Paid?
When people first sign up, you get a 70% Fast Start commission. You get 70% of whatever membership price they buy into. (See below.) For instance, if someone joins at the $100 level, you'll make $70 for their first order.
Of course, it wouldn't be an MLM without some complicated chart of how you make money with a downline.
Level 1 people are the people who you personally sign up.
Level 2 are the people that your personal referrals sign up.
Level 3 are the people that your personal referrals' referrals sign up.
Confusing? Of course it is.
The Different Payouts for Each Level:
10% payout on level 1
40% payout on level 2
20% payout on level 3
There are 3 Membership Prices:
$30 – You get 30 opportunity seeker leads and 30 postcards
$50 – You get 60 leads and 60 postcards
$100 – 120 leads and 12 postcards
You can also earn $345 by selling The Master Pack, which is a set of Gerald's training books. (The cost for this Master Pack for members is $440.)
---
How Much Does The Downline Building Network Cost?
Of course, nothing is free out there and The Downline Building Network is no exception! Here is what you will pay per level (shipping is included in the prices):
$30 level – $35 / month
$50 level – $50 / month
$100 level – $105 / month
(Keep in mind you'll also need to pay for stamps if you're sending out postcards.)
Is this a good business and is The Downline Building Network worth it? Let's go over this in the next section.
---
Is Downline Building Network a Scam or Legit?
I don't think The Downline Building Network is a scam exactly because they kind of have a product to sell. It's an interesting way to get around being a complete pyramid scheme, and it's my opinion (my opinion only – I'm not in charge of the law) that it's a borderline pyramid scheme.
The product that you get is to help you sell the product. And you try to recruit others into your downline to help sell more of the product.
Pros
Easy to get started
Fairly inexpensive for the lowest plan
Cons
The main purpose of the product is to sell the product, which I don't personally find a lot of value in
Most people lose money with MLMs
Complicated compensation plan
Unknown where the leads are coming from (they might be low quality leads)
The Downline Building Network is Great For…
Gerald Peters.
When doing some research, I saw an article posted about the secrets of a "millionaire postcard mailer". That millionaire is Gerald.
It seems like such a great business opportunity because you just sign up for a few bucks a month, and then you can be a millionaire just like Gerald! Gerald is a millionaire because he's at the very top of the MLM pyramid. Most of the money flows to him.
People at the bottom of the pyramid don't do so well. Every once in a while, someone might move up the ranks and make a good amount of money.
I was recently in an MLM, and even though we had awesome products, I found it VERY hard to make money in that business. I lost way, way more than I made. People are very skeptical of MLMs. Keep that in mind.
Look, you are certainly free to do whatever you want, I just want you to know all the facts before joining, and also share my own personal experience.
To give you a better look at MLMs and how they work, here's a great video I found on YouTube:
The Downline Building Network is really only a business that sells the same business. It's one of those endless loops to nowhere…
---
Conclusion
The good thing about The Downline Building Network is that you can get started at a fairly inexpensive price. That way, if it's not working out the way that you want, you can always get out without much downside.
Keep in mind that you will be pressured into buying the highest level and the $440 books. That's just how MLMs go.
If you like the idea of making money from home, but maybe want to look into an alternative way of doing things, my recommendation is affiliate marketing. You promote other people's products and get a commission. It's simple to understand.
Here's my #1 recommendation for affiliate marketing training and where I learned how to put this very website together. See why over 100 people have joined with me so far this year!
---
Do you have any questions or comments about this Downline Building Network review? Have you been involved in this program? Did it work for you? I'd love to hear from you whether you had a positive or negative experience. Leave any questions or comments down below!