If you have ever wondered "What is Conversiobot?", then you've come to the right place. I hope to answer this question for you in this Conversiobot review.
Have you heard of chatbots? They seem to be all the rage these days in the online marketing world. A chatbot is a chat window that sits on your website.
It's pre-loaded with a conversation and if a user interacts with it, it can automatically lead them toward a certain product, email sign up, or anything else you want someone to see on your site.
So what is Conversiobot? It's a new chatbot product.
But is it any good?
Honestly:
I was skeptical at first, but I actually think Conversiobot is good.
Really good.
Let me show you why and give you a peek inside the member's area.
Need to start at the beginning and learn how to create a money-making website?
---
What is Conversiobot?
The Conversiobot sale page claims that a simple line of code added to your website or blog can generate automatic sales. They claim that adding this code gave them an extra 6,386 ClickBank sales in 6 months.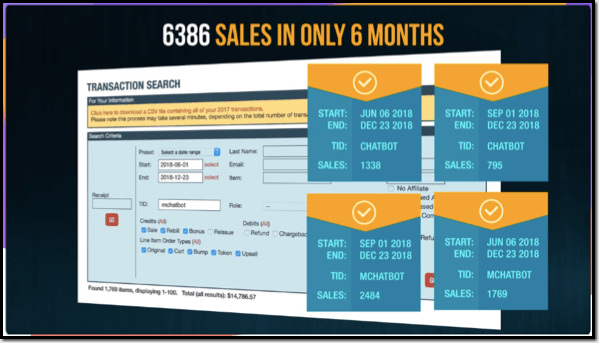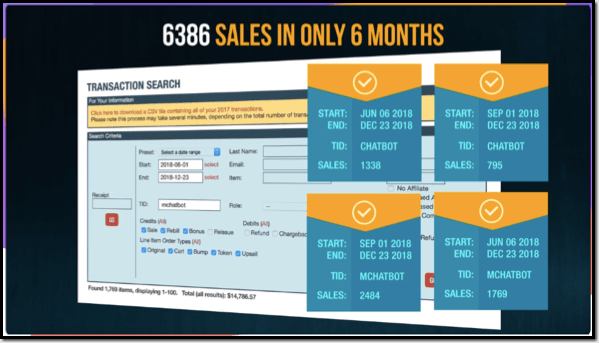 They also claim that this code also built them a massive email list, and helped them increase their conversion rate by 198% in just 6 hours.
They say that the biggest affiliates are beginning to use this AI technology, and that you can increase your sales too with a block of code added to your site.
They claim these big companies are using this technology: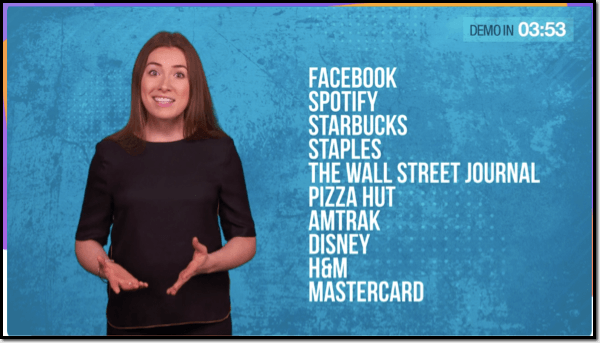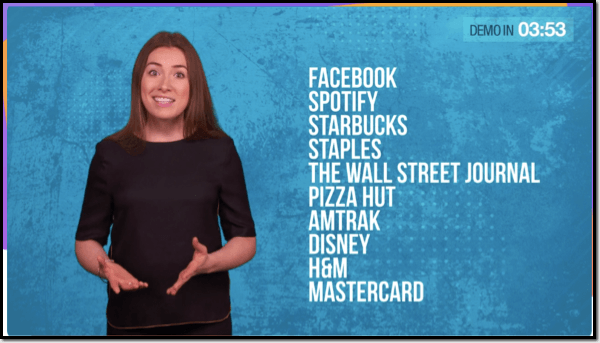 They also say that their technology can increase sales and conversions with any of these types of websites: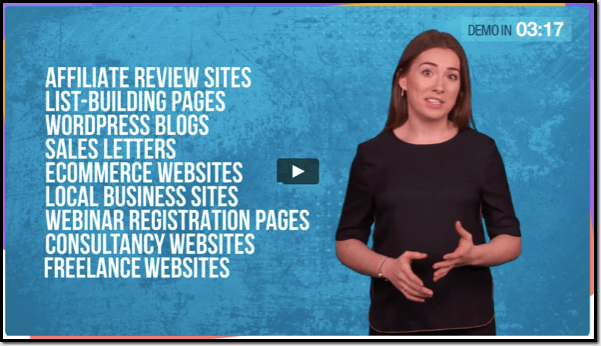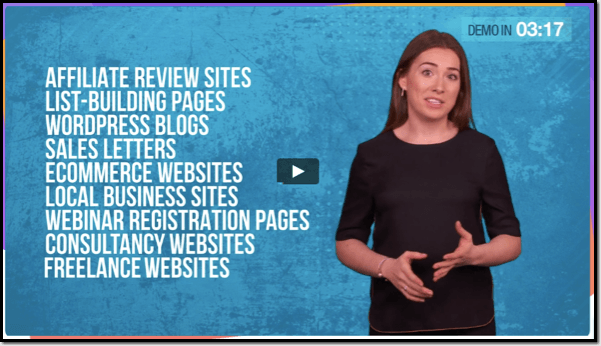 Their bot code works with WordPress, Clickfunnels, Leadpages, Shopify, JVZoo, Clickbank and hundreds of other programs. It's also fully integrated with email autoresponders like AWeber, MailChimp, Sendlane and Get Response.
They claim that Conversiobot is the only chatbot for small business owners. This technology works with any type of websites.
They say that using Conversiobot is simple.
You just:
Choose a template.
Grab the code
Copy and paste the code onto your website.
Simon Wood (co-creator of Conversiobot) shows up to give us a demo of this technology.
Note: Click the video below to view the demo.
You can easily connect into your email service provider. Simon shows us that you just click on the ESP that you use, and sign in to integrate it to the Comversiobot system. (This connects with Aweber, Mailchimp, Sendlane and Get Response.)
He then shows us that there are several templates already done for you that you can choose from.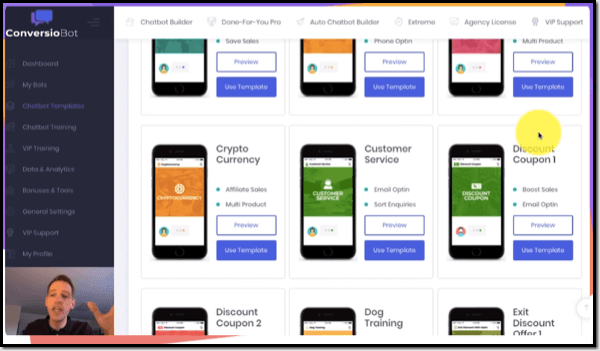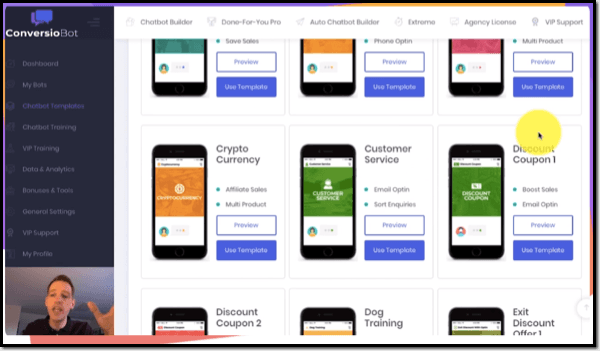 You can see how the chatbot looks when it's engaging with someone on your site: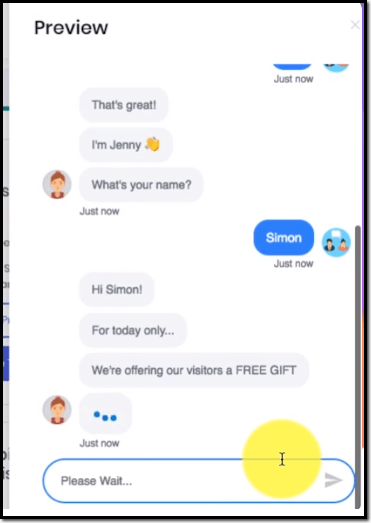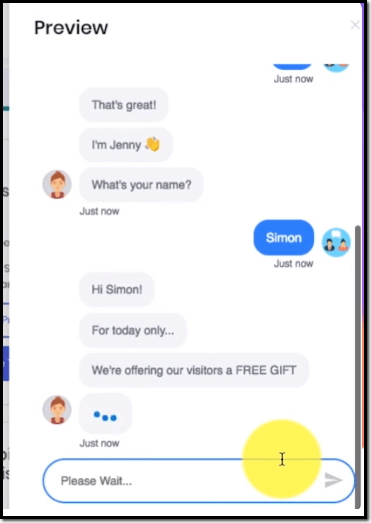 Simon says this is more engaging then when you use a normal ol' boring opt in form. Simon shows us that the bot offers up a free gift and then asks for an email. This is how you can collect leads.
You can customize the messages any way you want, or you can leave the template just the way it is.
The Different Chat Bot Types
Widget Bot – Your typical bot that looks like live chat service. It sits in the corner of your page. When a user clicks on it, it opens up a small chat window.
Embedded Bot – Embed the chat box into your site in a specific spot of your choosing so that it's always open.
Full Page Bot – This chat box takes up the entire screen of your page.
Exit Bot – The chat box opens when a user tries to exit the page. This can help gain their attention and try to get them what they're looking for before they leave your page.
The sales video actually helped us answer the question "What is Conversiobot?" really well. However, let's see if we can dig in even a little more.
How Does Conversiobot Work?
I am always impressed when we get a product demo on the sales page. It's always good to know what exactly you're spending your money on.
As mentioned above, Conversiobot is chatbot technology that sits on your site, interacts with your site visitors and tries to lead them to the information they're looking for. This helps them get what they need, and helps you to convert them into a lead or a customer.
Since this is something I've been interested in implementing on my site, I decided to purchase it. (This also gives me a chance to give you more of an insider's look into the product.)
The China Secret is a product I reviewed that gave some of this information on chat bots, but I thought it was pretty confusing and probably not easy for the average user to set up.
Conversiobot looks much, much easier to implement, and the price is extremely  reasonable.
It was refreshing to not be hit with ANY upgrade videos before I got into the member's area. They do have some upgrades, but they seem like legitimate ones that you'll know if you need or not. (For instance, you can get chatbots "done for you", or you can purchase an agency plan if you want to have multiple licenses.)
They didn't push upgrades on me that I don't need. Yes!
Here's a peek at the menu inside the member's area:


Here's a look at the template categories that are available.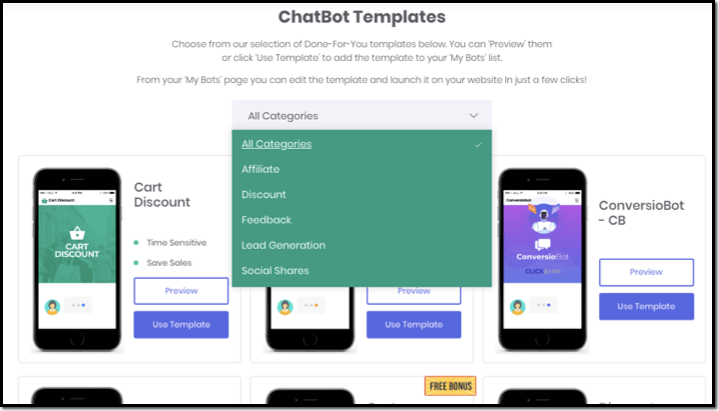 There's a full step-by-step video training area so you'll know exactly how to set these chatbots up on your site. You can see there are several different categories within the training area.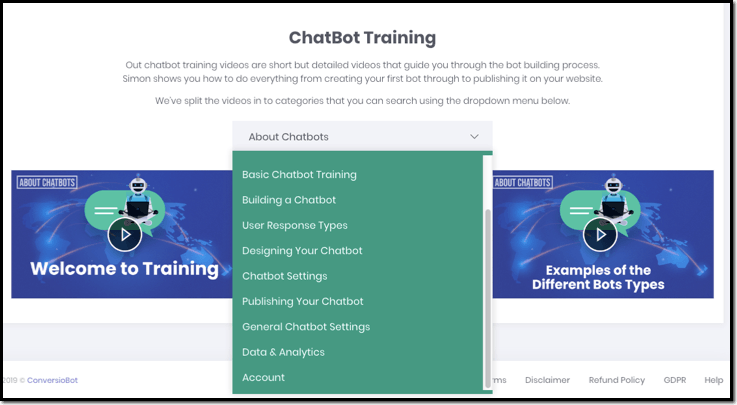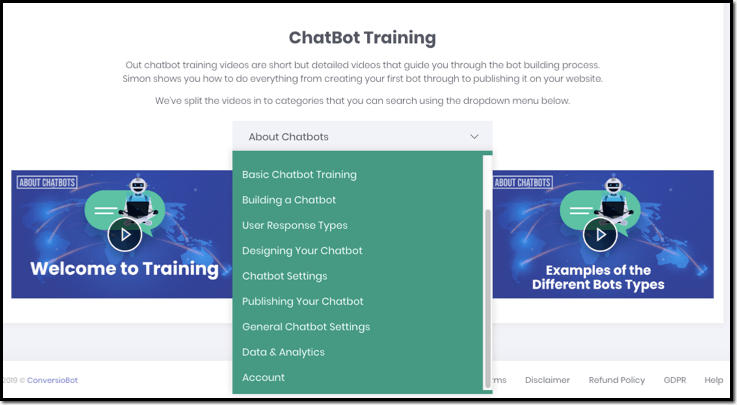 What's also great about this is that you can learn how to set up these chatbots, and then you can sell them to other companies or bloggers. (You could even set up a gig on Fiverr.com and sell your chatbot-making services there. )
---
Is Conversiobot a Scam or Legit?
Most of the products I review in ClickBank are pretty terrible, as you can see from these reviews. Conversiobot is a very, very professional product. I was actually impressed with it right from the start. Conversiobot is completely legitimate and definitely not a scam.
In fact, I do think that these chatbots are going to be on every website in the near future. It could be good to get on top of this technology now.
Conversiobot Review – Pros
Easy to use
Lots of detailed, step-by-step training videos
30-day money-back guarantee if you're not satisfied
Very reasonably priced, especially for how professional the product is
Conversiobot Review – Cons
The biggest con for me is that I use ConvertKit for email, and so far, this is one email service provider that isn't integrated. (UPDATE: They have now connected with ConvertKit, plus they added a few other email service providers. They now have 8 total you can connect with. )
Not for those of you looking to set up a website. (I have training for

that, and

I'll mention it in the next section.) This is technology that goes on your existing site.
If you have a site and want to get in on this technology, I definitely recommend Conversiobot to help you get it started. You'll be able to easily implement a chatbot and have it start interacting with potential customers in no time!
Conversiobot Update
You can probably see that I've added a chatbot to my site using Conversiobot. It was a pretty easy process!
Not only do they have a bunch of simple-to-follow training videos, but the drag and drop Conversiobot maker makes building out your bot really easy and fun!
Here's a snippet of what my bot builder looks like for the bot that's currently on my site:


Your bot is very easy to customize. You can:
Use a first name throughout the conversation
Link to a certain product
Redirect to a certain page on your website
Add buttons for the user to pick from
Add a star rating
Add a video, image or gif to make your bot more interactive
You can also customize the look of your bot, and you can decide if you want it on the left side or the right side of your site.
Generally speaking, the bot will show up on every page of your site, but you can add pages where you DON'T want it to show up.
All in all, I'm really happy with this purchase. This is a great tool for any site!
---
Need to Start from the Beginning?
If you're someone that is still trying to figure out this whole online marketing thing, then you may not quite be ready for Conversiobot yet.
In that case, I would recommend starting from the beginning and learning how to create your own money-making website.
The platform that I used to learn how to put this very site together, and the platform that I still use today is called Wealthy Affiliate.
They will teach you step-by-step how to create a website, get traffic to it and make sales! Not only that, but they also have everything else you need to run a successful website, including web hosting, a keyword research tool (the BEST keyword research too), live weekly trainings, live chat and 24/7 technical support.
What's even better is we are a community of 400,000 + strong that can help guide you every step of the way.
We have many, MANY affiliate marketing success stories. (Those are just some of them.) All these successes did was follow the training!
You can grab your spot free – no credit card required – and start learning how to make money online immediately.
---
CONCLUSION
I am so impressed with Conversiobot, and that is highly unusual! lol I am usually deeply disappointed in the ClickBank products that I review.
This one truly is good and it's technology that you won't want to pass up on. This is a technology that everyone WILL be using in the near future.
Get in the game now by purchasing Conversiobot.
If you're not quite there and you just need to start at the beginning, no problem. Head on over to Wealthy Affiliate and create your Free Starter Membership.
With the Free Starter Membership, you'll get 10 free lessons.
Go here to start your free 10 lessons now.
I hope I answered your question "What is Conversiobot?" and that you enjoyed this Conversiobot review.
---
P.S. Not to Brag, But…
I entered Converiobot's competition for best chatbot.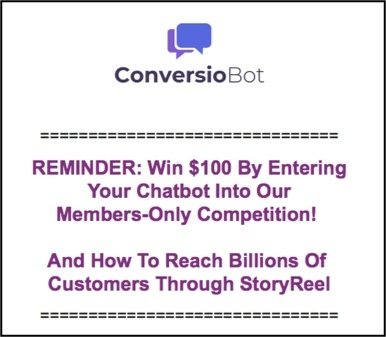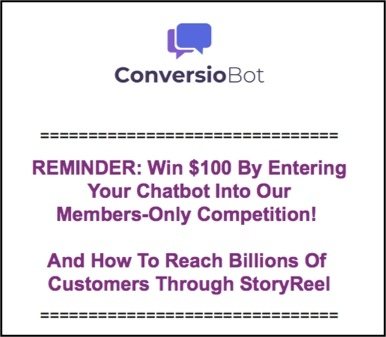 And I was the winner!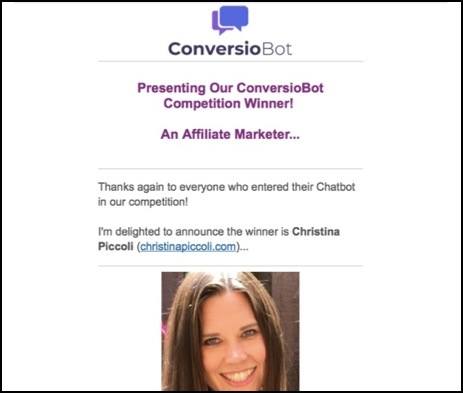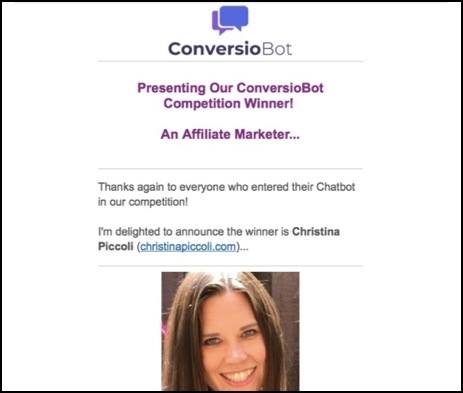 The guys at Conversiobot are always doing fun things and having great contests for their members. Just another reason for me to recommend them!
Click here to create your own chatbot for your site.
Do you have any questions or comments about Conversiobot? What do you think of chatbot technology? Do you see this as a wave of the near future as I do, or will the excitement of it die down? Leave me comments below! I'd love to hear from you.