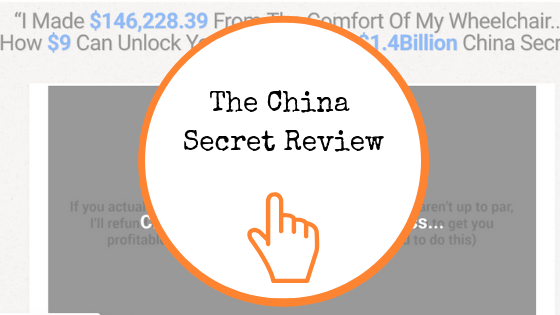 Welcome to The China Secret review!
My friends from Smart Cash App sent me a new product to check out called The China Secret. (Not to be confused with The China Study.)
Here's what I saw when I clicked on the link:
Pretty hype-y! Look at that income amount! It's possible that this is a true amount, but I really hope that this video doesn't imply anyone can make that in a super fast period of time.
We'll find out soon…what is The China Secret? Can you grab a share of the $1.4 Billion China "secret", or is The China Secret a scam?
I really enjoy reviewing these products because it's so fun to watch these silly videos! Who knows? Maybe this one won't be as bad some others I've reviewed here.
In any case:
I always love to give you the option to skip all the writing that's about to happen down below and just go right to my favorite way to make money online.
The way that I do it is completely legit and there are no secret systems, money loopholes or any other nonsense like that. I'm going to send you to my Free Guide to Making Money Online for Beginners so you can learn all about it. Don't worry. My product won't be taken down soon and you'll always have an invite! 🙂
Click the Button for My Free Guide to Making Money Online for Beginners and Get Started The Right Way Without All the Marketing Hype!
---
Here are the areas we'll explore in this The China Secret review.
What is The China Secret?
How Does The China Secret Work?
Is The China Secret a Scam or Legit?
Learn How to Make Money Online – My #1 Recommendation
Wealthy Affiliate Versus The China Secret
---
What is The China Secret?
Product: The China Secret
Cost: $9
Owner(s): Robert Walter
The video for The China Secret was super short, and our narrator spoke really fast! This is great because I didn't have to waste half my morning listening to the video. But it was bad because I had to type up my notes really, really fast so I didn't miss anything! (I'm sure I missed some things, but I got enough.)
Our narrator never says his name (I later learn it's Robert after purchasing), so I have no idea who is behind this product. His story is that when he was 54 years old he lost his job, which also made him lose his home and eventually his wife. He started doing research online about different opportunities to make money.
He tried everything, but was never successful. "Have you ever felt like you were a failure?" All those "fat-cat gurus" never tell you the truth about how to make money online. They just try to sell you some old system.
Then, three months ago he stumbled on a "secret" that changed his life forever. He learned how to pillage a $1.4 billion dollar industry that's ripe for the taking. It all started with a program in China called WeChat. Apparently, this is a popular app that uses advertising to make money and it makes a LOT of money – billions!
Facebook Messenger is the American version of that. The industry isn't as huge yet – only about $1.4 billion, but it'll be growing. There is huge profit to be made inside of Facebook Messenger. It's a brand new, untapped market.
Our narrator guy said he was able to start making over $28,000 per day using this "secret". He says you can get set up in no time and this will work 24/7, making you money even while you sleep. Of course, you need no skills to do this because it's so simple! (They all say that, don't they?)
He's giving this away for only $9 but there is a catch. He needs testimonials! So, if you're successful with this, he just wants a testimonial in exchange.
You'll never see an opportunity like this again!
OK, pretty interesting stuff. It was a little hype-y, but not too bad. Let's dig in a little more with this one and see what it really does.
---
How Does The China Secret Work?
Well, we at least know a little bit about this product from the sales video. I'll give him credit there. It looks like this is about Facebook Messenger advertising. This is a fairly new way to marketing in Facebook, so this is pretty interesting.
I don't always buy the products, but for $9, what the heck? I'm interested to see what this product looks like.
Of course, as soon as I pay, I'm hit with an upsell for a product called The Insiders Circle for $197. Why not just give me everything I need the first time? Of course, I'm going to skip past that.
Then I'm hit with another upsell. This is a product called Crypto Millionaire Calendar and this one is $97. Nope. No thanks.
I'm hit with a THIRD upsell. UGH. Now I'm getting annoyed. This one is called MAX Profit Booster and it's "ONLY" $77.
(P.S.This is typically how these guys REALLY make their money. It's not usually with the system they're selling, but it's with these upsells that they hit you with.)
I FINALLY get in! Here are some topics within the member's area:
The China Secret Messenger Marketing (There are 2 PDF Guides here. The first one is 30 pages, and the second in 84 pages.)
Cryptocurrency (Huh? I thought I was buying a product about Messenger Marketing?? There are 2 downloads here. The first one is about getting Free Cryptocurrencies and the 2nd is Millionaire Calendar. Wait a minute…wasn't I just asked to pay a boatload extra for these??)
E-commerce (There are 4 trainings here: Shopify training, Ecommerce Kickstart, eBay Ecommerce Secrets and The Amazon Rush.)
I"m not going to take a big look into the cryptocurrency or e-commerce trainings, since I bought this product for the messenger information.
The first PDF for the Messenger training was all about chat boxes and setting one up for your Facebook page. A chat box is a way to communicate with people automatically who come to your page. There is information here about why they work, and why they sometimes fail and which outside sources you need to get it all set up. There is step-by-step training on setting this up.
I see that a lot of effort was put into this training, so that is good. Just scrolling through it, at actually looks kind of complicated. Even though Robert told us it would be really easy. Now, it could be pretty easy if I followed all the training step-by-step as I put it together. It's detailed info, so that's a positive thing.
The second PDF is all about using chatbots for Facebook Messenger and why you get better results with this versus email. This PDF goes over the basics of your chat box, how to use it in messenger and other ways you can promote your chat box. You can also use it with YouTube and Instagram, however, it looks like you will need a special tool to do that.
I've skimmed through both PDfs, so let's talk about whether this is legit.
---
Is The China Secret a Scam or Legit?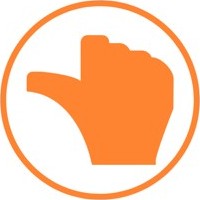 I definitely don't think The China Secret is a scam. You really do get some pretty good information for your money. Especially since it's only $9! I'm going to give this my middle thumb. There are some positive and negatives about this one.
Pros:
Good step-by-step training in the first PDF
Good overview in the 2nd PDF regarding using your chat box within Messenger
Only $9
Cons:
Implying it's easy to make thousands of dollars per day with this method
You'll need to invest in a few different tools to make this work
You'll need to have a Facebook page
You'll need to know how to get traffic to your Facebook page / Chatbot
It seems complicated to get everything set up
I think this is one that I'm going to keep in the back of my mind for the future. I'm really busy working on this site so I don't have much time to invest in learning about how to set up a chat box at the moment. But this could be good to know for later down the road.
I'm going to go ahead and provide the link for you because this could be an interesting avenue. I would not recommend this for anyone who's new to making money online. This would be for people who already know about Facebook pages, affiliate marketing, promotions, etc.
However, even if you are new to this world, it's only $9 and you can certainly learn something here for later use. I don't recommend buying the upsells!
Click Here to Try Out The China Secret.
Let's move on and talk about my #1 recommendation to learn how to make money online.
---
Update: I've seen and reviewed two other products that use almost the same sales video as The China Secret. You can read those here:
---
Learn How to Make Money Online – My #1 Recommendation
The China Secret is decent, but you need to have an online marketing foundation before you can really take advantage of what they're trying to teach. (In my opinion anyway.) That is why Wealthy Affiliate continues to be my #1 recommendation for learning how to make money online.
Wealthy Affiliate helps you lay down all the groundwork and teaches you how to set up a successful affiliate marketing website. You will get step-by-step training so that you can set up your website properly for lasting success. You will also get all the tools you need – web hosting, domain purchasing, keyword research tool and – this is huge – SUPPORT.
Once you have all of these things in place and you have a website up and running, then I would recommend looking into something like The China Secret. Lay the foundation first, and then add on to that.
What's great is that Wealthy Affiliate has a Free Starter Membership, and there's no credit card required. So you can try it out at no cost and see if it's right for YOU. There's no pressure because you can remain a free member for as long as you want. (If you want to be REALLY successful, I wouldn't recommend hanging out as a free member for too long, but just long enough to get a feel for what it's all about.)
Click the Button to Get a Free Starter Membership at Wealthy Affiliate and Get the Tools and Skills You Need to Build a Proper Money-Making Website.
---
Wealthy Affiliate Versus The China Secret
I would consider The China Secret as an add-on to something like Wealthy Affiliate. You can see from the comparison chart that Wealthy Affiliate offers absolutely everything you need to get started making money online through affiliate marketing. This is the best place to start because everything is all in one place!
---
Do you have any questions or comments about The China Secret? Have you looked into Facebook Messenger marketing? What do you think? Is it an untapped market? Leave me comments down below!
---