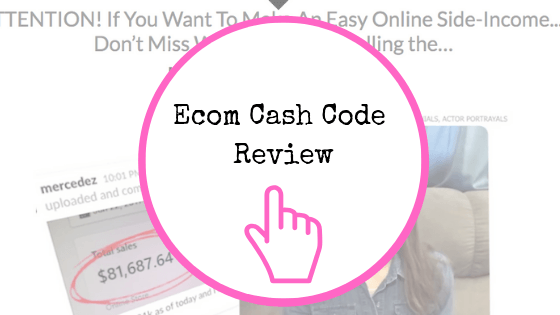 Welcome to my Ecom Cash Code review!
What is Ecom Cash Code, exactly?
Well, I have to tell you:
This is the first of a bunch of different reviews that I did that turned out to all be the same.
Does that mean Ecom Cash Code is so good that they need to spread the word far and wide?
No.
Is Ecom Cash Code a scam?
Not exactly, but there are definitely things to watch out for.
We'll get to it all in this Ecom Cash Code review.
---
Do you get disappointed by these products time and time again? Me too. That's why I created this free guide…
How to: Affiliate Marketing for Beginners.
---
---
What is Ecom Cash Code?
Product: Ecom Cash Code
Cost: $47
Owner(s): Teo Vee
I will give Ecom Cash Code a little credit right off the bat before we even get this video started. While the sales video is a little hype-y, they at least put disclaimers in there about the testimonial people being paid actors and that results are not typical.
Finally!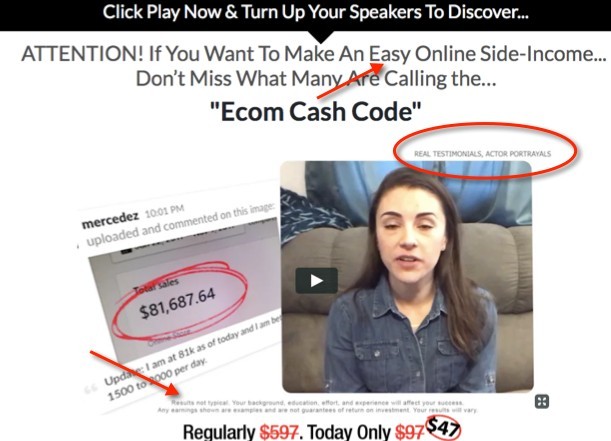 Now, let's see what else we can learn from the sales video:
This can involve you making cash from ecom
There's a "secret" ecom code that can produce cash 24/7
Profit from sales online without doing the grunt work
You don't need any special knowledge to get started
You just need an internet connection, a little know-how and a desire to succeed
We have some testimonials. No sales video would be complete without testimonials! Now, as a reminder, they do have those disclaimers in there.
Most sales videos use fake testimonials and DON'T put the disclaimer, so I am impressed that they at least have that in there.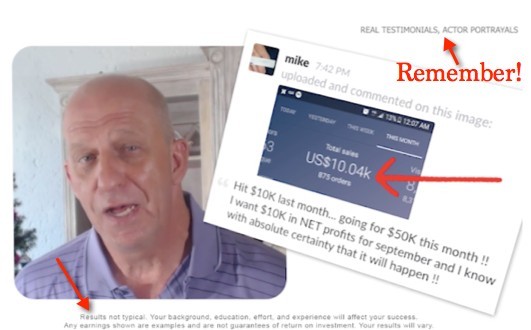 Teo introduces himself and tell us his story. He was a dishwasher at a restaurant in Manhattan. He worked so much but still didn't have money to pay the bills. (Yea, probably not in NYC!)
Out of desperation, he started looking for ways to make money online. Everything was a scam!
He posted a question on a forum asking about online opportunities. Someone mentioned a code that he uses to make a nice sum of money. That night, he tried it out.
He followed the "code" the person on the forum gave him. Then he waited. Nothing happened! He gave up and went to bed. Womp, womp.
It seemed too good to be true, but he wanted results and he wanted them NOW! The next night he went back to the page and tried following the code again. Nothing still!!
He wanted to give up for good. He tried one last time the next day. And when he checked his computer the next morning, he made $213!
He made more money from getting a good night's sleep than from working for 40 hours! After 2 weeks passed, he made $6,822.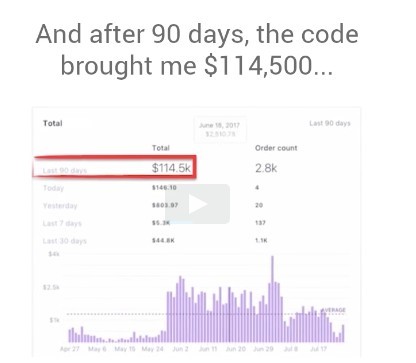 Ecom Cash Code taps into online sales. It's a site where you can make money. Get the code, follow some directions, get it up and running and make extra cash.
You're not selling anything directly. You don't have to worry about shipping or bugging people on Facebook. All the sales are automated.
Someone will be by your side to guide you if you need assistance. You'll get an advisor to make sure everything is working properly. (This isn't really the case. I'll tell you later.)
Do we actually know what we'll be doing with Ecom Cash Code? Nope! of course not. The sales videos almost never say. Let's see if we can dig in a little more and find out.
---
How Does Ecom Cash Code Work?
Who the heck knows? No one knows because they don't tell you anything in the video. What I have seen is that people have said that this is possibly a product that will funnel you into another program called My Ecom Club.
And that makes sense to me because when I checked out Teo Vee's Twitter, that's what his handle is there. (@MyEcomClub)
Because this is an ecom product, it's likely that there's training about dropshipping involved here. I decided not to purchase the product so I can't say 100% for sure what this product is or what it does.
Dropshipping is definitely a legit way to make money online, and perhaps they have some good training, but the problem is that there are some red flags. Let's discuss.
---
Is Ecom Cash Code a Scam or Legit?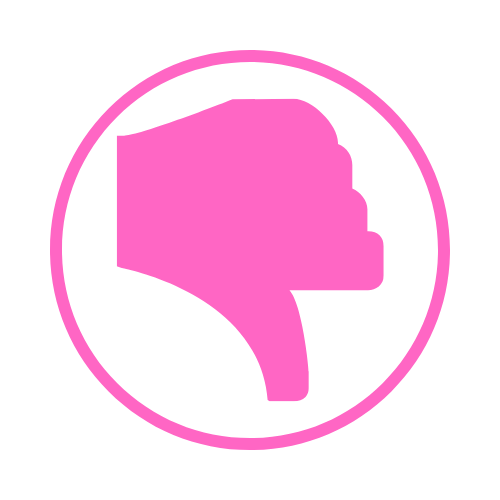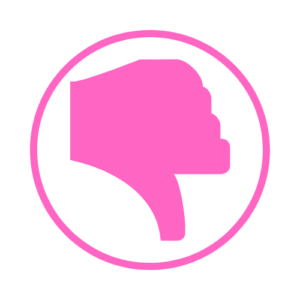 Because I decided not to purchase the product, I can't say for sure whether or not this is a scam. What I do know is that there are plenty of red flags to look out for here:
Make "easy" income online
Fake testimonials (but yes, at least they admit they're fake)
Saying you can make money after just 3 days (this just isn't likely)
Saying he made $144k in just 90 days
And then there's the whole My Ecom Club thing. If this product funnels into that, then you really need to watch out. There have been multiple complaints about this site on the Better Business Bureau website. Here are a couple: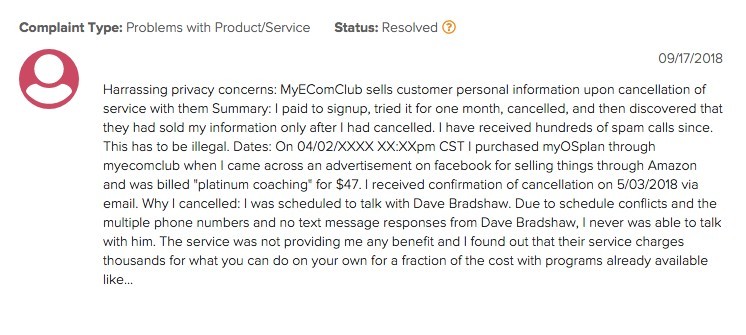 If these two products are connected, this is enough to make you want to stay far, FAR away.
I also wanted to mention that there have been several other "products" by Teo Vee that I have reviewed. They're not different products. From what I can tell, they all funnel you into My Ecom Club.
Read:
This doesn't seem great, but it's OK because have another solution for you.
---
Affiliate Marketing is a Great Alternative
I don't have experience in dropshipping at this time. If this is something you're really interested in, I would suggest checking out YouTube for more information. I do know that it's legitimate and people make money online with dropshipping.
In fact, the affiliate marketing training website that I use, Wealthy Affiliate, also has training on ecommerce and dropshipping. You can read my full Wealthy Affiliate review here. 
However, right now I'm enjoying being an affiliate marketer. Why? I get to work from home, write about things I enjoy and wear slippers all day. I even get to pet my cats periodically when they're not off sleeping somewhere. It's a dream life! And one that I owe to Wealthy Affiliate.
Wealthy Affiliate has taught me absolutely everything about creating a website, monetizing it and getting traffic to it. I followed their step-by-step training until my website was up and running. (Which doesn't take long at all.)
Affiliate marketing is not something that you can do and make money in 3 days. You have to work at it and put in a lot of consistent effort, just like anything worthwhile.
You can try Wealthy Affiliate – for free, no credit card required, no strings attached – to see if you like it. I understand affiliate marketing may not be for everyone. But at least see what it's about because I think it's pretty darn awesome!

---
Let's Recap
Dropshipping is probably pretty good. I don't have experience with it yet, but I know that people are successfully doing it. Ecom Cash Code is probably not very good. They may have some training that helps with dropshipping, but I would be worried about getting sucked into My Ecom Club. (You can read my My Ecom Club review here.)
I have plenty of experience with affiliate marketing, and I know it's great. However, there are plenty of scammy products out there trying to suck you into their systems. There might be some good ones, but most of them have way too many red flags, just like Ecom Cash Code.
I've been through a lot of product sales pages, and have purchased many products and systems in my time as an affiliate marketer.
I can generally tell what will work and what won't. Wealthy Affiliate will work (if you put in the work). I've seen it time and time again. They have a Free Starter Membership so you can see for yourself. You don't even need a credit card.

---
Do you have any questions or comments about this Ecom Cash Code review? Have you tried it? What did you think of it? Have you tried Wealthy Affiliate? Any opinions on it? Leave me comments below!