I am glad you're doing some research before completely buying into this program. It sounds a little too good to be true, right? Just spend a little money and then you'll have tons of money pouring into your PayPal account. 
We're going to take a look and see if this really a good system, or just another cash gifting sheme. 
Can  you really make money with this? Will it be as easy as the sales page leads you to believe?
Let's dive into this Easy Cash 4 Ads review and find out!
---
---
What is Easy Cash 4 Ads? 
Easy Cash 4 Ads is referral program that you buy into, recruit others into, and collect on the payments of the people that join under you. It sounds good, but is it really a miracle program?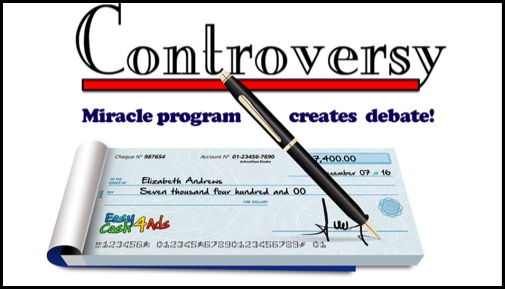 According to the sales page, it's super easy to make money with Easy Cash 4 Ads. You'll pay just $19. $9 is an admin fee and $10 is to buy ad space from your sponsor
(The whole ad thing is just so they don't get in trouble because you have to sell something in order for this to not be completely illegal.)
Once you are qualified (we'll talk about that in a minute), you'll start raking in the money – $10 at a time right into your PayPal.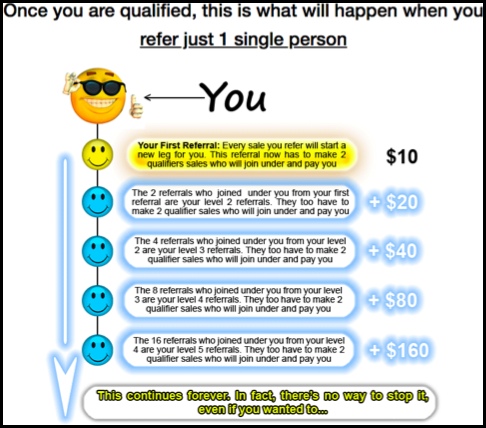 Let's take a closer look into this and see how it really works.
---
How Does Easy Cash 4 Ads Work?
As mentioned above, you pay $19 into this. The $10 goes to your sponsor, and the $9 is the admin fee which goes to hosting your ad. You send people to your ad, and if someone signs up at that point, they will be tracked to your account. 
Easy Cash 4 Ads is called a "2 Up" system. What this means is that in order to qualify for payments, you pass up your first two recruits to your sponsor. 
Let's say you get your mom and your sister on board. Both of their $10 ad fees would go to whoever sponsored you. After that, you'll be qualified to collect payments. 
Now let's say your sister and your mom bring in two people each. Each of their recruits' $10 (so $40 total) would go to you. You can keep recruiting to build more legs. 
Here's a video that I found on YouTube that explains it well:
I understand how this looks good, but there are some downsides with a system like this. 
Recruiting People
Have you ever been in a network marketing, MLM or other business like this where you have to recruit people into it? I have and let me tell you, it's not easy to convince people to join you. 
You're doing research on Easy Cash 4 Ads because you're skeptical about it right? Everyone you talk to about it will be skeptical. 
When I was in an MLM, it was a very professional company with fantastic products. People still didn't want to be involved. EasyCash4Ads.com looks spammy and unprofessional. It's likely going to turn people off right away. 
How Many People Can You Recruit? 
While the sales page makes it seem like an easy win to just start recruiting people and let the money flow into your account, think about it for a second. 
How are you going to recruit people? Maybe you can get a couple of family members on board. Maybe. (Probably not, and then they'll be annoyed at you for trying. Been there, done that.) 
But unless you have a big following on social media or want to spend money on advertising, you're not going to be able to recruit very many people. And if you have to spend money on ads, you are likely going to end up losing more money on this than you make. 
Can You Actually Make Money?
I do think it's possible to make money with Easy Cash 4 Ads. Some people will make money with it. It's usually just the person who started it and then a few levels below. You're going to be at the bottom when you start. And to be honest, that's likely where you'll stay unless you're really great at recruiting. 
You may think, "Well, it's only $19, so why not give it a try?" I get that, and I do like that it's inexpensive as compared to most systems like this. But again, how are you going to get people to see your ad to sign up with you? The best way is to buy traffic, and buying traffic isn't cheap. 
---
Online Reviews / Complaints
I couldn't find anyone online who used Easy Cash 4 Ads and either loved it or hated it. This makes you think…if it was really that good and easy to get people into the system, it wouldn't be hard to find positive comments. Because there would be a lot of people joining…
---
Is Easy Cash 4 Ads a Scam or Legit? 
I'm going to leave it up to you to decide if Easy Cash 4 Ads is a scam. All I will say is that it sounds very much like some of the cash gifting schemes / pyramid schemes that I've reviewed before like: 
According to Wikipedia, a Pyramid scheme is: 
"A pyramid scheme is a business model that recruits members via a promise of payments or services for enrolling others into the scheme, rather than supplying investments or sale of products."
According to Michigan's government website: 
"Cash gifting schemes are the quintessential example of a pyramid scheme.  Instead of selling products, cash gifting schemes forego the sale of products and just give people cash, but the premise is the same – like other pyramids, cash gifting schemes are based on the amount of people recruited. "
What do you think? 
---
Pros & Cons
Easy Cash 4 Ads Review – Pros:
Inexpensive
You could make money with this 
Easy Cash 4 Ads Review – Cons:
Not easy to recruit people
You may need to spend money on traffic 
This is a cash gifting scheme
Will collapse at some point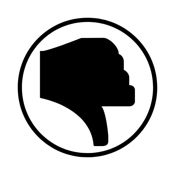 Recommended? I cannot recommend a cash gifting system like this. This is a case where in order for you to make a lot of money, you have to take money from people at the bottom. There's always going to be someone at the bottom losing money.
Also, these types of systems eventually crash and burn. I recommend you learn how to earn an income online legitimately instead so that you can have a steady stream of money that you can grow infinitely – without having to take from others. 
---
Earn a Legitimate Income Online
If you're looking for ways to earn money online, then I recommend that you stop looking at the "get rich quick" systems. I know they're tempting, but they never, ever work the way that you think they will. 
Instead, you can set yourself up to create a sustainable, passive income that you can continue to grow infinitely. There are quite a few ways to do that online, but my preferred method is through affiliate marketing.
Affiliate marketing is the act of promoting someone else's product for a commission. Let's say you love baseball. You could set up a simple website and you can create content around different baseball products that you recommend. 
When someone buys a bat, or a glove (or whatever you promote) through your site, you get a commission. It's great because: 
You don't have to hold any inventory
You don't deal with any customer service
You promote things that you have an interest in
You provide good information to people who are looking for it
(The people don't pay any extra cost when they buy from you)
You can make passive income
How Does Passive Income Work?
Most people trade their time in exchange for money. This is not the ideal way to create income because you only have so many hours in a day. 
However, if you can find a way to create passive income, you can put work in upfront, and you can continue to collect money on that work over and over again even after you're done working on it. 
Let's go back to the baseball example. 
Let's say you write a guide on baseball bats. Maybe it takes you a couple of hours to write it. But once you write it, your work is done. People can read that guide and buy from it over and over and over again for many years to come. 
And you can keep creating more guides, articles and content that creates even more passive income. 
Do you see how your income can keep growing, indefinitely? 
My #1 Recommendation
Wealthy Affiliate is my #1 recommendation to learn affiliate marketing. They've been in business since 2005 and they provide all of the tools, step-by-step training and support you need to get started with a thriving online business. You can read my full Wealthy Affiliate review here to see everything they have to offer.
---
Conclusion
Whether or not you decide to join Easy Cash 4 Ads is up to you, however, I strongly recommend that you don't. Not only are you likely to lose money by joining, it's very much on the edge of being illegal. That means it can be shut down at any moment. 
Instead of looking at these "get rich quick" schemes, why not learn how to create passive income through affiliate marketing. Wealthy Affiliate will teach you the entire process, step by step. 
---