Another day, another multi-level marketing (MLM) company. But is Red Aspen a pyramid scheme, or a legit company to work for?
I'm going to help you answer that in this post.
But, spoiler alert:
I don't really like MLMs.
And I'll explain why as we go along. It's from research as well as personal experience. (You can read my article Why I Quit Young Living [And Why I'm Now Anti-MLM] for that story.)
For now, let's dig into this one and find out if Red Aspen is a pyramid scheme.
---
---
What is Red Aspen?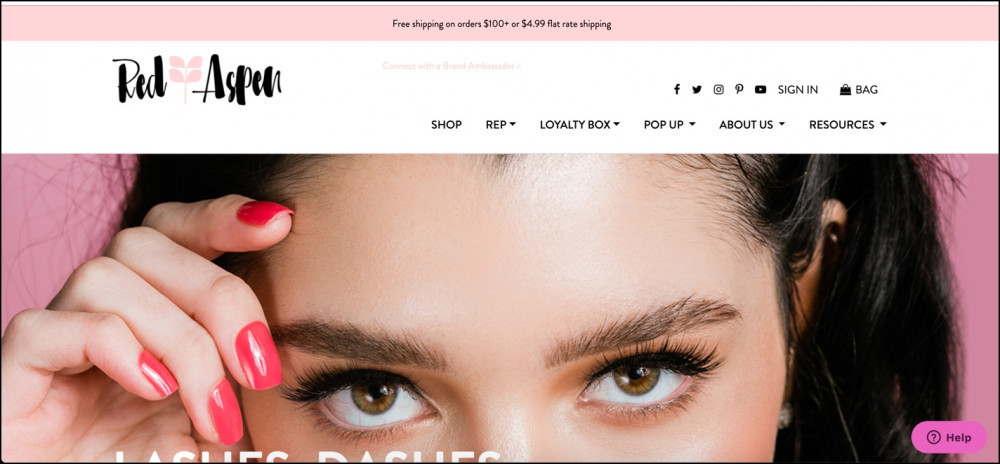 Red Aspen was launched in October 2017 by three women, Jesse McKinney, Genie Reese, and Amanda Moore. It is a beauty multi-level marketing (MLM) company.
Just looking at their homepage, I would say that they are competitors of Color Street, Younique, and Tori Belle.
The product categories on their site include:
Nail Dashes
Lashes
Eyes
Lips
Brows
Face
Tools
Let's take a peek at some of their products and their prices, shall we?
Nail Dashes
According to their site:
"Pop-on Red Aspen Nail Dashes for a customizable mani that can be applied in minutes at a fraction of the salon cost. Dashes can be worn for up to 2 weeks or switched out every few days to change up your style. Pop-on, pop-off and reshape to customize your look."

Prices range from $13 – $17 for a set of Nail Dashes.
Lashes
I don't personally see anything special about Red Aspen's lashes. I don't know what makes them stand out from any ol' false lashes you can get at Rite-Aid. That's just an observation from what I can see from their page. I'm no false lash expert.
Each set of lashes is $16.
Eyes
There are a couple of eye shadow palettes, sold out mascara (at the time of this writing), and eyeliners. Here are their prices:
Eyeshadow palettes = $89
Mascara = Unknown (Sold out)
Eyeliner = $18
Ink Liner = $20
Lips, Brows, Face & Tools
I'm just going to throw the rest into one category otherwise this post will be entirely too long! I'll just give you some of the product prices in these categories so you have an idea of how much they cost.
Lips – Includes lip glosses ($17), lipsticks ($14), lip liners ($16) and kits ($27).
Brows – Includes brow bundles ($74), brow pencils ($20), brow gel ($18), brow primer ($16), browlight ($20)
Face – Includes highlighter ($23) and Blush & Crush ($23)
Tools – Includes lash applicator ($10), lash adhesive ($10), mini dash accessory pack ($4), mini scissors ($10), pencil sharpener ($10)
That gives you an idea of prices on the Red Aspen website. The one that stuck out to me was the eye shadow palettes. $89 seems steep! Let's take a look at similar options from Urban Decay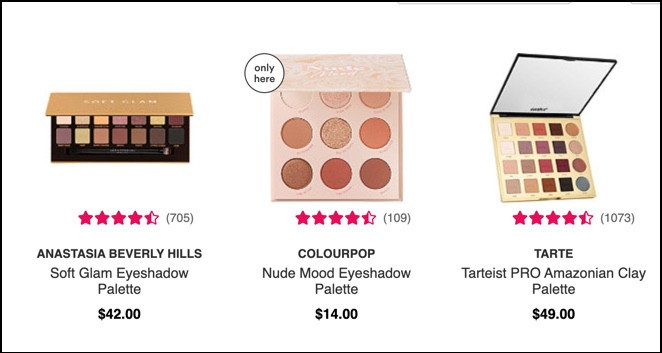 You can see that even high-end makeup brands cost much less than the Red Aspen versions. MLM products are always higher priced because there has to be a way to pay on the compensation plan.
---
How Much Does it Cost to Join Red Aspen?
At the time of this writing, there are two different kits to choose from:
Base Kit = $80
Work from Home Business Kit = $30
I also see that in the application, there's a note about adding a website. It says the first 90 days are free, which means there will be a fee after those 90 days. I'm not sure what that will be, but probably in the $10 – $20 per month range.
Some other optional expenses to consider:
Gas for travel if you go out to meet people or have parties
Business cards and brochures
Travel to Red Aspen's convention, if they have one
Food and drinks for parties if you have them
Tables / booths at fairs / conventions
Additional products for samples
Your personal volume (PV) monthly requirement if you're on the team leader plan
It's never quite as simple as buying an $80 kit and then start to make tons of money. There always seem to be some hidden costs that pop up, at least in my experience.
---
Red Aspen Compensation Plan
The Red Aspen compensation plan can be found on their website here. I'm not going to dive too deeply into it. Mostly because I hate compensation plans. They're so confusing!
But I'll make a few notes from this video:
There are two tracks you can focus on:
The sales track has five ranks:
Brand Ambassador
Sales Ambassador
Sales Leader
Sales Manager
Sales Executive
The rank that you earn is based on your PV (personal volume) in a month and ranges from 0 PV – 4,000+ PV. Sales commissions range from 25% as a Brand Ambassador to 35% as a Sales Executive.
The team track also has five ranks:
Brand Ambassador
Brand Leader
Senior Brand Leader
Brand Manager
Senior Brand Manager
On the team track, you can qualify for both sales commissions and team bonuses. At least half of your GV (group volume) must come from customer sales. (I have to give them credit for this one. This would reduce the need to buy your way to the next level.)
On the team track, you would earn 24% – 35% sales commissions, just like on the sales track. You also get 3% – 10% level commission on your CV (commissionable volume).
This is where I start to space out, but feel free to watch the video above for more information.
---
Red Aspen Income Disclosure
Red Aspen does not currently have an income disclosure, so we don't know exactly how much money their distributors are making.
However, after doing research on all different kinds of MLMs, the income disclosures always say the same thing.
Almost no one makes a decent living.
When I say decent living, I'm talking at least minimum wage. The bar is that low.
I know anyone working with Red Aspen will say "this company is different". They all say that. But the income disclosures don't prove it.
I'll also give you these two reports:
Take from this what you will. Maybe Red Aspen is different. Maybe. (But probably not.)
---
Positive Reviews and Complaints
There isn't a lot out there on Red Aspen as far as positive reviews or complaints. There are some reviews on the web, but they are by distributors so they are trying to rope you into the business.
Honestly, there's nothing wrong with that because that's what they're supposed to do, but you don't get a non-biased idea if the products or business opportunity is actually good or not. Because they're always going to say it's good.
I did find this honest review of the nail dashes from a non-distributor:
Spoiler alert:
She didn't really like them.
---
Related Articles:
---
Is Red Aspen a Pyramid Scheme?
Red Aspen isn't a pyramid scheme. But… an MLM can quickly start to cross the pyramid scheme line when earning money from recruiting becomes more profitable and more important than earning money from product sales.
I give Red Aspen credit for requiring that at least 50% of GV sales come from customers instead of from team members and personal sales.
There's a downside to that though. It's harder to make good money through retail sales. That's why it's so tempting for MLM'ers to build big teams. They know they'll make more money that way. (Well, IF they can be part of the 1% at the tippy-top, otherwise they won't make any money.)
Pros
Low start-up cost. $30 or $80 for a startup kit is one of the lowest-priced kits I've seen.
Requires that 50% of group volume sales come from customers.
Cons
Products are expensive, which may make them harder to sell.
Not enough information from customers on whether the products are good.
It's very hard to make a good living in MLMs (at least 92% – 99% of people lose money).
I have fewer cons for Red Aspen than I have for most MLMs. I'll give them that. I still wouldn't recommend it as a good business opportunity though. There are too many unknowns with this company. But the one thing that is known is that it's hard to make a decent living with MLMs. It just is!
Now, there is one thing about Red Aspen that I do actually like, and it's something I WOULD recommend you try. Sort of.
Let's talk about it next.
Is Red Aspen an MLM?
By the way, before we do that, here's an interesting comment I saw on the video I posted above:

I think every person in an MLM says that their company is not an MLM. That's because MLMs have bad reputations.
I understand what she's saying. You don't need to build a team. You can choose to go the sales route. That's fine. That's just direct sales. You can also choose the other route I'm going to talk about next (affiliate marketing). That's also just another way to sell the products.
However, because you CAN build a team via Red Aspen and because they have a compensation plan and because you can earn money on different levels in your team, that does make it a multi-level marketing company.
---
An Alternative to Red Aspen
What I do like about Red Aspen is that they have an affiliate program. So if you didn't want to do direct sales or build a team, you can earn a commission through an affiliate link instead. I 100% prefer affiliate marketing (I've done both), and you can read all about why here.
I prefer affiliate marketing because it's a less invasive way to sell products and earn an income. You don't need to message people, or beg your friends and family to buy from you or build a downline or deal with a catty upline.
Instead, you learn how to attract people to YOU through helpful information and the right keywords.
Here's my free guide on affiliate marketing if you want to learn more.
Here's what I don't love about the Red Aspen affiliate program…
The products are overpriced, but they're not expensive enough to earn a good commission.
What do I mean?
Well, the products are overpriced overall. So it might be more difficult to sell them because someone might think, "Why not just get something from Ulta?" (By the way, Ulta has an affiliate program, and if you really love the idea of promoting makeup, you'd be better off with a known brand such as them.)
At the same time, if you're going to be an affiliate marketer, you might want to choose higher-priced products so that you get higher commissions. I'm not talking about overpriced products. I'm talking about products that just normally have higher prices. Like TVs, computers, watches, high-ticket informational products and things of that nature.
Of course, if you can get enough people looking at your information, you can do really well with lower-ticket items too like makeup.
There are an endless world of possibilities with affiliate marketing. Truly.
---
Conclusion
Red Aspen is not a pyramid scheme, but I still wouldn't recommend that you join. MLM companies are good for less than 1% of people. And all of those people are at the top. Unless you're the one running the show, you're not going to be at the top. You'll be at the bottom with all the other people who are losing money.
I do like that you can choose a direct sales route or even an affiliate marketing route with Red Aspen. However, I always recommend affiliate marketing over any other method because it's a much less intense way to earn an income.
This is my favorite training platform that can teach you how to build an affiliate marketing website that pays you over and over again [no credit card required].
---
Other related content:
---