Are you looking for real ways to make money online? I'm sure you've seen plenty of "make $1000" in your sleep kind of opportunities. I review a lot of those here. Perhaps you even think that making money online is just a fantasy that can't really be done.
I assure you:
It can absolutely be done.
There are plenty of real opportunities online. In fact, even within the one opportunity that is my #1 pick (because it's what I do), affiliate marketing, there are almost endless opportunities.
The thing is:
Working online is not different from working a job offline in that they both require work.
That's why those "make $1000 in your sleep" videos are so appealing. They make it look easy.
But if you can get into your mind that you WILL have to work, but it'll BETTER work than sitting in an office somewhere, then you'll have the right mindset to get started.
Some of these options require less work, but you also get less pay. Some require a lot of time for little pay.
With that said, here are 50 real ways to make money online. (Oops, now we're up to 51+)
---
---
Click here to see my favorite way to earn money online.
---
New! Get Paid to Create Chatbots
I recently created a chatbot on this site. You can see it in the lower right corner. If you click on it, it will interact with you.

Businesses use these bots to interact with customers without having a live person to man it. What's good about this is that you can learn how to create these chatbots and then sell them. I used a product called Conversiobot to create my chatbot. It's easily customizable, and they have full step-by-step instructions so that it's easy to understand how to put it together. Click here to see my Conversiobot review.
---
Get Paid to Take Surveys
You can legitimately get paid to take surveys. Just keep in mind that when you sign up for survey sites, you won't qualify for every survey. So, the pay won't be as consistent as with other types of online work. But it could be a nice little side gig to make a couple of extra bucks a month.
1. Swagbucks
Swagbucks isn't exactly a survey site, but you can take surveys there. They are a rewards site where you can do small tasks to earn points. For instance, you can watch videos, play games, use their search engine and do your online shopping through them. These will all earn you points. Eventually, you can redeem your points for gift cards. See my Swagbucks Review here.
2. Inbox Dollars
InboxDollars is similar to Swagbucks. You get paid for doing everyday tasks that you would normally do online, such as shopping through them, watching videos, playing games and taking surveys. You get a $5 bonus when you sign up and complete as few tasks. Instead of earning points like with Swagbucks, you just earn money. You have to ear $30 in order to cash out. Click here to go to InboxDollars.
3. Survey Junkie
With Survey Junkie, you fill out surveys in your spare time and earn points for each one that you fill out. Those points can then be redeemed for gift cards. The payment threshold is $10. Survey Junkie is easy to use, however since you won't qualify for every survey, it may take you some time to hit that threshold. Click here to go to Survey Junkie.
4. PrizeRebel
PrizeRebel is another survey site where you earn points to share your opinions. You can redeem those points for gift cards. You need 500 points to redeem. This will get you a $5 gift card, or, you can transfer to PayPal. Click here to go to PrizeRebel.
5. MyPoints
MyPoints is a survey site that's been around since 1996. You can earn a bonus $5 when you fill out your first five surveys. This site also uses points, which you can then redeem for gift cards. 480 points will get you a $3 Amazon card. Some users have said it's hard to qualify for surveys. They do have additional ways to earn points by watching videos, shopping, playing games and reading emails. Click here to go to MyPoints.
6. SurveyClub
SurveyClub has been around since 2005 and they say they are "a research recruitment platform that companies and organizations use to find out what consumers think about their products and services." Here, you'll sign up and fill out some information about yourself and then they'll match you up with qualifying surveys. Once you complete a survey, you'll get cash deposited into a SurveyClub rewards account. You can redeem your cash via an Amazon gift card, or a check once you reach $20. Click here to go to SurveyClub.
7. Vindale Research
Vindale Research works with companies such as Nike, Amazon, Netflix and Starbucks to get your opinions on products and services. What's great about this survey site is that there are no points or gift cards. You earn cold hard cash and get paid via PayPal (or a check). You will need to earn $50 in order to cash out. Click here to go to Vindale Research.
8. VIP Voice
VIP Voice is an interesting survey site. You don't exactly get paid to complete surveys here, but instead you get points that can be used to enter sweepstakes for cash and prizes. The downside is that you can spend a lot of time on a survey and get nothing out of it. The upside is that it could be fun if you win. You also get points even if you don't qualify for a survey. Click here to go to VIP Voice.
9. CashKarma
CashKarma has a point system like many of the other survey sites. You earn points that you can then redeem for cash into your PayPal or gift cards. 6000 points will get you a $5 Amazon gift card. CashKarma is a little unique from the other sites because it's exclusively an app. Everything will be done thorough your phone or other device. Click here to go to CashKarma and learn how to download the app.
10. Pinecone Research
Pinecone Research is another survey site where you earn points for completing surveys. You can then redeem those points for cash or prizes. 300 points is equal to $3, and most surveys are worth about 300 points. You can redeem your points at 300. The average survey takes 15-30 minutes to complete. Click here to go to Pinecone Research.
---
Get Paid to Freelance
Do you like the idea of working from home, setting your own hours and doing work that you truly enjoy? Then freelancing may be good for you! There are all kinds of gigs you can do as a freelancer. You can freelance as a writer (we'll cover this more in-depth in the Get Paid to Write section), a graphics designer, a programmer, a voice-over artist and much, much more.
11. Fiverr
Fiverr is one of the most popular freelance sites around. The name comes from the price of the starting gigs – $5. You can set your price above this amount, however, if you're just starting out, this is a great way to get jobs and build up a reputation. Click here to go to Fiverr.com.
12. FlexJobs
FlexJobs was started in 2007 and it's mission is to help people with a better way to find professional remote and flexible jobs. FlexJobs has freelance jobs as a part of its site, but it also offers remote and part-time jobs as well. I did a search for "Freelance" and there were over 2,000 jobs available. Click here to go to FlexJobs.
13. UpWork
oDesk and Elance combined freelancing forces and became UpWork. Because of this, you can find all kinds of work on this site. There are millions of freelancers, clients and jobs. Anyone can find their perfect freelancing work at Upwork. You may have to take lower-paying jobs here until you build up a reputation and can get some solid clients. Click here to go to Upwork.
14. Indeed
I have used Indeed in the past. What I love about it is that it's really easy to use. Indeed aggregates all the best jobs from around the web, so it's easy to find what you're looking for quickly. I typed in "Freelance" and it came up with 22,000 jobs. You can also search for jobs near you to narrow it down. Click here to go to Indeed.
15. SolidGigs
SolidGigs is a site that takes the best freelance jobs out there online and delivers them into your inbox weekly. Instead of taking time searching for the right gigs for you, you can spend more time actually working and making money. They also offer courses and tools to help you up your freelancing game. This is a membership site, and it'll cost you $19 per month or $13 per month if you pay for an entire year. Click here to go to SolidGigs.
16. Freelancer
Freelancer is another site with a wide variety of jobs for people with all different types of skills. They give you 8 applications and then you'll have to pay a membership fee. The reviews on this site are very mixed. Some people seem happy with the work they provide and others have called them an outright scam. Some people complained that they did all the work and then the clients didn't pay and Freelancer didn't help resolve the issue. Here are some reviews to see for yourself. Ciick here to go to Freelancer.
17. Toptal
Toptal's tagline is "Hire the Top 3% of Freelance Talent". This site focuses on developers, designers, finance, project managers and product managers. If you have a special talent in one of these areas, then Toptal can be a great place for you to get a good gig. This site is not for the new freelancer. Click here to go to Toptal.
18. Cragislist
It's not as easy to find good freelance jobs on Craigslist, but if you do a little digging, it can be done. Because you can do this type of work anywhere, don't look in just your area. You can take a look at the top cities in the US where there will be more jobs available. Watch out if someone is asking you to pay money. That's not a real job. Click here to go to Craigslist.
19. Guru
Guru's site has a variety of freelance jobs available in categories such as Programming & Development, Design, Writing, Sales & Marketing, Administrative and much more. Guru boasts on its website that it has 3,000,000 members and has paid $250,000,000 to gurus. Not bad! Click here to go to Guru.
---
Get Paid to Write (+ Bonus Proofreading Jobs List)
While writing for pay can be put into the freelancer category, I decided to make it a topic all its own just because there are so many opportunities for writers out there.
20. Listverse
You can get paid $100 for writing a list post. You need to be able to write in English proficiently, and you need to have a PayPal account. Listverse is a website full of list articles. For instance, here's one called 10 Creepy Ghost Animals You've Never Heard Of. That's the type of thing they're looking for. If they like what you present, you get paid $100 and your article goes up on their site. Click here to go to Listverse and read the full rules.
21. Cooking Detective
Cooking Detective is a food and recipe blog. They are looking for writers as paid or guest bloggers. They have several categories on their site besides recipes such as Cookware, Outdoor Grill, and Kitchen Appliances. You'll need to have good knowledge about food, nutrition, recipes and kitchen appliances. Click here to go to Cooking Detective.
22. Freelance Mom
Freelance Mom is always looking for guest posters for its site. Freelance Mom says its purpose is to "To merge women and information together to transfer knowledge, inspiration, wisdom and actionable solutions so you can find the work you love through entrepreneurship." They have a whole host of submission guidelines, so be sure to read through them carefully. Click here to go to Freelance Mom.
23. iWriter
iWriter is a place where people and companies can hire writers to create blog posts, articles, press releases, ebooks, Kindle books and much more. In order to write for iWriter, you'll need to pass a 15-question English test. If you pass and you're accepted, you'll have a list of writing jobs available to you to choose from. You can pick the ones that you feel you would be best at doing. Writers get paid via PayPal. NOTE: At the time of this writing, iWriter is not accepting new writers, but check back as they may open up spots again. Click here to go to iWriter.
24. Barefoot Writer
Barefoot Writer is a website dedicated to showing people how to write for a living – on your own time! They say on their About page, "Whatever YOU want, we'll show you how to live it by getting paid to write." They help you with launching a successful writing career. Even if you don't end up writing for Barefoot Writer, they can help you on your path to being a successful freelance writer. Click here to go to Barefoot Writer.
25. Problogger
Problogger is a freelance writing job board with plenty of great opportunities for writers. You can filter by contract, freelance, part-time or full-time jobs. Most of the jobs (at the time of this writing) are for blog/article writing, although there are a few requests for ghost writers and editors as well. Click here to check out the jobs on Problogger.
26. BloggingPro
Do you love to write for blogs? Then BloggingPro is perfect for you! There are a variety of niches represented here, so you'll be sure to find something that you're interested in. Some categories available to write in (at the time of this writing) are fitness, dogs, legal and film. Job offers change often, so be sure to keep checking back. Click here to go to BloggingPro.
27. Constant Content
Constant Content provides unique content for all types of businesses, including well-known ones such as Uber, Sears, and Walgreens. You can register as a freelance writer at Constant Content by filling out a form, taking a quick quiz, and providing a writing sample. Once approved, you'll be able to apply for projects that spark your interest. Click here to go to Constant Content.
Bonus! 80 Proofreading Jobs to Check Out
Maybe writing isn't quite the right thing for you. Or, maybe you can use your writing skills as a proofreader. In any case, here's a comprehensive list of scam-free proofreading jobs from the site SmallRevolution.com.
---
Get Paid to Teach
28. VIPKID
VIPKID is a platform where Americans and Canadians can get paid to teach English to kids living in China. You don't have to have a teaching degree, but you will need to have a Bachelor's degree in order to apply. Each class is 30 minutes long, and you can get paid up to $22 per hour. Keep in mind that since the kids are in China, there will be a huge time difference. My sister does this job and loves it. She can't say enough great things about VIPKID. (But she gets up at 4:30 am to do it.) Click here to go to VIPKID.
29. Qkids
Similar to VIPKID, Qkids is another website that helps students in China learn English. The lessons are 30 minutes long, and you can make $16 – $20 per hour. You will work from home as an independent contractor, and your contract will last for 6 months at a time. Click here to go to Qkids.
30. Dada
Just like VIPKID and Qkids, Dada is a platform that helps Chinese children learn English. The kids on Dada start from Kindergarten age and go up to 9th grade. You'll need a Bachelor's degree to teach with Dada and you can get paid $15- $25 an hour. You don't have to be in North America to teach with DaDa, you just need to be a native English speaker. Click here to go to DaDa.
31. Teachaway
Teachaway is a website that helps you find online teaching jobs. At the time of this writing, there are 7500 positions available. Feel like moving abroad? They also feature teaching positions in other countries. Click here to go to Teachaway.
32. Udemy
Udemy is a platform where you can create courses and how-to videos on a wide variety of subjects. There are over 4,000,000 students signed up at Udemy, and over 1,000 courses are added each month. Some examples of courses offered at Udemy are: How to Use Google Sheets & Forms, How to Write a Book, How to Create a Sales Funnel, and much, much more. If you have a special interest and can teach it, Udemy could be perfect for you! Click here to go to Udemy.
33. Teachable
Similar to Udemy in some ways, Teachable allows you to create courses that you can sell and present through their platform. They boast an impressive 15 million students, 154k courses, 62k instructors and $259 million earned by instructors! I have personally taken a couple of course through Teachable and it's a great platform that's easy to use. You can get a basic plan for $29 a month (billed yearly). Click here to go to Teachable.
---
Get Paid to Sell Your Stuff
I listened to Joe Rogan's podcast one day when he had Gary Vaynerchuk on. The one thing that Gary Vee said he was really interested in right now was flipping stuff. For instance, there are people who make full-time livings going into the dollar store, collecting a bunch of things and then reselling them for profit.
Gary also said, "Need $5000? It's in your house." Meaning, we all have a lot of things sitting around our house collecting dust that we could sell for money. If you need cash fast, this is probably the best way to do it.
https://www.youtube.com/watch?v=OLHdzLpMg-s
34. eBay
Of course, everyone knows eBay and they are known as THE place to sell your stuff. The downside is that they have fees tacked on to every sale. You also have to keep in mind shipping costs for larger items. The great thing about eBay is that they are really well-known, trustworthy, and there's a big market of people looking for things. Click here to go to eBay.
35. Craigslist
Craigslist is still the most well-known online classified site. If you have something to sell, Craigslist is a great place to put your item out there. You'll most likely connect with local shoppers, so you can save on shipping costs. Just be wary of scams, which run rampant on Craigslist. Click here to go to Craigslist.
36. Facebook Marketplace
Facebook is a great place to sell your things locally. I know that in my own area, we have several Facebook garage sale groups. This is something that I have used personally with a lot of success. The downside to these groups is that oftentimes you'll have to meet up with the buyer of your item. While you save on shipping costs, it's not as convenient as popping something in the mail. Click here to go to the Facebook Marketplace.
37. Decluttr
Decluttr is an interesting website (and app) where you sell your items directly to them, versus to individual people. They buy things like books, CDs, DVDs, video games, LEGO bricks, cell phones, iPhone, iPads and other devices like these. You put in the bar code of the items, and Decluttr will tell you how much they'll pay. If you agree, they'll send you a box to ship your things in. As soon as they receive the box of goods, you'll receive payment. Click here to go to Decluttr.
---
Get Paid to Do Small Tasks
There are companies out there that need help with really small tasks. These are things that computers can't yet do, so humans are still required to help! (Thankfully us humans are still useful!) I have done a couple of these jobs myself, and yet I'm not doing them anymore. I'll explain why below.
37. Amazon Mechanical Turk
This is directly from the Amazon Mechanical Turk site: "Amazon Mechanical Turk (MTurk) is a crowdsourcing marketplace that makes it easier for individuals and businesses to outsource their processes and jobs to a distributed workforce who can perform these tasks virtually." The types of jobs available on MTurk (as it's known) are things like completing surveys, transcription, and photo identification. I've used Amazon Mechanical Turk in the past and I found it to take too long to find jobs that would work for me. Also, the pay is usually just pennies per task and therefore doesn't add up to much for the time you put in. However, some people seem to make it work and do well with it. Click here to go to Amazon Mechanical Turk.
38. Clickworker
This is another site that has micro jobs, similar to Amazon's MTurk. As someone who joins Clickworker, you would be able to do tasks such as copy editing, filling out surveys, web research, proofreading, and other small tasks. The benefits, as with MTurk, is that you pick and choose the jobs you want and you can work when you want. It's up to you. Click here to go to Clickworker.
39. Lionbridge
There are a few different jobs you can do working from home for Lionbridge. They have jobs for Ad Assessors, Internet Search Reviewers and Raters. Ad Assessors review the content of search engine results. Internet Search Reviewers look at websites. Raters analyze and provide feedback on text, web pages, images, and other information for search engines. I was once a Rater for Lionbridge. It was a decent job. I had to work at least 10 hours, and I could work up to 20. It was just really boring. Click here to apply at Lionbridge.
40. Appen
Appen (used to be Leapforce) is another site that has some work from home positions that are flexible and can fit any lifestyle. You can work as a Rater (similar to Lionbridge), complete micro-tasks (similar to MTurk), or grab a language job. Click here to go to Appen.
41. Google Ads Quality Rater
Similar to Lionbridge, Google has a work at home position called Google Ads Quality Rater. In this job, humans are used to help check Google's algorithm to ensure that it's doing what it's supposed to be doing. As an Ads Quality Rater, you will rate websites based on relevant they are to the search term that was used. This is a flexible job that you can fit into the schedule that suits you. You must work a minimum of 10 hours per week. Unfortunately, I'm not sure how you go about finding these jobs. Google used to use ZeroChaos (now Workforce Logiq) for these positions, but they are no longer contracted with them. I would try to do a Google search periodically.
---
Get Paid to Run Your Own E-commerce Store
Another real way to make money online is through owning your own e-commerce store and dropshipping products. According to Shopify, "Dropshipping is a retail fulfillment method where a store doesn't keep the products it sells in stock. Instead, when a store sells a product, it purchases the item from a third party and has it shipped directly to the customer. As a result, the merchant never sees or handles the product."
42. Shopify
Shopify is a site where you can set up your own ecommerce store. They will host a site for you, and through them, you will be able to easily manage products, inventory, payments and shipping. A Basic Shopify store account will cost $29 / month. Click here to go to Shopify.
43. Amazon FBA
You can set up an ecommerce store that uses dropshipping and make it even easier on yourself by using Amazon FBA. (FBA = Fulfillment by Amazon). This means that once you sell an item, Amazon will take care of the fulfillment of it. They will store it, pack it, ship it, and take care of customer service too! Click here to learn more about Amazon FBA.
---
Get Paid to Do Retail Arbitrage
This one sounds illegal, doesn't it? It's not. It's simply the act of buying something at a low price and selling it at a higher price. This is what Gary Vee said he's most interested in at this moment in time. He said he's fascinated by the people that make a really great living doing this.
44. Amazon FBA & Amazon Marketplace
Amazon can be used for all kinds of real ways to make money online. (We didn't even talk about selling Kindle ebooks.) Retail arbitrage is no different. Generally, you would find items on clearance at your local Walmart, Target or dollar store (or you can also shop at garage sales), then you sell them for a profit online. Amazon FBA or Amazon Marketplace are both places where you can place your items for sale. Just make sure your profits are large enough to cover the cost of the fees. Click here to go to Amazon Marketplace. Click here to go to Amazon FBA.
---
Get Paid to Mystery Shop
Mystery Shopping isn't exactly an online job, but I wanted to add it here anyway because it's a fun, flexible job that you can do in your spare time.
45. Mystery Shopping
Mystery Shopping is one of those things that has a bad reputation due to scams. However, it's a very real thing. Companies use mystery shoppers to measure their quality of service. This is something that I've personally done.
You would join different mystery shopping websites and look for jobs in your area. You would apply and set up a time to get the job done. Once done with the job, you'll need to fill out a detailed report. I usually did jobs for restaurants and I had to report on the servers, hosts, quality of the food, management and even the bathrooms! I wouldn't recommend this as a source of steady income, but it's a fun thing to do on the side. Click here to get a list of Mystery Shopping websites you can join.
---
Get Paid to Enter Sweepstakes
OK, I'm taking some liberties with this one. Entering sweepstakes for cash and prizes (also called sweeping) is definitely not the way to create a steady income for yourself. And while it can be really tedious and boring, it sure is FUN when you win! If you enter enough, your winnings can definitely turn into a nice supplemental income.
46. Online-Sweepstakes
Online-Sweepstakes is a site that I joined many years ago. It's not a very pretty or up-to-date site, but it gets the job done. You pay a yearly fee of about $35, and you will be able to see thousands of sweepstakes. You can keep track of the ones that you've entered. They also list sweepstakes into different categories like Cash Prizes, Vacations, Expiring, Daily Entries or Instant Prizes. If you want to win, be prepared to enter a LOT! Click here to go to Online-Sweepstakes.com.)
---
Check This Out: I talk about some things I've won in sweepstakes here.
---
Get Paid to Blog
I saved the best for last! Well, it's the best in my opinion anyway because it's what I do and what I love – blogging! Blogging is fun because you get to create your own content about whatever the heck you want. Then you can monetize your blog and make a good living from it.
---
Also See: How to Make Money Blogging: 4 Main Ways That It's Done
---
47. Advertising
Advertising on your blog is probably the easiest way to make money. You make a blog, stick some ads on it, and watch the money roll in! Well… kind of. You need to have a good amount of traffic to your site to make any real money from ads. But once you do, this is a great way to make truly passive income. Just keep in mind that ads slow down your site and can cause a bad user experience.
48. Sponsored Posts
A sponsored post is when a person or company comes to you and asks you to write a post about their product/company. They will pay you to write a post on your site. This is another case where you'll need a good amount of traffic to make this work. A sponsor is not going to pay for a post that no one sees. This can be a great way to make some money from blogging after you get rolling, but it's not the best way to do it at the start.
49. Create Your Own Products
One way that bloggers make a lot of money is by creating their own products. They find a need within their niche (a niche is a group of people interested in a specialized topic) and they create a product around that need.
For instance, let's say that your niche is rabbit care. Maybe the people interested in your niche would love to learn how to train their rabbits to use a litter box. You could create an e-book or a course teaching how to do that and then sell it. You can sell an ebook through Amazon (as a Kindle book) or through Clickbank. If you have a course to sell, you can do it through Udemy or Teachable. I recommend checking out The Offer Map. "Understand how to make the right offer to the right person so you can make the right money."
50. Affiliate Marketing
Affiliate marketing is my absolute favorite way to make real money online. Here's the thing. You have to put up a good amount of work at first before you get paid. I know that's tough for some people. But once you get that ball rolling, you can build up nice, steady, growing (multiple) streams of income.
For instance, this article that I'm typing now won't make me any money the day I publish it. But it could make me a consistent income in a few months from now. And it could continue to bring me income years into the future.
So could all the other articles I post. And my other websites can do the same.
Do you see how that can keep growing?
Affiliate marketing is a long-term game. But, in my opinion, definitely worth the time and effort you put into it.
---
Here's where I learned how to create an affiliate marketing website, step by step.
---
Conclusion
As you can see, there are many, many real ways to make money online. And I'm sure I haven't even scratched the surface of what's out there. If you dig around, you can find something that you're good at and enjoy doing. Just keep in mind the time it takes you to do a job versus the amount of money you'll get back for it.
I would also consider thinking about the long-term. If you enjoy filling out surveys, great! But they're not going to continue paying you well into the future like affiliate marketing can. Setting up your own blog (or 10) that you can then monetize is one of the absolute best online ways you can create an ever-growing, lasting and passive income.
---
What do you think of these 50 real ways to make money online? Does anything catch your eye? Have you ever tried any of these? What did you think of it? I'd love to get feedback from those who have experienced some of these opportunities. Leave me comments below!
---
Pin Me!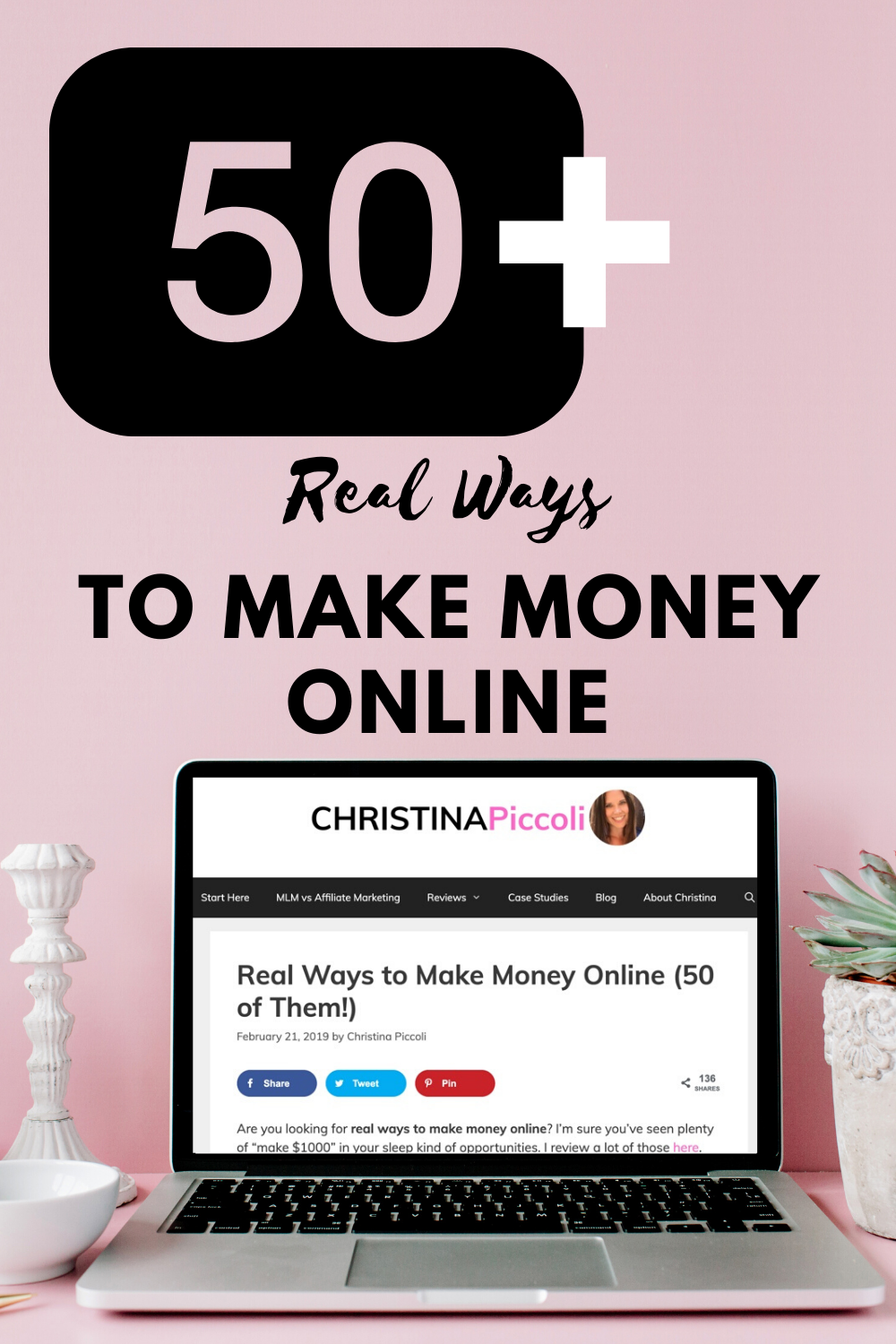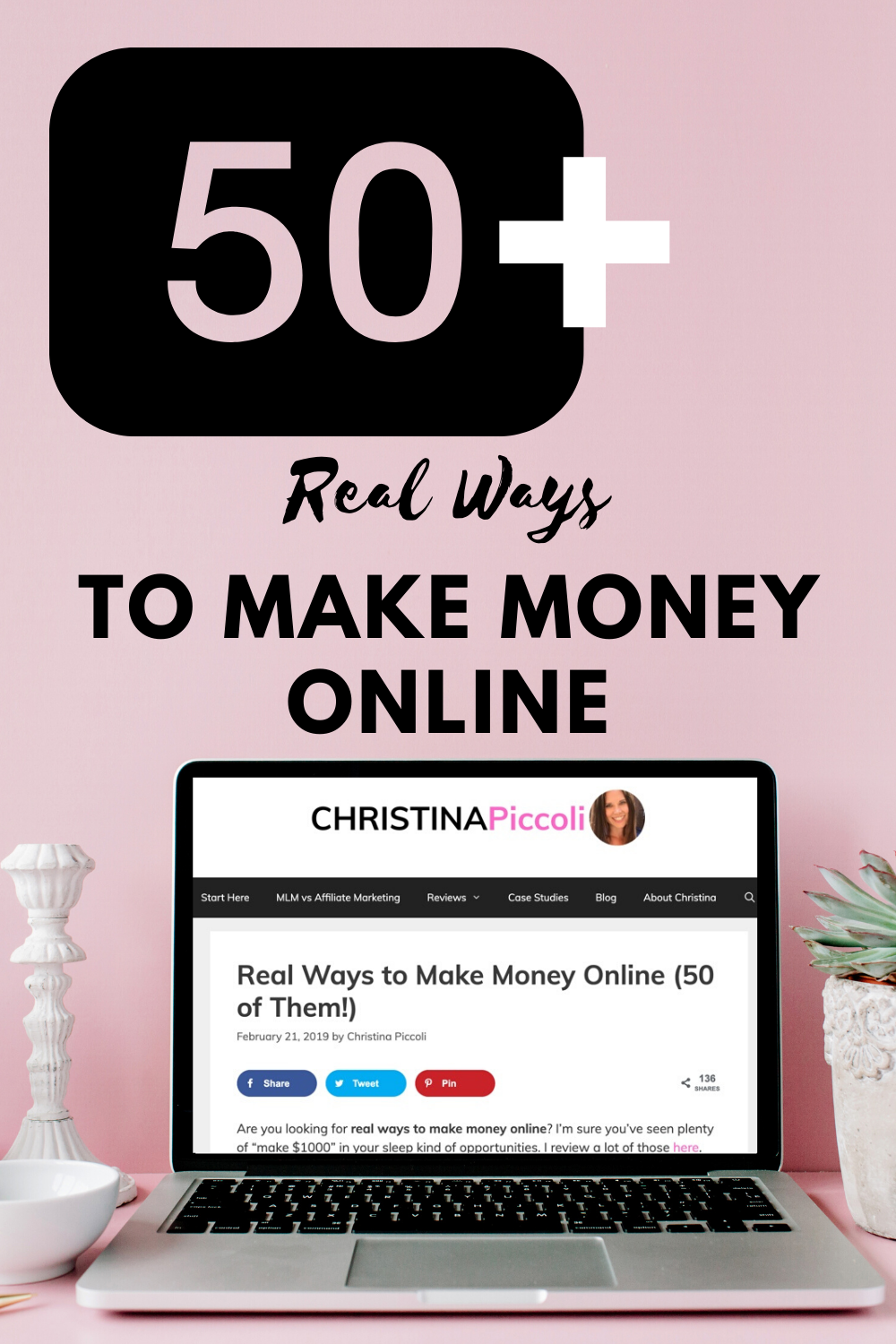 ---