Let's get this out of the way right away. Is Profits Passport System worth it? Sure, if you want to get into debt and lose thousands of dollars. But I assume you don't really want to do that.
This is one of those programs where very few people are going to earn any sort of income. For the most part, it's one of those endless loop systems where all you do is send people to the system to try to sell the system.
There are different income streams (five, to be exact), but the main idea is to send people back to the system, have them sign up for as many of the five programs as possible (that's when you make money) and then have them send people back to the system
If you separated the income streams from the funnel, a couple of them would be decent as they provide pay-per-lead and affiliate sales. However, one is a cash-gifting pyramid scheme. Another is a Bitcoin MLM that also looks to be a pyramid scheme, in my opinion.
The total amount to be in the top tier of all the income sources is an eye-popping amount. I'll tell you about that a little later. And that doesn't even include buying traffic, which you will also need to do.
So:
Is Profits Passport System worth it? Honestly, you can get a nice car instead.
You'll see.
Let's dig into this.
---
---
What is Profits Passport System?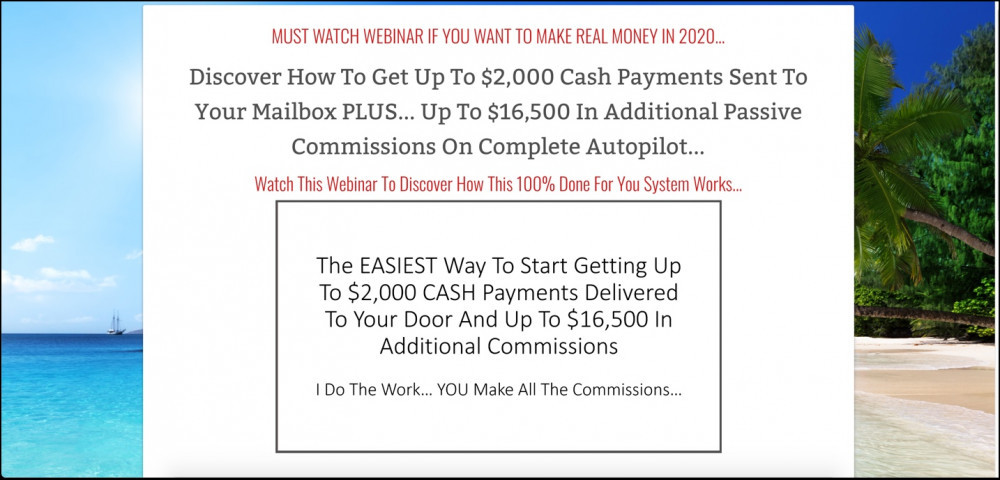 Maybe you saw a page like this when you were introduced to Profit Passport System? This is the webinar where they try to tell you all the benefits of joining this system.
I want to go through this a bit with you because I want you to understand why it's a bad idea to join this, and why you'll likely lose a lot of money in the process.
Let's go over this a little more here.
Easy, Turnkey System
Right away in the webinar, David Dekel (the creator of this funnel system) says you can get $2000 cash payments sent directly to your mailbox and up to $16,500 additional commissions.
And he does the work for you.
Now, does this sound realistic?
There's always a catch with these things…
According to David, here's how it works: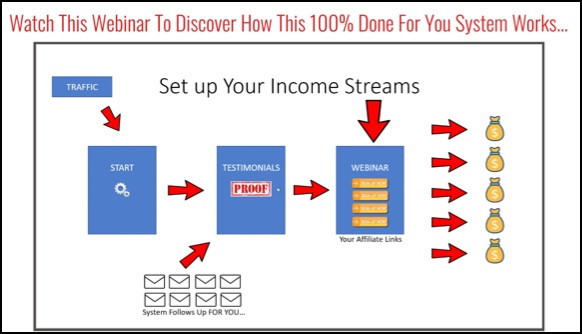 You'll have a source of traffic (you'll buy this traffic), and you'll send them to the start page. The start page is this page: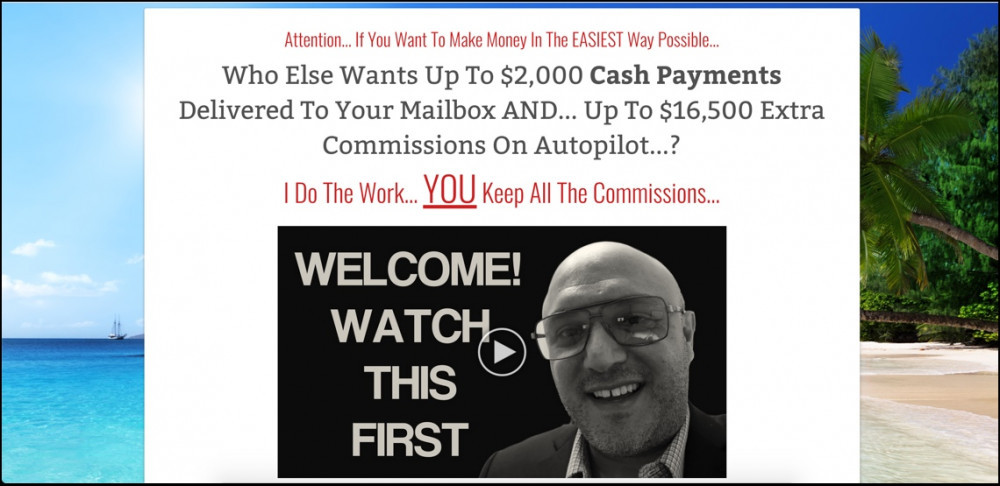 After you fill out your name and email address, they'll get a page of testimonials and then they'll come to the webinar page. The one that we're discussing right now.
In other words…
You'll be promoting the same system that you're currently looking to join.
It's one of those endless loop things.
Do you see all those little envelopes on the screenshot above? David says his system does the follow up for you.
And let me tell you, they sure do follow up!
I've already gotten tons of emails myself…
I have 62 emails in my inbox right now from David Dekel since I signed up a week ago.
Sixty freaking two.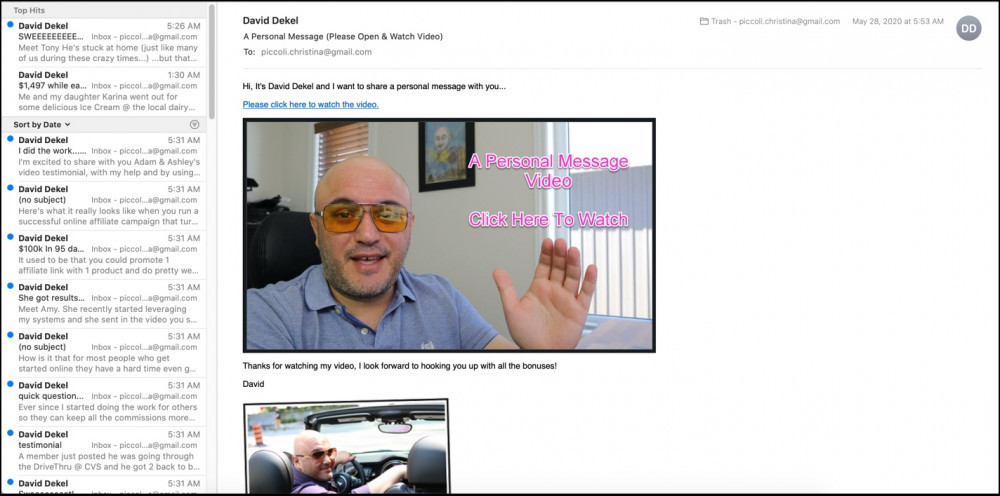 When David says his system will do all the following up…
YOU will also be followed up on.
A lot.
The Income Streams
Let's say you signed up for Profits Passport System (but really, please don't), you would be able to sign up for up to five income stream opportunities.
They are:
Easy1Up – Make up to $2000 in 100% cash commissions
Funnel X Advanced – Get $1 for every qualified lead that you send and earn commissions on packages that people purchase from your affiliate link (This looks to be related to Funnel X ROI, which is another David Dekel funnel system.)
ROI Panel Advanced – Affiliate sales on this click tracking system (similar to ClickMagick)
Traffic Commissions – Make commissions on traffic packages from Udimi
OPM Wealth – Bitcoin commissions (you need to schedule a call in order to proceed, and I'll explain why below)
Let's talk about each program's costs.
---
How Much Does it Cost to Join Profits Passport System?
Above I mentioned there are five different income streams. They each have their own costs associated. Ready for that eye-popping amount you would need to be in the top tier of all the systems?
OVER $32,000!
Holy crap!
Let's take a quick look at the different programs and their prices.
Easy1Up
There are a few different levels that you can buy into for Easy1Up. They are:
Elevation = $25
Elevation Elite = $100
Vertex = $250
Vertex Elite = $500
Vertex Pro = $1000
Vertex Live = $2000
Each of these levels also has an additional admin fee. You can only earn on the level that you buy into. For instance, if you buy into the $25 level and someone buys from you and they get the $2000 level, you'll only earn $25. The rest will go to whoever is the first qualifying person in your upline.
This is a great way to get you to buy in at a higher level. FOMO. (Fear of missing out.) You don't want to pass up that big money.
(But really, you do. Because you are very, very likely to lose money in this scheme.)
Funnel X Advance
There are three different membership levels to Funnel X Advance:
Builder Level = $200
Super Affiliate Level = $597
Leader Level = $1997
As mentioned above, you can earn $1 per lead for Funnel X Advance through Profits Passport System, or you can earn commissions on sales of these same products.
ROI Panel
There are three different levels you can buy into:
Beginner = $197
Advanced = $597
Master = $1,497
This is David's version of ClickMagick.
Udimi
With Udimi, you earn affiliate commissions on traffic packages that people buy through your affiliate link. As far as I can tell, there isn't a cost to be an Udimi affiliate, however, if you buy the packages, you will get a reseller license, which will allow you to earn 50% sales on any packages that you sell.
The costs associated are somewhere between $397 – $3494 + monthly fees.
And you will also have your solo ad fees for your own marketing campaigns, which can be $100s to $1000s per campaign.
OPM Wealth
OPM = Other People's Money. This is a high-ticket system that only pays in crypto. They teach you how to get wealthy from using other people's money.
Or so they claim. (Here's a great breakdown of exactly what this is by BehindMLM.)
According to the webinar video, if you sign up for this one, you can only watch 3 training videos and then you need to call the company.
YIKES!
Why am I so concerned with that?
Well, like Easy1Up, OPM Wealth has different levels where you can come in. The level you come in at is the level you earn at.
So during this call, I can almost guarantee that they're going to try to pressure you into grabbing the highest level that you can.
Don't worry though.
They have financing available.
(Please. I am being sarcastic. Do not get financing for this!!)
Here's why you need financing. The highest level is $27,500!
C.R.A.Z.Y.
I can't believe they convince people to do this, but they do. Through high-pressure sales, which are sometimes even called a "coaching call".
They'll coach you right out of your hard-earned money.
---
Related Articles:
---
Is Profits Passport System a Scam or a Pyramid Scheme?
Profits Passport System is a funnel and is not in itself a scam or a pyramid scheme. However, there are scams and pyramid schemes within the different income streams. Easy1Up and OPM Wealth are the two that stand out to me.
They are pay-to-play pyramid schemes.
Pyramid schemes are designed to make the people at the top make money from the people at the bottom. If you join, guess where you'll be? I have a whole series on MLMs because, in my mind, they are also preeeettty much pyramid schemes.
Pros
Funnel marketing systems are a legitimate way to promote a program or product
Some of the income streams in Profits Passport System are legit
It doesn't look like you HAVE to join all the income streams (although you may feel pressured to do so as to not miss out on income)
Cons
A couple of the income streams in Profits Passport System are pay-to-play pyramid schemes
Some of the income streams are extremely expensive
OPM Wealth, in particular, will use high-pressured sales to get you to buy into more than you can afford (they also have financing – don't do it!!)
You will have to buy leads, and they will cost you $100s – $1000s per campaign, and there's no guarantee that anyone will purchase
In general, this system will likely leave you bleeding money instead of making money like the testimonials try to convince you
Of course, it's up to you to do what you want with your money. But I personally wouldn't touch this with a 10-foot pole. There are way too many risks.
You'll have to shell out tons of money with no guarantee that you'll ever make any of it back.
---
An Alternative to Profits Passport System
This is the part where my critics may try to shame me.
They'll say I'm bashing this program in order to promote my own.
They're not totally wrong.
The thing is, if I bash a program, it's because I genuinely don't think it's a good idea to join. I'll happily promote any good program that will actually help you.
In case you don't know, I freaking hate scams and I hate losing money. And I don't want you to lose money either.
I do promote mainly one particular program (although there's another one I am a part of and love as well, and you can see both recommendations here) because it's a great platform that helps people learn how to earn income online.
And it's through affiliate marketing.
Affiliate marketing is promoting someone else's products for a commission. The income streams in Profits Passport System technically use affiliate links and offers. However, from what I can tell, they don't teach you about affiliate marketing or the right way to do it.
As I mentioned, they just try to get you to promote the same system and you do that by buying leads. But there are much better ways to do things.
I don't have enough room to explain everything about affiliate marketing, but here's my free guide for beginners to give you more information.
---
Conclusion
Did I help you answer the question is Profits Passport System worth it? I sure hope I did! I spent almost 2,000 words trying to convince you not to buy into this. These types of programs almost never end well for the VAST majority of people. Especially when you have to spend even more money on high-quality leads!
There are better ways to do things, and I say this from experience. I've reviewed programs, I've tried programs and I've been scammed by programs. I'm telling you, you will be better off if you learn how to do things the right way and put some effort into it.
Turnkey, done-for-you type of systems really don't work that well for most people. This is the site that I recommend the most to learn affiliate marketing step-by-step. And you can join free to check it out (no credit card required).
---
Other related content:
---