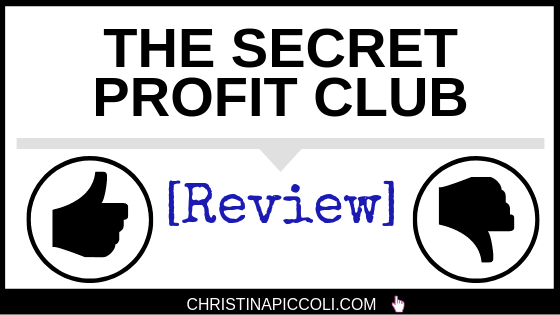 Welcome to The Secret Profit Club review.
I am happy you are doing some research before buying into this program.
While it seems tempting to buy into something that promises you can make big bucks right away ($19,000 the first DAY?). you probably know deep down that that's a bit too good to be true.
You're listening to your inner guidance and checking things out first.
That's very smart.
I'm going to show you in The Secret Profit Club review why it's not even worth spending $9 on.
You'll be glad you read this!
Let's dive in.
The Secret Profit Club Review
Quality
What you get with Secret Profit Club is a bunch of PDFs of different methods of making money online. While you can learn some basic information from these, it's not enough to really show you what to do. Random PDFs do not equal a high quality product.
Ease
Again, because all you get are a bunch of mismatched PDFs, making money with this program will not be easy. It will be confusing because you won't know which steps to take in which order.
Cost
$9 is not a high price to pay, but it's still too high for what you get. And that's because what you get won't actually help you make money. When you make investments into something, you have to make sure you can get a return on that investment.
Summary: Secret Profit Club is a make money online program that is hosted on the affiliate network, ClickBetter. It is a system that claims you can "get rich quick", up to an outlandish $19,510 today. Meanwhile, what you actually get for your money is not enough to even help you make $1 online. Read the full The Secret Profit Club review for all the details.
Inexpensive

Dropshipping is a legitimate way to make an income online
Unknown product creator

No real proof that anyone has made money with this

Unbelievable income claims

You get random make money online PDFs that won't really help you
Recommended?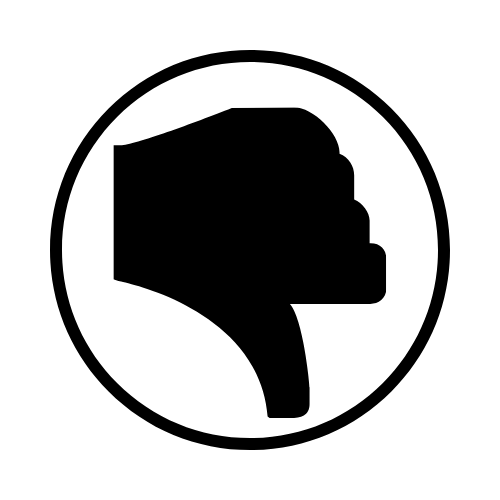 <img alt="Thumbs Down" width="500″ height="500″ title="Thumbsdown_Black" data-id="3634″ src="https://christinapiccoli.com/wp-content/uploads/2019/03/Thumbsdown_Black.png" style="width: 100%;">
No. I do not recommend you spend money on Secret Profit Club. In my opinion, it does not have enough clear and direct information to get you started online.
Interested in making money online, but tired of the scams and low-quality products? See my #1 recommendation instead.
What is Secret Profit Club?
According to the header on the sales page, Secret Profit Club will show us how to make $19,510 today.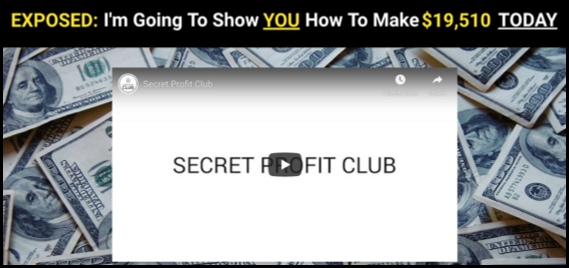 <img alt="Secret Profit Club homepage" width="569″ height="268″ title="The_Secret_Profit_Club_Review_SalesPage" data-id="6098″ src="https://christinapiccoli.com/wp-content/uploads/2019/07/The_Secret_Profit_Club_Review_SalesPage.jpg" style="width: 100%;">
This is already a red flag because that's just not possible unless they are telling you to win the lottery somehow. Making that kind of money online is possible, but it takes learning, consistent action and some patience. It doesn't happen overnight.
In fact:
The sales video goes on to say that you can make up to $45,921.75 (that's an oddly specific number, isn't it?) in the next 30 days.
Now, I've been doing this online thing for some time now.
I've never seen anyone new make that amount of money in 30 days. That's even a high amount for the most successful people who've been at this for a long time.
That, my friends, is called hype.
It's meant to get you excited about the possibility of making a lot of money in a short amount of time. Don't fall for it.
Click here for my #1 recommendation
The Secret Profit Club – New and Unseen?
Secret Profit Club claims to be new and unseen because it doesn't have anything to do with:
filling out surveys
investing in Bitcoin or other cryptocurrencies
anything illegal or blackhat
But it's anything but new and unseen.
For instance, I've seen almost this same presentation when I looked at Ali Profits System, China Cash Clone and 30 Minute Money Methods.
They all promise large amounts of money quickly and that they hold the secret to making money online, but that's simply not true. For any of them.
How Does Secret Profit Club Work?
The sales video never does tell us how this works, but through my research I've found out that what you end up getting for $9 are a bunch of mismatched PDFs on different ways to make money online.
It's not worth $9 because you will be left scratching your head about what to do.
You certainly won't be able to get enough useful information from it to make $19,000 today. You won't even make $1 today with it.
In fact, some of the information comes from The Wealth Academy, which I reviewed some time ago and which got kicked off of ClickBank (an affiliate marketplace) for bad practices.
How The Secret Profit Club Really Works
The person or people behind The Secret Profit Club do not have your best interests in mind. They only care about trying to get as much money from you as possible.
How this really works is that you are lured into the product with claims of making large sums of money and for a cheap price of $9.
After paying $9 (and after giving them your email address), they'll also hit you with a bunch of upsells. They'll try to convince you that the upsells will really make you successful.
They won't. They just want more money from you.
And now they have your email address so they can try to sell you on even more things…
Online Reviews / Complaints
I couldn't find anyone who has used The Secret Profit Club either successfully or unsuccessfully and therefore I didn't see any praises or complaints from actual users.
Is Secret Profit Club a Scam or Legit?
It's my personal opinion that The Secret Profit Club is not a scam because you do get a little something for your money. The way they try to convince you to buy the product IS scammy though. And what you get for your money is basically useless.
Let's go over some of the red flags with this product. These are things you can look out for with other "get rich quick" products you see out there.
Red Flag #1 – Unknown Product Owner
Since we don't know the actual product owner's name or who he or she really is (Jack Robertson is a pen name), we don't really know the intentions of what this person is trying to accomplish.
I understand that not everyone wants their name blasted all over the internet, but in my experience, any time someone creates a really great product that will truly help people, they are proud to show themselves.
Click here for my #1 recommendation
Red Flag #2 – No Real Testimonials
There are some success stories mentioned in the sales video, however, there is absolutely no proof that those testimonials are true. In fact, I'm quite sure that they were completely made up out of thin air. There is no proof that anyone is making any money using this product. (And for good reason.)
Red Flag #3 – Those Income Claims
This one was already mentioned above, but I'm going to mention it again. You can not just tap into some product and make $19,000 in a day of using it. Or even several days. And probably not for several months. And maybe not even for a couple of years.
I hate to burst your bubble, but online marketing just doesn't work that way. Nothing works that way.
Have you ever got interested in a new hobby? Didn't you have to learn about that hobby and then practice it to get better and better at it?
Everything is that way. Anything worth doing takes learning and practice. Please, do yourself a favor to save yourself time and money. Forget these get-rich-quick schemes. They never, ever, ever, ever (this could take a while), ever, ever, ever work.
Making money online IS possible though. It's not only possible, but there are many people who are doing it SUPER successfully. Let me tell you about one way that I recommend
Try Affiliate Marketing
One of the ways that Secret Profit Club mentions to make money in their PDFs is through affiliate marketing. I am mentioning affiliate marketing specifically because it's what I do on this site, and my best recommendation.
There are many, many ways to make money online, but I love affiliate marketing because:
You can work where and when you want
You don't need to hold any inventory
You don't deal with customer service issues
You don't pay any monthly fees for products (I pay for training and tools, but not for products like in an MLM)
In the most basic terms, affiliate marketing is promoting other people's stuff for a commission. So they deal with all the inventory and customer service issues. We just promote things we like and get paid to do it.
If this is something you'd like to learn more about, you can check out my free guide, How To: Affiliate Marketing for Beginners.
Or, you can see my #1 recommendation to learn affiliate marketing.
Conclusion
I hope The Secret Profit Club review gave you a great idea of what this product is all about and if it's worth the price. While they claim that you can make $45,000 in your first month of using it, we know that this just isn't logical.
It's up to you whether or not you continue with purchasing Secret Profit Club, but my advice would be to save your money as you're not going to get very far with it.
If you're interested in earning an income online, my mission is to help point people in the right direction to make a full-time income online. My #1 recommendation will show you exactly how to do that, step by step. See why over 155 people have already joined with me this year.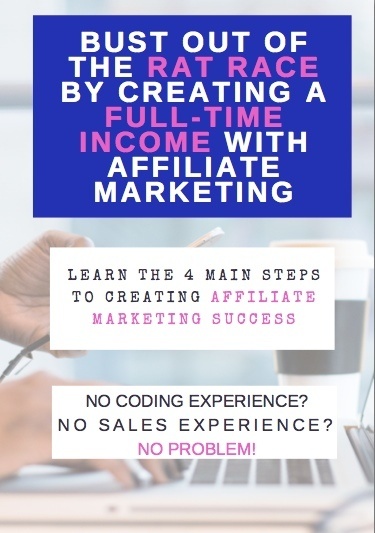 <img alt="4 Steps to Affiliate Success" width="375″ height="533″ title="4_steps_Cover_new" data-id="4810″ src="https://christinapiccoli.com/wp-content/uploads/2019/05/4_steps_Cover_new.jpg" style="width: 100%;">
Sick of the Rat Race? Tired of Not Making Enough Money?
Grab my free e-book, 4 Steps to Affiliate Success and get my free 5-day email course, How to Create Your Own Affiliate Website. Get step-by-step instructions and build your own site free.